Olympic Diver Tom Daley Hopes He Can Give Young LGBTQ Kids Hope at the Tokyo Olympics: 'You Are Not Alone'
Whenever the world's best athletes take center stage at the Olympics, we not only get to see legendary performances, but we hear incredible stories of people who overcame adversity to get to the pinnacle of their sport. The latter can be said about British diver Tom Daley, who wants to give young LGBTQ kids hope with his performances at the Tokyo Olympics.
Tom Daley has made history throughout his Olympic diving career
According to his Olympic bio, Daley started diving at seven years old, and he found success quickly.
At the Beijing Olympics in 2008, he became the youngest British Olympian since former rowing coxswain Ken Lester in 1960. Daley, who was 14 years old, ultimately finished seventh in the 10-meter platform diving event at the 2008 Olympics and eighth in the 10-meter synchronized diving event.
At the 2012 and 2016 Olympics, though, Daley came back and won some medals. He earned bronze in both the 10-meter platform at London in 2012 and the 10-meter synchronized event at Rio de Janeiro in 2016.
However, while his athletic feats are surely something to behold, Daley stands for something bigger whenever he competes on the worldwide stage.
Tom Daley hopes to inspire LGBTQ kids at the Tokyo Olympics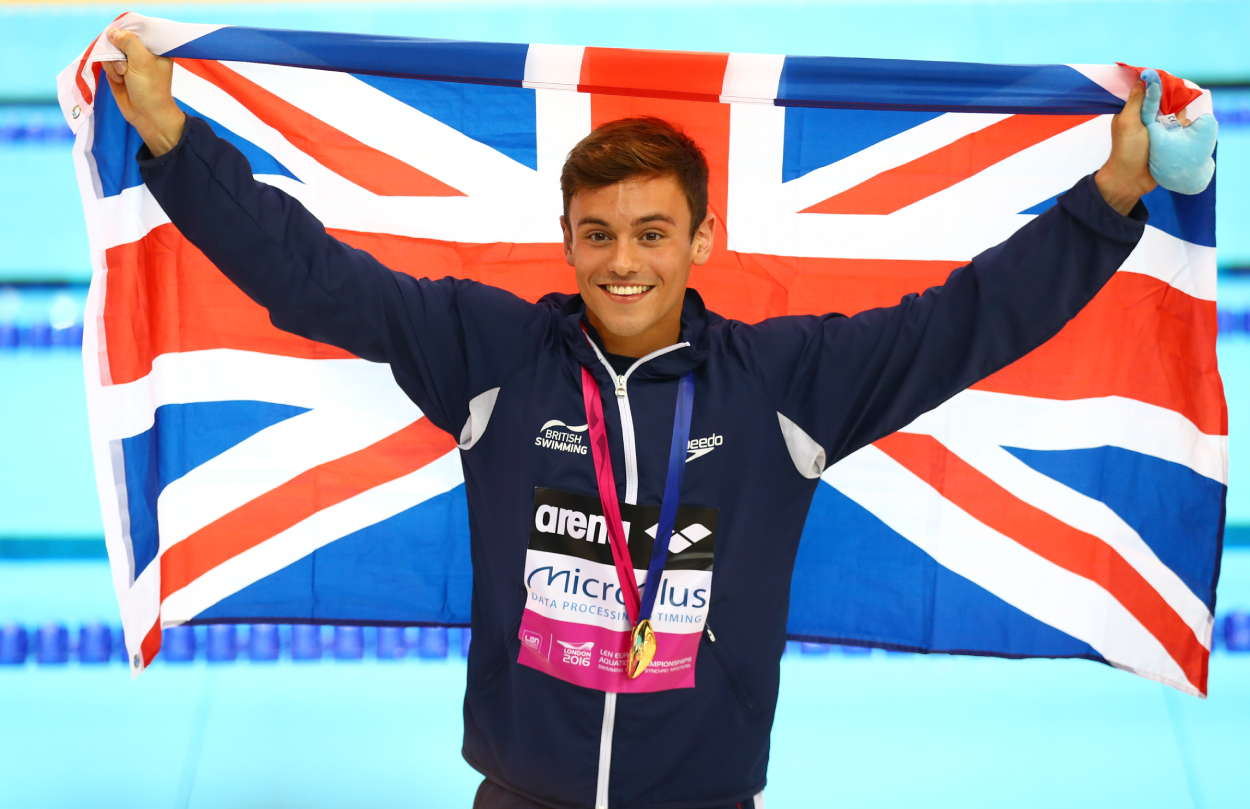 When Daley made his first appearance on the Olympic stage in 2008, fewer than 20 competitors openly identified as LGBTQ, according to ESPN. At the Tokyo Olympics, there are more than 160.
"When I was a little boy and felt like an outsider and felt different and felt like I was never going to be anything because who I was wasn't what society wanted me to be, and to be able to see out LGBT people performing at the Olympic Games is — I hope [it] can give young kids hope," Daley said, per ESPN. 
The diver, who came out in December 2013, is married to screenwriter and director Dustin Lance Black, and in 2018, the couple welcomed a child together.
Daley's appearances at four different Olympic Games are inspiring as it is; he doesn't need to win gold medals. He has already shown LGTBQ kids everywhere that they can do anything they set their minds to, even make the Olympics.
But Daley still hopes to succeed in diving, as winning medals can inspire more and more LGBTQ athletes around the world.
And in Tokyo, he ultimately reached the mountaintop.
He won a gold medal at the Tokyo Olympics
Daley competed in synchronized diving at the Tokyo Olympics with teammate Matty Lee, and they ultimately earned a gold medal for Great Britain on July 26 with a score of 471.81.
The duo defeated China's Cao Yuan and Chen Aisen, who scored 470.58 points. The Russian Olympic Committee's Aleksandr Bondar and Viktor Minibaev claimed bronze in the event, finishing with 439.92 points.
"I still can't honestly believe what is happening," Daley said to BBC Sport, per ESPN. "That moment, being about to be announced as Olympic champions, I was gone. I was blubbering."
The win was also, of course, monumental for all LGBTQ athletes.
"I feel incredibly proud to say that I am a gay man and also an Olympic champion," he said, per NBC News. "And I feel very empowered by that because when I was younger, I thought I was never going to be anything, or achieve anything, because of who I was, and to be an Olympic champion now just shows that you can achieve anything."
Daley also had a message for the LGBTQ community.
"I hope that any young LGBT person out there can see that no matter how alone you feel right now, you are not alone. That you can achieve anything and that there is a whole lot of your chosen family out here, ready to support you."
Daley competes in the 10-meter platform preliminary on Aug. 6.
Results courtesy of the Olympics