Why is an Olympic Event Being Disturbed by a Statue of a Sumo Wrestler?
Equestrian is not one of the more popular Olympic events. It's not, say, basketball, soccer, or gymnastics. Probably not even water polo.
But the event has been in the news during the 2020 Tokyo Olympics, and not for who won gold or who set any kind of world record.
A life-size statue of a sumo wrestler has brought the event to the world's attention.
What is Olympic equestrian?
Competitive equestrian events involve a horse, whether someone is riding or it's some sort of horse-drawn vehicle, according to Top End Sports. The three Olympic equestrian competitions are dressage, show jumping, and eventing.
The biggest name in show jumping right now is Great Britain's Ben Maher. Maher won gold in the individual event in a jump-off. The three Americans primed to compete in the individual competition — Jessica Springsteen, Kent Farrington, and Laura Kraut — all hit the same rail during the qualifying stage, and the U.S. did not send any athletes to the individual event for the first time since it boycotted the Olympics in 1980 according to NBC.
But America does have the team show jumping event still to go.
Why is a statue of a sumo wrestler interfering in an Olympic event?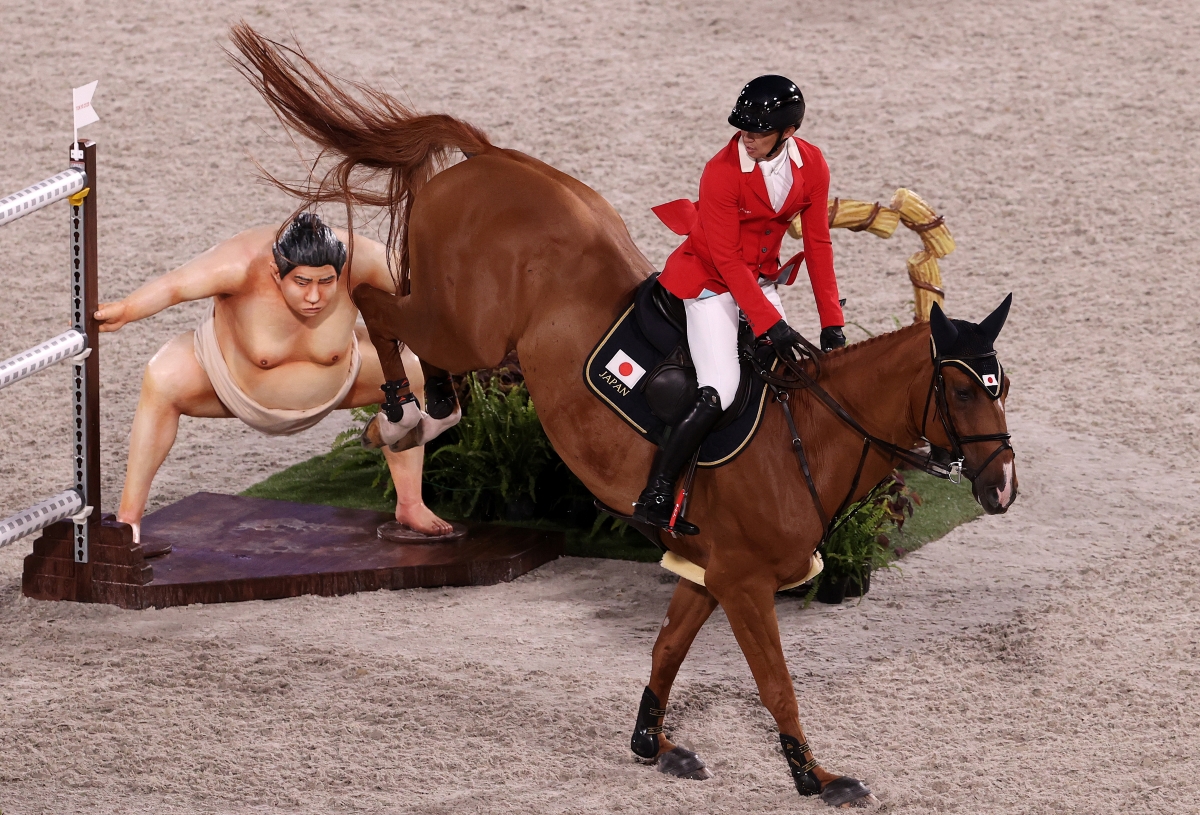 Imagine competing in a hurdles event. You round a corner, ready to jump over the next hurdle, and all of a sudden, out of the corner of your eye, you spot a life-like sumo wrestler. Would that be distracting?
It is to a rider during show jumping. It can also freak out the horse.
During qualifying, when approaching obstacle No. 10, both horse and rider were in for a surprise. Two riders, Harry Charles of Great Britain, and Cian O'Connor of Ireland, admitted as much to the Associated Press.
"As you come around, you see a big guy's [butt]," Charles said about the sumo wrestler statue.
And providing the less-descriptive version, O'Connor explained, "There's a lot to look at."
The sumo wrestler statue is taking on a life of its own at the Tokyo Olympics
When turning around obstacle No. 10, the pair are greeted by the backside of the statue. Literally. Meaning they see the wrestler's attire in wedgie form.
All jokes aside, though, horses have slowed down or stopped because of the statue, actually preventing athletes from qualifying for the finals, according to ESPN.
The statue is there to represent part of the host country's heritage. In theory, it seems like a perfectly reasonable thing to include. Practically, though, it's causing issues for participants trying to compete at the highest level of their sport.
And, honestly, a certain level of hilarity for viewers.
RELATED: You Won't Believe How the Mascots of the 2020 Olympic and Paralympic Games Were Chosen