For One Fourth Quarter, LeBron James, Anthony Davis, and Russell Westbrook Finally Gave the NBA World a Glimpse Into How Dangerous This Los Angeles Lakers Team Can Be
Given their splashy offseason, both in free agency and in the trade market, the Los Angeles Lakers have gotten off to an inauspicious start thus far in 2021-22. Granted, missing LeBron James for a portion of the first few weeks and integrating almost an entirely new roster presents a myriad of challenges. But the talent LA has with James, Anthony Davis, and Russell Westbrook should be enough to carry the Lakers to some regular-season wins, even in the early going.
Things haven't panned out quite yet, but with LeBron back in the lineup and his new team hosting (one of) his old ones, LA dominated the final quarter of a 113-101 win over the Cleveland Cavaliers.
In the process, the Lakers showed at least a fleeting glimpse of how good they could eventually be this season.
It's been an unimpressive start to the season for James and the Lakers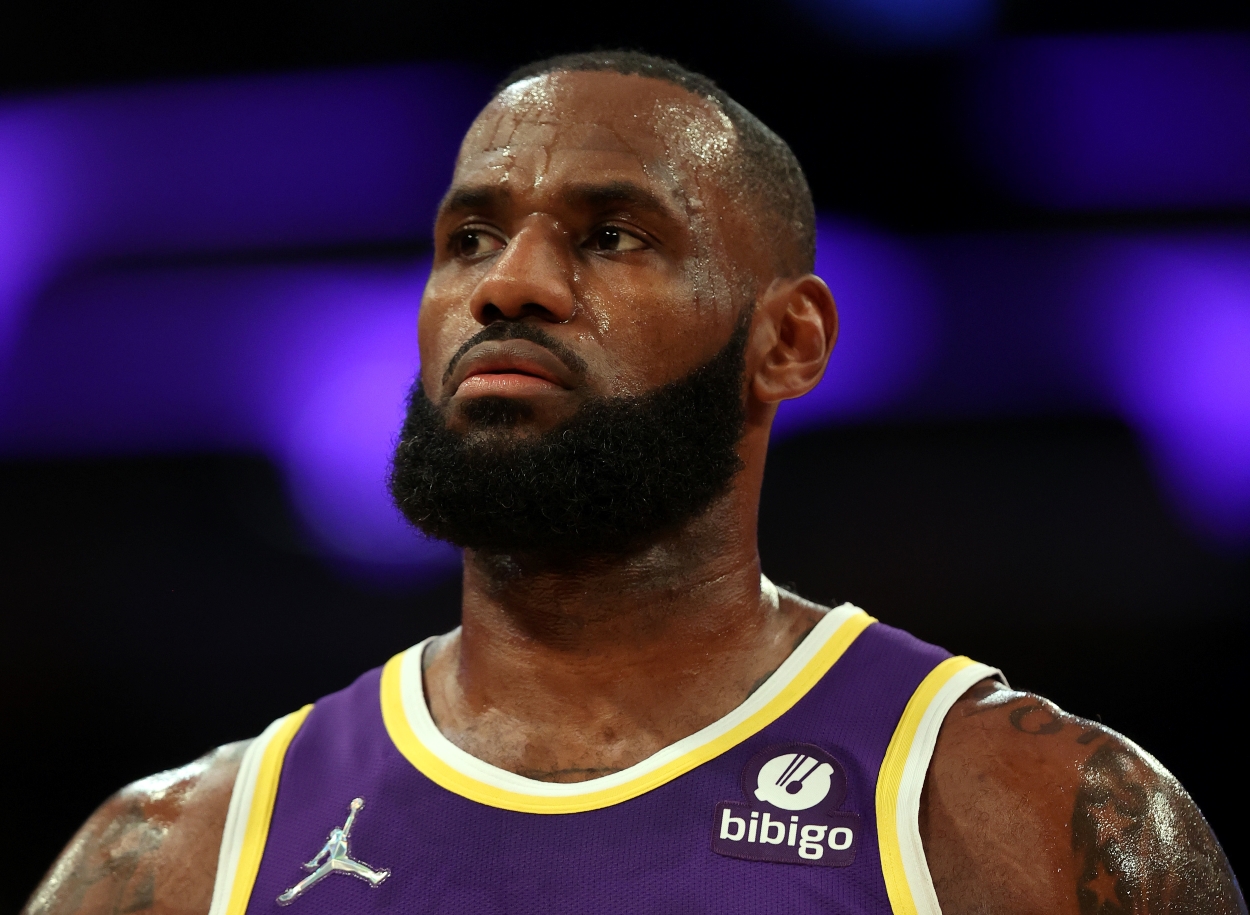 The 12-point win over LeBron's hometown team brought LA back to .500 at 3-3. With the obvious "it's early" caveat, the Lakers haven't exactly fired out of the gates, and the areas in which the team is struggling so far are concerning.
Before beating Cleveland, LA was 26th in defensive rating at 111.8. The team was 25th in the league in turnovers at 17 per game and 24th in rebounding, bringing down only 44 boards per contest.
The Lakers were second in the league in scoring heading into the night, but it would be a long season for any team that turns the ball over consistently, can't play defense, and can't rebound. Being under the bright Hollywood lights would make for an even more laborious campaign.
LA led by just three heading into the fourth quarter against the Cavs, but the final period provided a glimmer of hope and what could be.
LA erased its biggest weaknesses in the final quarter of 12-point win
The Lakers are struggling with defense, turnovers, and rebounding — but they won all three categories and outscored Cleveland by nine in the fourth quarter of a 12-point win.
Westbrook had another career quadruple-double in a loss to the Thunder on Oct. 27, turning the ball over 10 times that night. He's also had a nine-turnover game and compiled 30 giveaways in the first five games of the year.
Against the Cavs, Russ had four total turnovers and just one in the fourth quarter.
LA doubled up Cleveland on the glass 12-6 and held the Cavs to just 22.2% shooting in the final frame.
James (26), Westbrook (19), and Davis (15) all scored in double figures. The Lakers got 24 points off the bench from Carmelo Anthony. Davis had nine rebounds, and aging DeAndre Jordan had seven boards in 14 minutes.
By no means was it a pretty win. LA still had 20 turnovers, but seven came from LeBron, which equates to an anomaly. The issues that have plagued the Lakers didn't go away for a whole 48 minutes. But there were improvements.
As head coach Frank Vogel explained via the Los Angeles Times, "It's frustrating to see where we're at, but I know where it's going to get to. And we're excited."
Beating Cleveland provided a brief flash of how good the Lakers can be
Getting James back cures a whole lot of ills. But LA finding its footing in certain areas is also a good sign moving forward.
If Westbrook can limit his turnovers and the team can locate a few rebounders — and grow on the defensive end — both the ceiling and floor for the Lakers take a massive leap.
There's too much talent packed into one locker room for this team not to play deep into June and July. It's been slow going through the first few weeks, but a solid fourth quarter in a win against an impressive-looking team is a good start, and it gives Lakers' fans a peek at what their team can be if it all comes together.
All statistics courtesy of NBA.com
RELATED: The Los Angeles Lakers Tried Pairing LeBron James With 2 Different NBA Stars This Offseason and Still Unbelievably Made the Wrong Choice With Their 3rd Option