One of Bobby Petrino's Former Players Gracefully Explained How Ex-Falcons Coach Isn't Racist
Bobby Petrino is one of college football's most eccentric coaches in recent memory. Whether or not that's a good thing, though, is subjective.
An older and brasher version of Lane Kiffin, Petrino is no stranger to controversy. One of Petrino's former players recently, and gracefully, explained why the ex-Falcons coach may be eccentric, but he's definitely not racist.
Bobby Petrino is a successful college football coach
All of his controversies make it easy to forget Bobby Petrino has a career 119-56 record at the college football level. Seventy-seven of those victories came across his two stints at Louisville, the most recent of which spanned 2014-18.
Petrino mentored quarterback Lamar Jackson from 2015-17. Jackson won the Heisman Trophy in college and earned the NFL MVP Award last year, his second season with the Baltimore Ravens.
Petrino also coached at Arkansas from 2008-11 and spent the 2013 season at Western Kentucky. Petrino only has two losing seasons as a college coach and is 3-6 in bowl games.
Bobby Petrino famously coached the Atlanta Falcons in 2007. He lasted just 13 games before he resigned and took the same job at Arkansas State.
Missouri State, an FCS program, hired Petrino in January. He reportedly signed a five-year deal with $250,000 annually, which is a far cry from what he made in the NFL and in Power 5 conferences.
Petrino is no stranger to controversy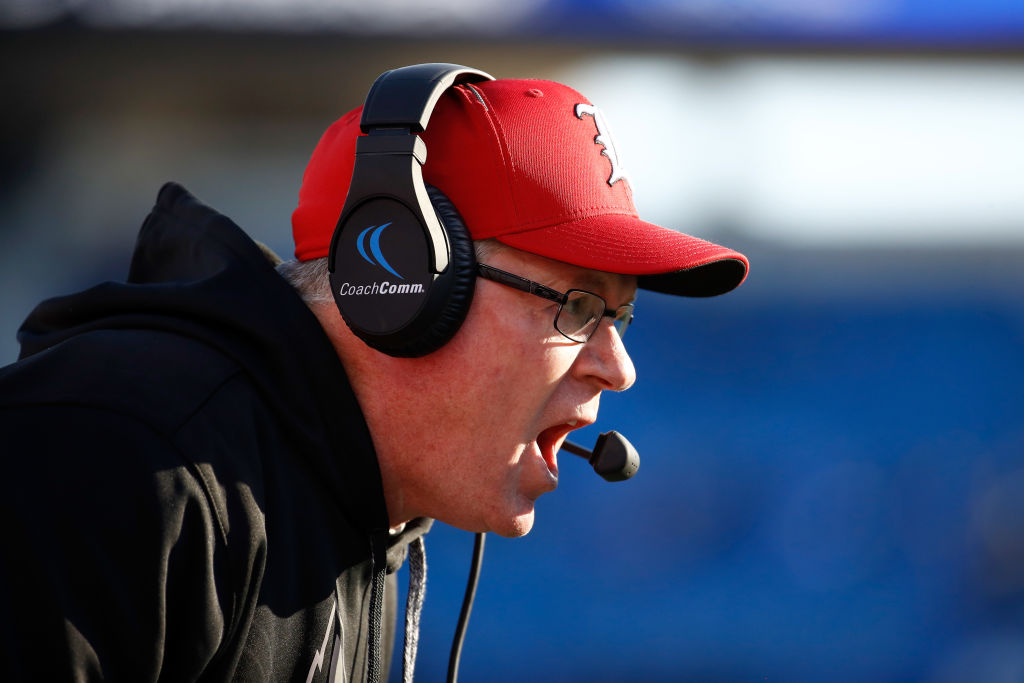 It is impossible to discuss Bobby Petrino's coaching career without touching on the various reasons why he's bounced around from team to team.
Arguably Petrino's most infamous moment is why Arkansas fired him in the spring of 2012. Petrino and assistant Jessica Dorrell, a former Arkansas All-SEC volleyball player, were involved in a motorcycle accident.
Petrino admitted he had an adulterous relationship with Dorrell, who was 25 at the time.
Arkansas later discovered Petrino gave her a $20,000 cash gift for Christmas, according to ESPN. The school fired Petrino for cause later that month.
Bobby Petrino's brief tenure with the Atlanta Falcons also ended in failure. Petrino famously left a laminated note on players' lockers explaining he left the team for Arkansas.
Petrino mostly avoided issues at Louisville, although the school agreed to buy out the remaining $14.1 million of his contract in November 2018.
Louisville athletic director Vince Tyra publicly said he didn't believe players had responded well under Petrino that year. Louisville had a 2-8 record when the school fired Petrino.
One of Bobby Petrino's former players explained why Petrino isn't racist
Bobby Petrino definitely left a mark on the schools he worked for and the players he coached.
Former Louisville receiver JaQuay Savage made that clear in a recent tweet. Amid ongoing conversations of racial inequality in the United States, Savage wanted the world to know that Petrino wasn't racist.
How did Savage get his point across?
Thats one thing you could never say about my college coach Bobby Petrino. He doesn't have a racist bone in his body. That [expletive] hated everybody
Well said. JaQuay Savage certainly went the savage route.
Bobby Petrino hadn't responded to Savage's comments as of June 5, 2020.