One of the Cleveland Cavaliers' Franchise Building Blocks Just Played Himself Into a Category Alongside LeBron James and Kyrie Irving
The Cleveland Cavaliers have been mired in a rebuild for what seems like forever. LeBron James left to join the Los Angeles Lakers in 2018. The team dealt away an unhappy and now much-maligned Kyrie Irving the year prior. Since then, it's been tough sledding, but there are signs of life in Cleveland with players like Darius Garland and rookie Evan Mobley.
Mobley is the new and exciting name. But Garland has shown the most progress and may be the most significant sign of hope for a franchise that hasn't had much of that lately.
And the third-year guard just put up some gaudy numbers in a win over the Washington Wizards that put him in the company of two of the franchise's greatest players of all time.
Garland's season has been one of the Cavaliers' bright spots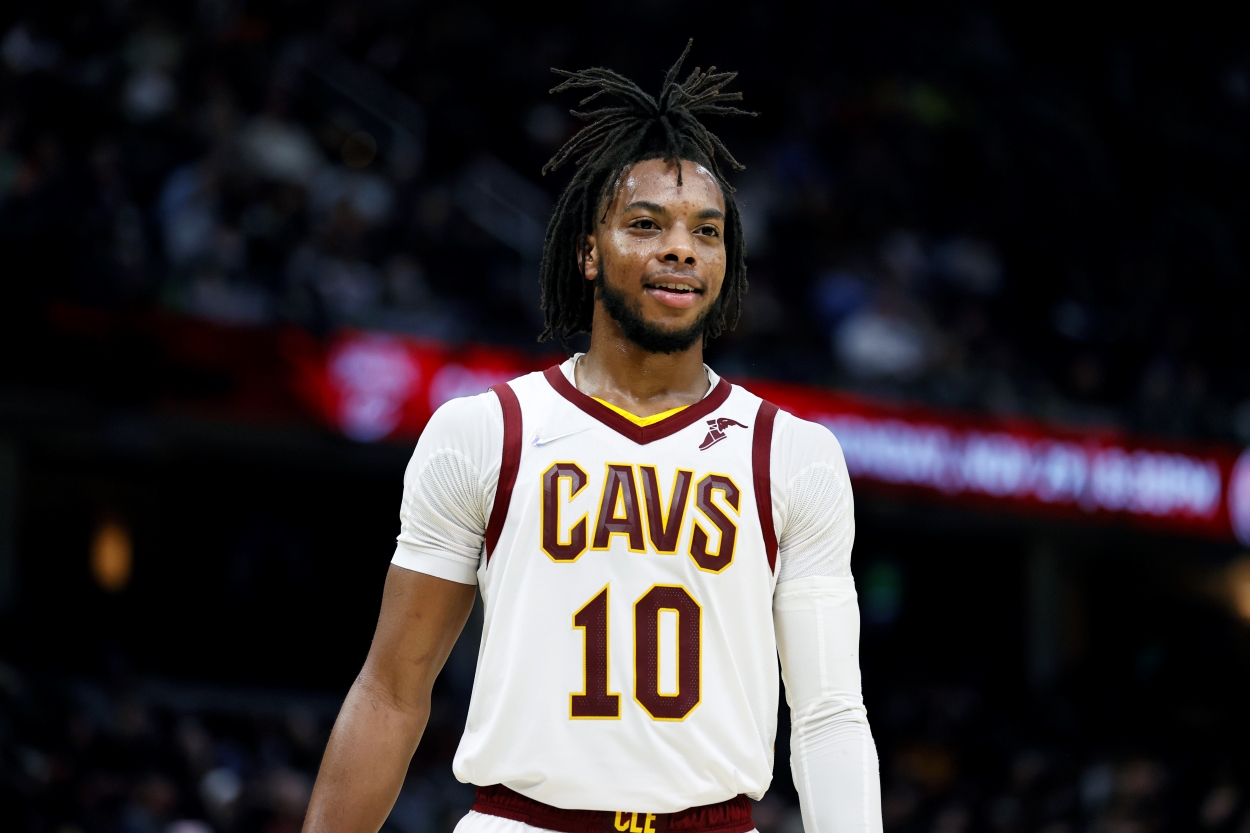 The Vanderbilt product improved from year one to year two and is now carrying that over to year three. His points per game have jumped from 12.3 his rookie year to a team-best 19.1 through 20 games this season.
His field-goal percentage has climbed from 40.1 to 46.7 despite taking almost four more shots per game. His 3-point percentage sits at 37.8 versus 35.5 in his rookie season.
He's also averaging a career-high in rebounds, but perhaps the biggest change in his game has come in the playmaking department.
Garland was a scorer coming into the league, and that's what he showed during his initial year when he averaged only 3.9 assists. That went up to 6.1 last year, and in 2021-22 he's averaging 7.3 dimes per night.
Mobley has been the most talked-about Cleveland player, and maybe rightly so, given how he's exceeded expectations as a 20-year-old rookie with a crazy high ceiling.
But Garland has been the team's best and most consistent player.
Maybe he'll get some more of the recognition he deserves after putting up a stat line only James and Irving have managed in franchise history.
Garland's game against Washington put him in the company of Cleveland's two greatest players
The Cavs won their first and only title after LeBron came home and led Cleveland to a championship. It was an epic series with the Golden State Warriors.
But Irving hit the most critical shot of the series, drilling a three in Stephen Curry's face with 53 seconds left in Game 7.
Those two players are likely the best to ever come through Cleveland. James certainly is — he's one of the best players of all time. Irving's among a group that includes Mark Price, Brad Daugherty, Austin Carr, World B. Free, Kevin Love, and a washed-up Shawn Kemp.
And now Garland has done something only those two players ever accomplished.
The Cavs' 116-101 road win over Washington on Dec. 3 was their fourth straight victory and brought one of the season's most pleasantly-surprising teams to 13-10. And Garland has led them there.
The 6-foot-1 combo guard dropped a game-high 32 points to go along with eight rebounds and 10 assists on 11-of-17 shooting and 5-of-6 shooting from three.
According to StatMuse, that makes him only the third player in franchise history with a line like that before the age of 22.
Throwing yourself in the company of LeBron and Kyrie is a significant accomplishment and at least gives a small-market team's best player some recognition.
Garland needs to help Cleveland, he's (one of) their only hopes
The duo of DG the PG in the backcourt and the 6-11 Mobley in the frontcourt has the potential to develop into one of the best pick-and-roll combos in the NBA.
And Garland also has a backcourt partner in Collin Sexton, who's proven to be one of the league's best scorers over the past few seasons. He's out with a meniscus tear in his left knee, however, and is expected to be out for the rest of the year. But he'll still be just 23 years old when he comes back.
After years of being an NBA afterthought, the Cavs finally have some hope. While Mobley may be the most fun part of that hope, it's Garland's team and his job to bring Cleveland back to relevancy.
Playing like LeBron James and Kyrie Irving isn't a bad way to keep that train moving.
All statistics courtesy of NBA.com