One of These 5 NFL Players Will Hoist the MVP Award This Season
Like snowflakes, each and every NFL season is distinct. This year, the long-running New England dynasty rolls on, with Tom Brady and Bill Belichick in command of a rag-tag bunch of Patriots. Next, the Oakland Raiders and Dallas Cowboys finally restored themselves back to glory after several years of humiliating failure.
After this elite group, several teams like the Pittsburgh Steelers, Atlanta Falcons, and Kansas City Chiefs can get hot down the stretch. They just might back into the playoffs with a wild card and emerge as a proverbial "team that nobody wants to play."
Most importantly, the NFL MVP will represent the face of winning football. Last year, NFL MVP Cam Newton went 15-1 as an unstoppable, dual-threat quarterback; he could either drop in a deep bomb over the top or take off for large chunks of yardage. Our five leading NFL MVP candidates (ranked from least to most likely to win the NFL MVP award) reflect the fact that 2016 is a year for fresh blood. This year serves as proof positive that a stacked draft class can turn around any franchise overnight.
5. Dak Prescott
NFL fans are already referencing Dak Prescott as the second coming of Tom Brady. Like Brady before him, Prescott was a late draft pick suddenly thrown into the fray after the incumbent starter was knocked out for the season. At first, many assumed that both quarterbacks would simply manage the game and grind out close wins by riding dominant defenses and running games. However, both athletes forced opposing defenses that stacked the box to pay up.
Prescott is far more than a game manager. Through twelve games, he has completed 68% of his passes for 2,974 and 19 touchdowns against only two interceptions. In November, Prescott went on the road to light up the Steelers for 319 passing yards and two touchdowns to win a 35-30 shootout. Most importantly, of course: The 23–year–old has the Cowboys at 11-1 and driving toward home-field advantage in the playoffs. With this, Tony Romo is now an afterthought.
Prescott is especially good at reading defenses and completing passes into the tight windows of underneath zone coverage. Due to his snappy release and ability to fire the football out quickly, he rarely takes sacks. As a last resort, he will take off and bowl over defenders at the sticks to move the chains. From here, Dallas Cowboys fans recall memories of the great Roger Staubach — especially if Prescott brings home the NFL MVP award.
4. Tom Brady
Brady's four-game suspension due to his role in Deflategate didn't seem to hurt New England too much. These Patriots went 3-1 to start the season, with backups Jimmy Garoppolo and Jacoby Brissett working out of a limited playbook. By Week 5, the usual cynics ripped Brady as both a "cheater" and "system quarterback" who could only thrive beneath the firm hand of Belichick. In response, a 39-year old Brady played the best football of his career and broke the all-time record for quarterback wins with 201.
Brady has long since entered the Michael Jordan zone, where fans can make a strong case for him to win the MVP award every single year. So far, in 2016, Brady is completing 69% of his passes for 2,470 yards and 19 touchdowns through eight games. This production calculates out to a 113.1 quarterback rating, which leads the league. Brady has not been this fired up since 2007 — in part due to Deflategate. That year, a loaded Patriots offense featuring Randy Moss and Wes Welker went 18-0, before the New York Giants shocked them in Super Bowl XLII.
Brady has actually been a more efficient passer this season, hooking up with the likes of Julian Edelman, Martellus Bennett, and a banged up Rob Gronkowski. Going forward, the Patriots must win down the stretch without Gronk, who is shut down for the season with a bad back. In any other year, Brady would be the clear cut NFL MVP for commanding this patchwork lineup into the postseason. For 2016, however, Brady is old news.
3. Matt Ryan
In 2010, the Atlanta Falcons went 13-3 through the regular season, only to get blown out at home 48-21 by the Green Bay Packers in the Divisional Round. Two years later, in 2012, the Falcons went 13-3 and locked up home-field advantage through the playoffs. That postseason, Atlanta barely squeaked by Seattle in the Divisional Playoffs, before San Francisco manhandled them and they lost the Conference Championship.
Last year, the Falcons opened up the season at 5-0, before self-destructing down the stretch to 8-8 and missing out on the playoffs, altogether. Now, the 2016–17 Atlanta Falcons are 7-5 and must prove that they are for real. Only then can Matt Ryan lay claim to the NFL MVP trophy.
The Falcons do have four games remaining against the Rams, 49ers, Panthers, and Saints. They are in the driver's seat to take a relatively weak NFC South. Ryan, however, will be on the outside looking in if Atlanta implodes, yet again, and loses the division crown to upstart Tampa Bay. Critics would rip Matt Ryan as a glorified game manager, who pads his stats against soft competition and falls apart in gut check time.
So far, this year, Matt Ryan has completed 69% of his passes for 3,813 yards and 27 touchdowns. The Falcons are especially dangerous when Matty Ice hooks up with Julio Jones, who has already hauled in 72 receptions for 1,253 yards and five touchdowns. Certainly, Atlanta fans will look for Ryan to go over the top for a number of big plays down the stretch of the regular season. Matt Ryan, not Ben Roethlisberger, is now at the helm of the most explosive offense in football in terms of yards per completion and points scored.
2. Derek Carr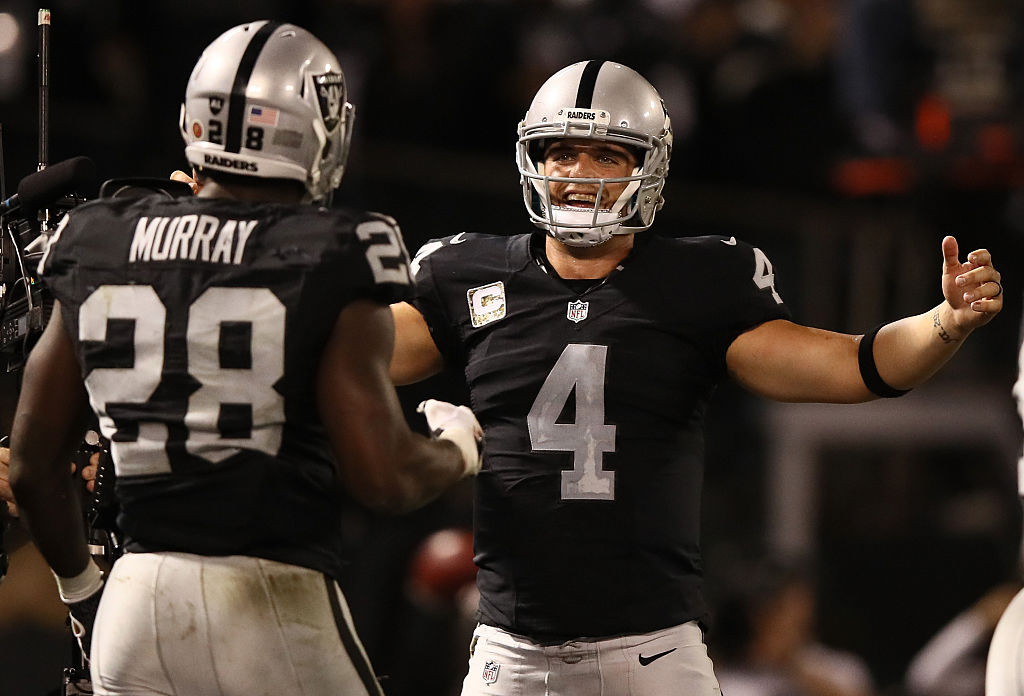 The profile of the Oakland Raiders suddenly graduated from that of a curiosity and sleeper team into that of a serious Super Bowl contender. The Raiders last made the playoffs in 2002. That year, Jon Gruden took vengeance upon his former team and coached the Buccaneers to blow the doors off the Raiders by 48-21 in Super Bowl XXXVII. Oakland's 14-year playoff drought is matched and exceeded only by the Cleveland Browns and Buffalo Bills in professional football.
For 2016, the Raiders are 10-3 and tied with the Kansas City Chiefs atop the brutal AFC West. From here, Oakland will close out the regular season in Denver — a game with major playoff implications for the conference. Derek Carr would further solidify his MVP bona fides if he makes the tough throws and comes away with a win amid likely swirling winds and blizzard conditions at Mile High.
As a field general, Carr simply has "it," earning even more respect out of the locker room in Week 12, when he had team doctors pop his dislocated pinkie finger back into place before returning to the action and leading two more scoring drives against Carolina. In all, Carr has completed 64% of his passes for 3,492 yards and 24 touchdowns through 13 regular-season games. It goes without saying that Al Davis would be quite pleased with this vertical attack. Just win, baby.
1. Ezekiel Elliott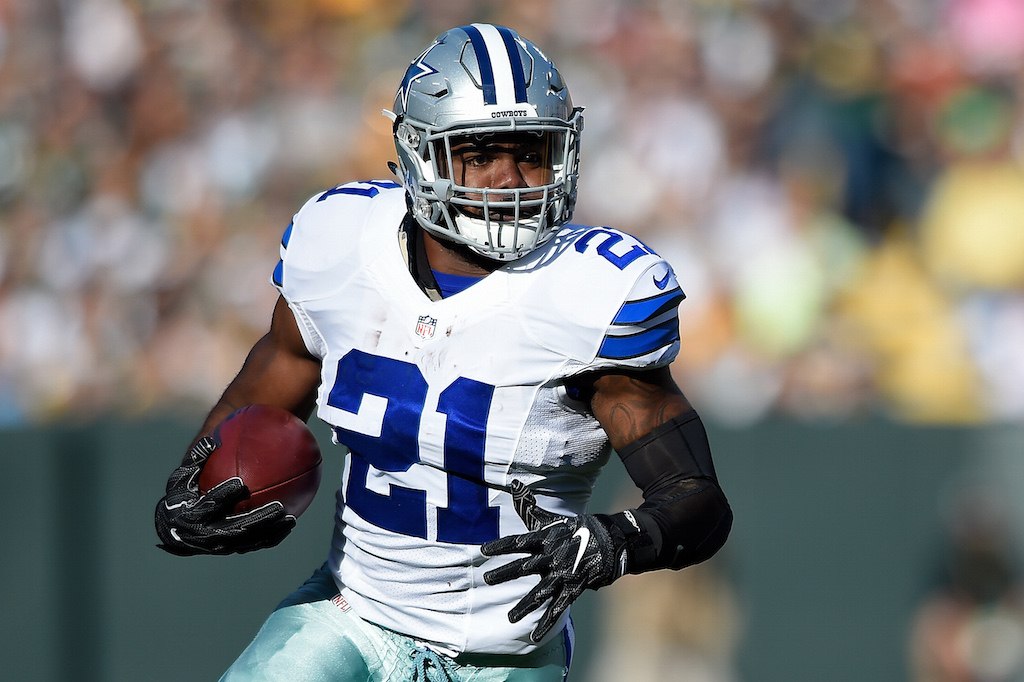 The Dallas Cowboys took Ohio State's Ezekiel Elliott with the fourth overall pick in the 2016 NFL Draft, and analysts immediately projected this former Buckeye to win the Rookie of the Year Award. This draft pick was a match made in heaven, with Zeke set to crank out massive chunks of yardage behind a dominant offensive line anchored by Tyron Smith, Travis Frederick, and Zack Martin.
Elliott announced his arrival in the preseason, when he cut a run back against the grain and trampled all over Kam Chancellor in front of tens of thousands of shocked fans in Seattle. For his regular-season debut, Elliott had 51 yards and one touchdown off 20 carries against the New York Giants. He improved dramatically with each passing week, gashing the Chicago Bears for 140 rushing yards and two touchdowns by late September. From there, Zeke closed out four straight 100-yard performances by romping for 157 yards at Lambeau.
As a workhorse back, Elliott now leads the league in carries, with 263, and yardage, with 1,285. For his signature MVP moment, Elliott burst through the line of scrimmage and sprinted 32 yards to pay dirt in Pittsburgh. The Cowboys escaped Three Rivers with a win in the final seconds because of this touchdown romp. Elliott was then no longer a mere rookie. He is now the man for an 11-1 America's Team that has already punched its ticket to the playoffs.
Statistics courtesy of ESPN and Pro-Football-Reference.