One Simple Stat Confirms Giannis Antetokounmpo and the Milwaukee Bucks Are Still the Class of the NBA
Injuries have decimated the Milwaukee Bucks during the first month of the 2021-22 season. They're not the only team to have to deal with bumps and bruises to their key players, but as the defending NBA champions, their slow start is under the microscope. Now, though, Giannis Antetokounmpo and his Bucks are rounding into shape.
Brook Lopez remains sidelined, as does last year's starting shooting guard Donte DiVincenzo. But the core of the 2021 title team is finally getting healthy.
Now that Milwaukee's Big Three of Antetokounmpo, Khris Middleton, and Jrue Holiday are all back, the team is proving it's still the class of the league.
One simple stat proves that to be true.
After a slow start, the Milwaukee Bucks are finally getting healthy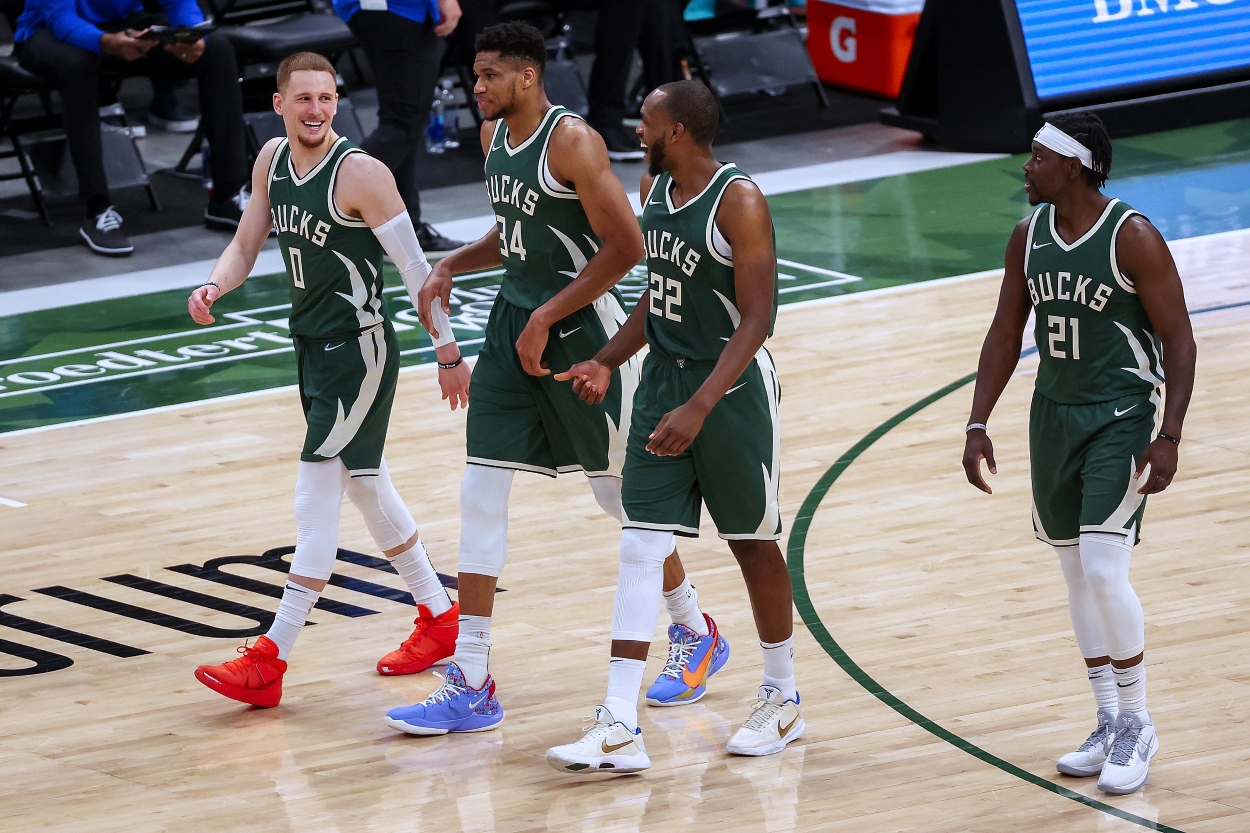 Through their first 18 games, the Bucks are 10-8. Not a fantastic start for a team looking to defend its NBA crown.
But there have been a number of mitigating circumstances.
At some points during last year's postseason, Middleton was more crucial than Giannis. The eventual Finals MVP was the straw that stirs Milwaukee's drink, as they say. But if that's the case, then K-Mid handed Giannis that straw.
The two-time All-Star dropped 38 points and added 10 rebounds, five assists, and five steals in a must-win Game 6 against the Brooklyn Nets in the Eastern Conference Semifinals.
After The Greek Freak injured his knee in the conference finals against Atlanta, Middleton closed out the series without his MVP teammate on the floor. The 6-foot-7 sharpshooter averaged 29 points, 8.5 rebounds, 7.5 assists, and 2.5 steals on 47.6% shooting in Games 5 and 6.
Holiday had his struggles offensively throughout the postseason. But he was the one responsible for guarding Trae Young, Chris Paul, and Devin Booker during the final two series. The 31-year-old averaged 18.3 points, 10.0 assists, 2.8 steals, and was a plus-14 in Milwaukee's four wins against Phoenix to help clinch the title.
Holiday missed six of the Bucks' first 18 games, while Middleton missed eight. Even Antetokounmpo missed a game against Boston.
But now all three are healthy are they're showing the league how big of a threat Milwaukee still is.
The Bucks are undefeated this season with Giannis, Middleton, and Holiday in the lineup
Milwaukee enters a matchup with Detroit (sans forward Isaiah Stewart) riding a four-game winning streak.
The Bucks blew out Orlando on Nov. 22 — they led by 51 points during one stretch that night — and added another win against the Magic to go along with victories over Oklahoma City and the Los Angeles Lakers.
Milwaukee's trio of stars has played six games together, including the last four. The Bucks are 6-0 in those games.
"Definitely started way slower than I think we all wanted to," Middleton said after the win against the Lakers via CBS Sports. "But it happens."
"We gotta start winning games," Antetokounmpo added.
The two-time MVP also said he doesn't miss having his wingman back, either.
"There's an inside joke between me and Khris like I always complain to him that 'I see you too much, I'm tired of you, we gotta get some space from one another.' But I missed him. Just having him out there, he definitely helped the team… It's good to have him back. It's definitely good to have him back."
The defending champs are getting healthy. It's no coincidence they're getting back to winning, too.
A healthy Milwaukee team should scare the rest of the league
When the Bucks' triumvirate was on the floor together last year, Milwaukee had a plus-12.7 net rating in the regular season. That barely dipped in the playoffs.
When Middleton, Holiday, and Antetokounmpo start alongside Grayson Allen and Bobby Portis, that lineup is plus-7.3. In a small sample size as he's only played one game, when Brook Lopez is healthy and replaces Portis in that lineup, it jumps to plus-9.0.
Milwaukee will get its starting center back, and Allen has likely played well enough to keep his spot along with the team's other four starters, even when DiVincenzo returns.
The Bucks are rounding back into shape — literally — and when they get going at full strength again, the NBA should be prepared for yet another dominant Milwaukee squad.
All statistics courtesy of NBA.com.