Only 1 Minor Difference Separated Kobe Bryant and Michael Jordan, According to Horace Grant
It's highly unlikely the NBA will ever have another player exactly like Michael Jordan. But the closest it got was Kobe Bryant.
The comparison between MJ and Kobe has gone on since Bryant entered the league during Jordan's championship run with the Chicago Bulls. And while No. 23 is almost universally considered the better player, a former teammate of both saw just one minor difference between the two legends.
Michael Jordan and Kobe Bryant shared several similarities
Jordan and Bryant shared more than just a 6-foot-6 frame. By the time their respective careers were over, many considered them the two best shooting guards in league history.
Both players were prolific scorers, to say the least. MJ finished his career with 10 scoring titles and 30.1 points per game across 14 seasons. Bryant, meanwhile, won back-to-back scoring titles and averaged 25.0 points over 20 seasons with the Los Angeles Lakers. Each guard had an incredible offensive arsenal, highlighted by high-flying athleticism in their younger days and a crafty mid-range game in their later years.
Jordan and Bryant's highlights will certainly showcase their offensive capabilities. But both earned accolades for their work on the defensive end, as well. Kobe held the advantage in All-Defensive selections, earning 12 to Michael's nine. But His Airness did manage to earn Defensive Player of the Year honors in 1987-88.
Above all else, MJ and Kobe shared a competitive drive and hunger rarely ever seen. Bryant, who idolized Jordan, held the same insatiable need to win his predecessor also had.
Horace Grant sees just one difference between MJ and Kobe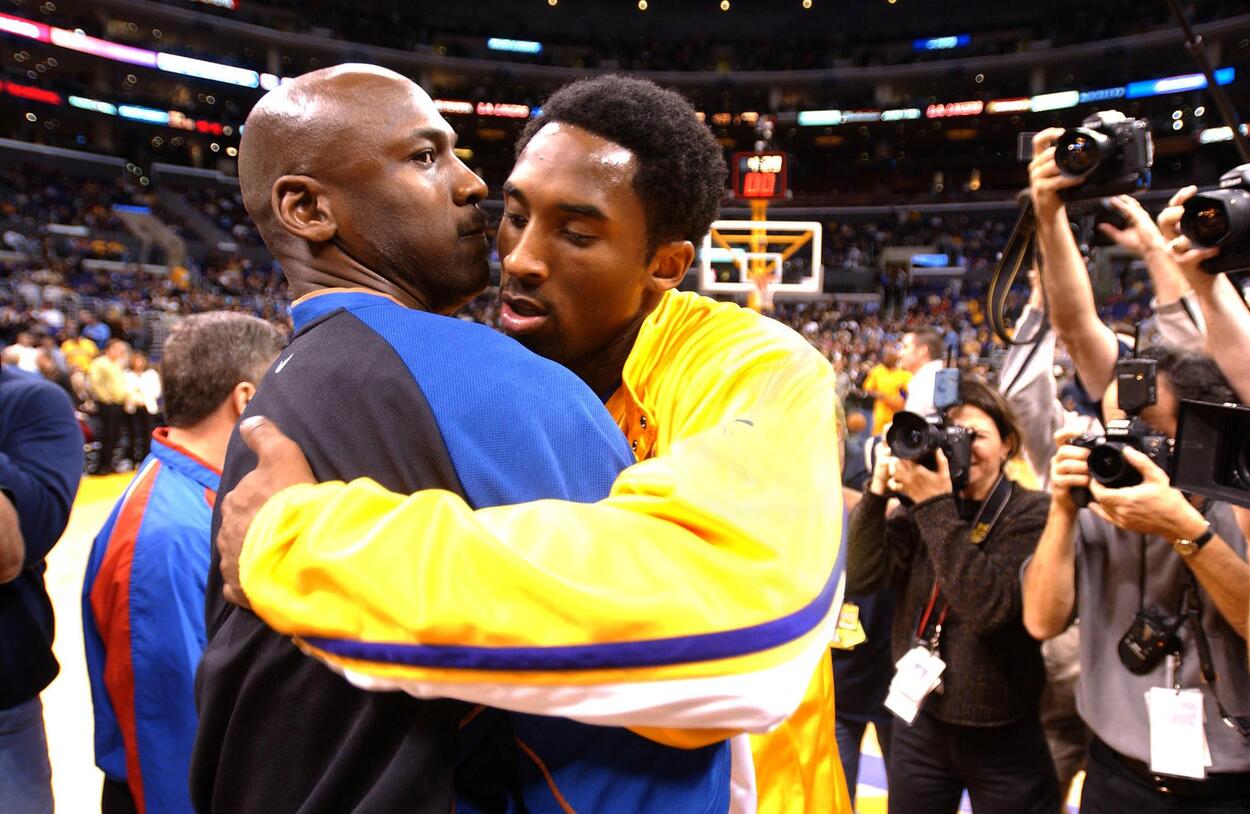 When sizing up Jordan and Bryant's accolades, you'll see 11 combined championships. Michael finished his illustrious career with six rings, while Kobe claimed five of his own. That, according to Horace Grant, is the only difference between the two stars.
Grant, a 17-year NBA veteran, spent seven seasons and won three titles with Jordan on the Bulls. He also suited up for two seasons with Bryant on the Lakers, winning a title and falling just short of another.
Soon after Kobe's death in January 2020, Grant compared the two greats and saw little separating them (h/t The Universe Galaxy):
"People ask me to compare and I say, 'Michael had six championships and Kobe had five.' That's the only difference. Because they worked their butts off on the court as well as off of it."

Horace Grant
The four-time champion also mentioned how both Bryant and MJ weren't afraid of trash talk and responded accordingly when faced with it themselves.
"If MJ is not having a good game and say the opponent was really giving it to him … you just woke him up," Grant said. "And Kobe was the same way. He would come out and just let you have it."
Jordan and Bryant are two of the greatest winners in modern NBA history
Grant sees the number of titles as the only difference between Jordan and Bryant. But their six and five rings, respectively, still unite them as two of the greatest winners the sport has ever seen.
Twenty-six players have won five or more NBA titles. Among them, 19 reside in the Hall of Fame. But discounting players from the great Lakers team of the early 1950s and Boston Celtics dynasty in the '50s and '60s, only Jordan, Kobe, Magic Johnson, Scottie Pippen, and Tim Duncan won all of their rings with a single team.
With six rings in six tries for Jordan and five rings in seven tries for Bryant, both superstars reached a level of success rarely seen by anyone else. And they did so in a single uniform, earning at least one three-peat each in the process.
Between their actual play, competitive drive, and brimming trophy case, MJ and Kobe are very nearly one and the same.
All statistics courtesy of Basketball Reference.