Only 1 NBA Player Has Played More Seasons on a Single Team Than Kobe Bryant
While many players jump from one NBA franchise to another, some represent a single team for their entire career. NBA players who have played for a single franchise include Kobe Bryant, who played for 20 straight seasons for the Los Angeles Lakers and Dirk Nowitzki retired after playing 21 seasons. Let's look at each of their careers.
Kobe Bryant's 20-year career with the Lakers
Kobe Bryant's NBA career began when the Hornets selected him with the 13th overall pick in the 1996 NBA Draft. Charlotte immediately traded the shooting guard to the Lakers where he made his NBA debut on November 3, 1996. Bryant played for 20 years until his retirement in 2016. In addition to having the second-highest number of All-Star appearances, the late NBA star holds the record for the most consecutive starts in the league.
Wearing the Nos. 8 and 24, Bryant's career statistics are 33,643 points, 7,047 rebounds, and 6,306 assists. His achievements include:
Five-time NBA champion (2000–02, 2009, 2010)
Two-time NBA Finals MVP (2009, 2010)
NBA's Most Valuable Player (2008)
18-time NBA All-Star (1998, 2000-16)
Four-time NBA All-Star Game MVP (2002, 2007, 2009, 2011)
11-time All-NBA First Team (2002-04, 2006-13)
Two-time All-NBA Second Team (2000, 2001)
Two-time All-NBA Third Team (1999, 2005)
Nine-time NBA All-Defensive First Team (2000, 2003-04, 2006-11)
Three-time NBA All-Defensive Second Team (2001-02, 2012)
Two-time NBA scoring champion (2006-07)
In January 2020, 41-year-old Bryant died in a helicopter crash along with six other passengers, including his daughter, Gianna. On May 15, 2021, he was inducted into the Basketball Hall of Fame, where his wife accepted the induction in his honor.
Dirk Nowitzki's career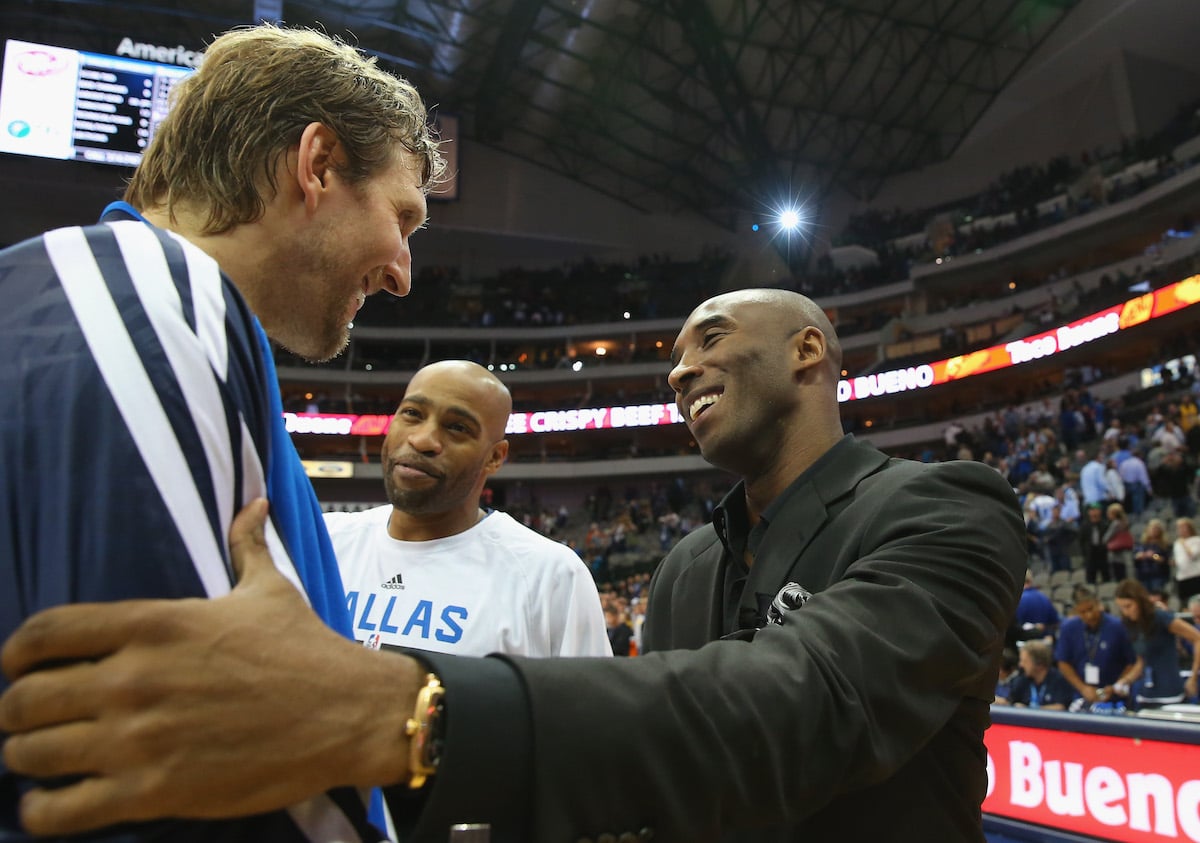 Dirk Nowitzki was the ninth pick in the 1998 NBA Draft by the Milwaukee Bucks who traded him to the Mavericks in a multi-team deal. The German power forward/center made his NBA debut was on February 5, 1999, in Dallas. Nowitzki played for 21 years before retiring in 2019.
Some of No. 41's achievements include being the 2011 NBA Champion, 2011 Finals MVP, and 2007 NBA MVP. His career statistics include 31,560 points, 11,489 rebounds and 3,651 assists. Nowitzki is currently a special advisor for his team, the Dallas Mavericks.
Other NBA players who have played for one team so far 
Giannis Antetokounmpo
The Milwaukee Bucks picked Giannis Antetokounmpo in the 2013 NBA Draft. The 2021 NBA Champion is a two-time NBA MVP (2019, 2020), six-time NBA All-Star (2017-22), and 2021 Finals MVP. From 2013 to the present, the power forward has played for the Milwaukee Bucks for a total of 656 games. Antetokounmpo has 21.8 average points per game, 9.4 rebounds per game, and 4.6 assists per game.
Larry Bird
The Boston Celtics drafted Larry Bird with the sixth overall pick in the 1978 NBA Draft. The forward played from 1979 to 1992 for 13 seasons total. His NBA career playing statistics are 21,791 points, 8,974 rebounds, and 5,695 assists. Bird's achievements include:
Three-time NBA champion (1981, 1984, and 1986)
Two-time NBA Finals MVP (1984 and 1986)
Three-time NBA MVP (1984-86)
1980 NBA Rookie of the Year 1980
After retiring, Bird coached for the Indiana Pacers from 1997 to 2000, earning Coach of the Year in 1998 after leading the Indiana Pacers to the NBA finals. Later, Bird became the 2012 Executive of the Year with the same franchise.
RELATED: Kobe Bryant and His Mamba Mentality Were 'Hated' by the Rest of the NBA, Says Gilbert Arenas
Statistics courtesy of Basketball-Reference.com.