Only 1 NFL Quarterback Played for More Seasons on a Single Team Than Dan Marino
When ranking the greatest quarterbacks in history, you must consider Dan Marino. Marino holds several NFL records throughout his career, but he was never on a Super Bowl-winning team. Despite his longevity and skill, another quarterback has played for more seasons on a single NFL team.
Dan Marino's NFL career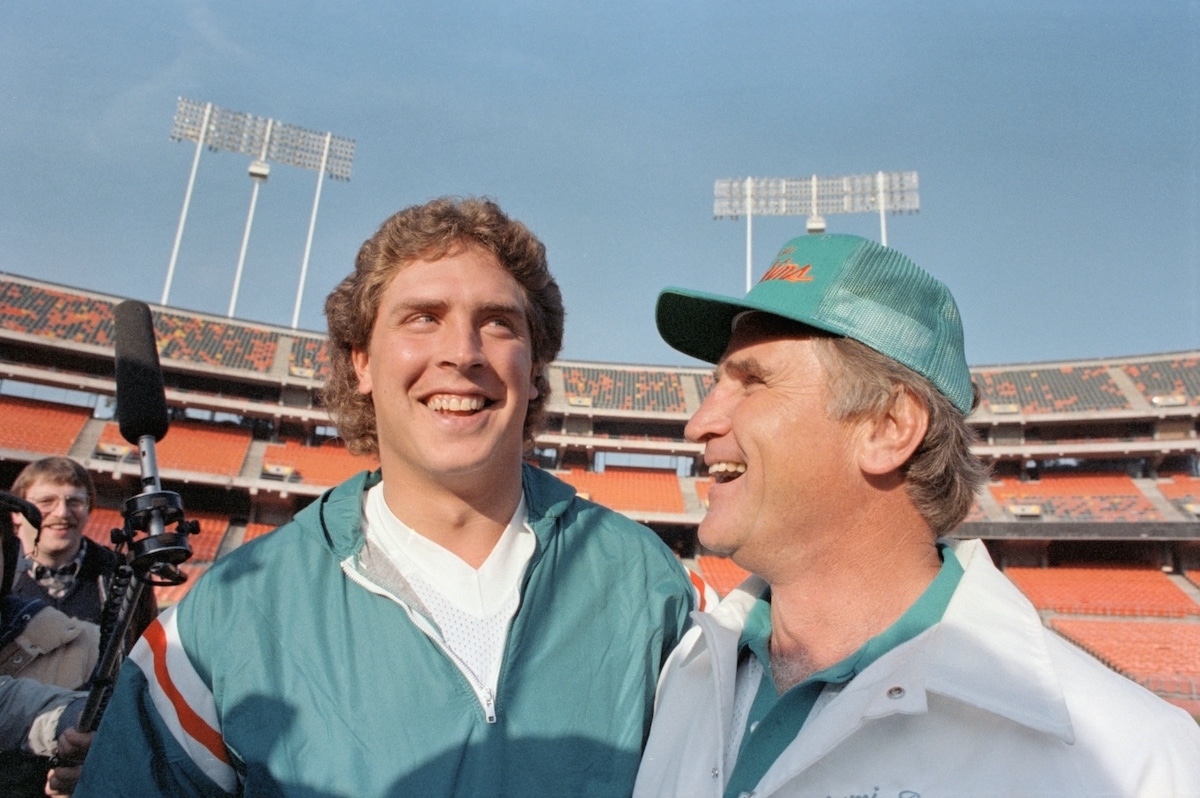 The Miami Dolphins drafted Marino in the first round of the 1983 NFL Draft with the 27th overall pick. The University of Pittsburgh alum played for 17 straight seasons with Miami Dolphins before retiring in 1999. At 155 wins, Marino has the most career victories for a quarterback without a championship under their belt. As for career statistics, he had 420 touchdowns, 61,361 passing yards, and a passer rating of 86.4.
Marino entered the Hall of Fame on August 7, 2005. He won all three major individual awards: NFL MVP (1984), NFL Comeback Player of the Year (1994), and NFL Man of the Year (1998). Despite not being skilled in scrambling, Marino was known for his quick release.
On September 17, 2000, the Miami Dolphins retired his jersey, No. 13. From 2002-13, Marino was an analyst for CBS' Sunday pregame show, The NFL Today. He left the job in 2014 and announced he would return to the Dolphins as a special adviser.
Ben Roethlisberger has played for the most seasons on a single NFL team
Ben Roethlisberger is the only quarterback who's stuck with one NFL team longer than Marino. He played for the Pittsburgh Steelers for 18 seasons — one more than Marino. The Steelers originally took Roethlisberger in the first round of the 2004 NFL Draft.
Since then, the Miami University alum earned the NFL Offensive Rookie of the Year award and won two Super Bowl titles. Roethlisberger retired in 2021 but announced his retirement on January 27, 2022. His career statistics include 418 touchdowns, 64,088 passing yards, and a passer rating of 93.5.
Aaron Rodgers will tie with the retired Steelers QB when he returns next season to lead the Packers, making his 18th straight season in Green Bay.
Tom Brady is the NFL quarterback with the longest tenure in the league
When measuring the longest-tenured NFL players, you cannot fail to count Tom Brady. The Patriots originally chose the GOAT during the 2000 NFL Draft's sixth round at No. 199. He played for New England from 2000-19. Though Brady has moved to the Tampa Bay Buccaneers, he's still the NFL quarterback with the longest tenure in the league, playing 22 seasons so far.
The 44-year-old's career statistics include 624 touchdowns, 84,520 passing yards, and a passer rating of 97.6. Brady is the only quarterback to win Super Bowl in 3 different decades. His accomplishments include seven Super Bowl wins.
RELATED: Dan Marino's 'Really Simple' 7 Words of Advice Set Ryan Tannehill on the Path to NFL Stardom