There's Only 1 Place for the NBA to Hold a 'Court of Dreams' Game; Anywhere Else Would Be a Massive Mistake
After Major League Baseball staged a wildly successful game at the Field of Dreams location in Iowa, the NBA is considering jumping on the bandwagon. While the NBA tried an outdoor preseason game several years ago, it hasn't attempted staging one since then. The most significant variables for an outdoor basketball contest are the weather and the court itself. That and the NBA players buying into the idea.
But basketball players don't usually come up playing inside fancy arenas with custom-built hardwood floors. Instead, the greats are grown on the blacktop or asphalt of playgrounds across the world. If the NBA wants to pay proper homage to its roots, there is only one place to stage an outdoor game that counts.
The NBA schedule doesn't lend itself to outdoor play
Even when the NBA attempted its outdoor preseason game in 2008, things didn't exactly go off without a hitch. The Denver Nuggets and Phoenix Suns played at the Indian Wells Tennis Garden in California. The 16,000-seat capacity approached that of most NBA arenas. And what could go wrong with Southern California weather?
As it turns out, there was plenty. It was a night game, for starters. It didn't rain, so that was a good thing. But a strong breeze blew throughout the game, and by the fourth quarter, it was 64 degrees. Gusts up to 15 miles an hour made it feel colder. Was it Lambeau Field in January? No. But wind chill isn't a thing for NBA players.
The game was on a wooden court. In the cool conditions, condensation made footing treacherous at times. The wind turned the game into a defensive slugfest. Denver's 77–72 win included the teams shooting a combined 3-of-27 from 3-point range. The Nuggets missed more free throws (20) than they made (18).
Maybe they needed Wesley Snipes there to help them gauge it.
Rucker Park is the only venue that makes sense
The Field of Dreams game in MLB was a regular-season contest between the New York Yankees and the Chicago White Sox. If the NBA wants to follow suit, a date either very early or very late in the season makes the most sense.
And if it wants to capture a Court of Dreams sort of atmosphere, Harlem's famed Rucker Park is the only place to go.
With all due respect to Venice Beach in California, more great players have run up and down the court at the Rucker than any other playground in the world. Julius Erving became Dr. J in Harlem. And he might not have been the best player on the court, considering playground legend Joe "The Destroyer" Hammond dropped a 50-piece in the game where Erving's star rose.
A few of the legends from Rucker Park are among the game's elite. Kareem Abdul-Jabbar, Wilt Chamberlain, Erving, Earl Monroe, Connie Hawkins; all are among the greatest to come through the place.
But there are other legends not as widely known. Jumpin' Jackie Jackson, Pee Wee Kirkland, Herman "Helicopter" Knowlings, Fly Williams, and Pookie Wilson are as well known as the NBA Hall of Famers in Harlem.
If the NBA wants to maximize a Rucker Park game, make it a New York thing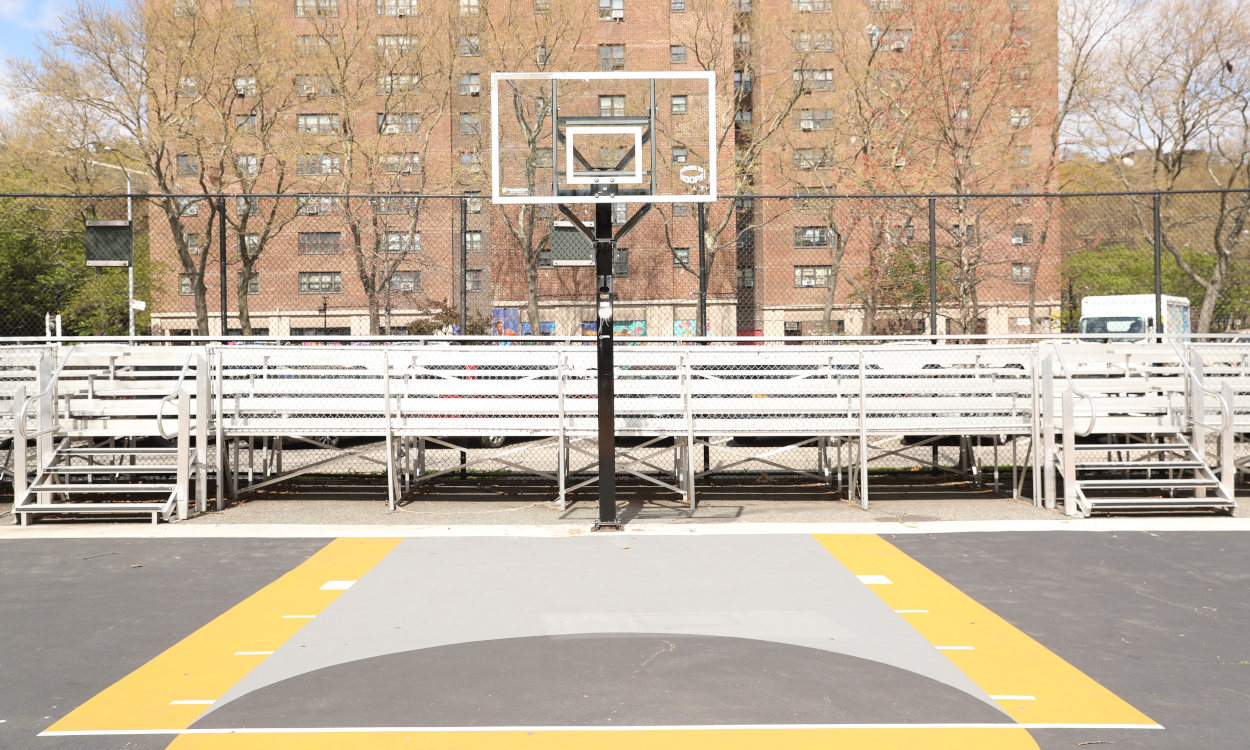 The New York Knicks and Brooklyn Nets at Rucker Park? The court has enough juice among basketball fans to draw interest. Taking the mostly imaginary Battle of New York to Harlem? It might be enough to make the rivalry more than just fans talking trash on Twitter.
There are potential drawbacks, as NBA executive vice president of basketball strategy and analytics Evan Wasch (yes, the guy behind the play-in tournament) said on The Crossover podcast recently.
"Whether it's blacktop and injury concerns or a wooden court outside with humidity concerns and moisture that can get on the court, being beholden to rain, all of those things become a consideration.
"We've explored it, and we'll continue to talk about it. Obviously, the Field of Dreams game was incredibly successful. So, no surprise it has sparked some discussions, and it's worth exploring. But the logistical challenges of a basketball game are just significantly more than a baseball game, which, of course, is already outside."
Let's be clear. NBA games are an indoor activity. But basketball is played outside as often as it is in, maybe more so. It's the 21st century. There must be a way to make it work and minimize the risk while still providing a great show. Nets. Knicks. Rucker Park. It has to happen.
Like Sportscasting on Facebook. Follow us on Twitter @sportscasting19.