Original 'Space Jam' Director Blasts LeBron James Reboot: 'LeBron Ain't Michael'
While Space Jam: A New Legacy has been a box-office hit for LeBron James, at least one person connected to the Michael Jordan original from 1996 is less than impressed. Veteran director and cinematographer Joe Pytka has very little good to say about the Space Jam reboot.
It's no surprise the director of the first has reservations about the second, and it provides more evidence the never-ending Michael Jordan vs. LeBron James GOAT battle extends beyond the basketball court.
The Michael Jordan-LeBron James debate has gone on for years
Michael Jordan is a Hall of Famer, one of only eight players in NBA history with at least 30,000 career points, a six-time NBA Finals MVP, and the game's all-time leader in scoring average.
LeBron James is a future Hall of Famer, one of only eight players in NBA history with at least 30,000 career points, a four-time NBA Finals MVP, and on track to pass Kareem Abdul-Jabbar as the NBA's all-time leading scorer in roughly two seasons.
There are valid arguments to be made in either direction about which player is the greatest of all time. Other players should be in that discussion, mind you, but the ongoing case of Jordan v. James is a solid starting point.
The four players who played with each have weighed in. One doesn't want to take a position, one says it's MJ with Bron gaining on him, and two go with His Airness.
The principles have also made their positions known. Michael Jordan loves him some Jordan and always has, but recently conceded LeBron James might be on his level at some point. James, for his part, gets tired of the whole thing at times. But now, the battle has spread from the court to the silver screen.
'Space Jam' films launching a new front in the Michael-LeBron wars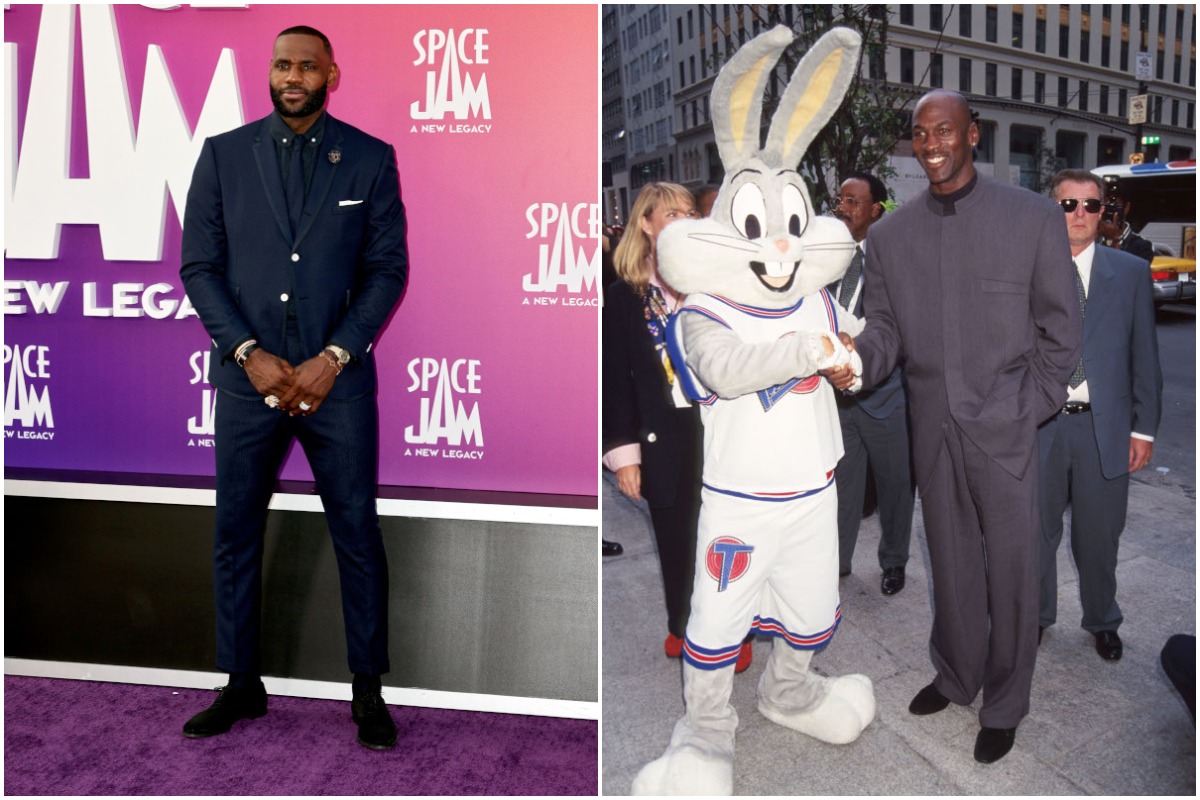 When the film opened in November 1996, Space Jam was the No. 1 movie in the U.S., grossing $27.5 million at the box office. The film eventually grossed nearly $90 million domestically and more than $250 million worldwide.
Pytka, whose directorial resume includes primarily short films and documentaries, directed the Michael Jordan-led Space Jam. The second and final feature film of his directorial career, Space Jam, followed 1989's Let It Ride, starring Richard Dreyfuss.
Space Jam: A New Legacy also opened in the No. 1 spot at the domestic box office, with an opening weekend gross of $31.65 million. But that wasn't enough to stop Pytka from diving into the Michael vs. LeBron abyss, per TMZ.
"The truth is that LeBron ain't Michael."

Joe Pytka
Pytka also claimed James doesn't have the cultural recognition today that Jordan enjoyed in the 1990s and thought the movie should have connected more with James' personal life. Finally, the Hollywood veteran wasn't wild about the animation in the Warner Bros. release, either.
"(Bugs Bunny) looked like one of those fluffy dolls you buy at an airport gift shop to bring your kid when your business trip has taken too long."

Joe Pytka
Perhaps Pytka's most significant criticism of the reboot was that it was boring. He claimed he needed five different viewings to watch the entire 115 minutes of the film.
Is there an end to the Michael Jordan vs. LeBron James debate in sight, though?
Folks will be debating Michael Jordan and LeBron James for decades
Michael Jordan retired for the final time after the 2002–03 season, the year before LeBron James entered the NBA as the No. 1 overall draft pick (point: James!). If MJ had stuck around for another season, it would have been a 40-year-old version of His Airness (who, let's face it, was pretty much His Floorness by that point). And it would have been the 19-year-old version of The King, a raw talent that was hardly a finished product.
It's probably best that imaginary meeting never happened because we'd be seeing clips of it on loops constantly.
That isn't to say the 39-year-old Jordan was a bad player. Was he the Michael of the 1990s? No. But he averaged 20.0 points and 37.0 minutes at that age while playing all 82 games for a not-great Washington Wizards team that he helped build.
Meanwhile, James was advanced enough in his first season to earn Rookie of the Year honors. He joined Amar'e Stoudemire as the only player to jump from high school to the ROY trophy. James' 20.9 points per game average as a rookie remains the lowest of his 18-year career. So, yeah, pretty far along as a player already.
We may never know definitively if Michael Jordan or LeBron James is the more extraordinary player. As far as who is the better actor? That's entirely an individual choice.
Statistics courtesy of Basketball Reference and IMDb.