Orlando Magic Rookie Jalen Suggs Was 'Ready' to Be a Two-Sport Star in College but Claimed He Never Got the Opportunity Because His Chosen School 'Didn't Come to Recruit'
Allen Iverson was a standout high school quarterback before he focused his talents on basketball. LeBron James was a wide receiver at St. Vincent-St. Mary High School in Akron. Deion Sanders. Bo Jackson. There is a litany of examples of professional athletes who dominated in multiple sports. The Orlando Magic now have their own dual-sport star in Jalen Suggs.
Suggs was the fifth overall pick in the 2021 draft. He played basketball at Gonzaga, where he helped lead the Bulldogs to the 2020 NCAA National Championship Game.
He eventually chose the right sport as the 6-foot-5 point guard is now a multi-millionaire at age 19, but there was another reality in which Suggs showed his talents on the gridiron and the court at the college level.
Jalen Suggs was one of the best players in college basketball last season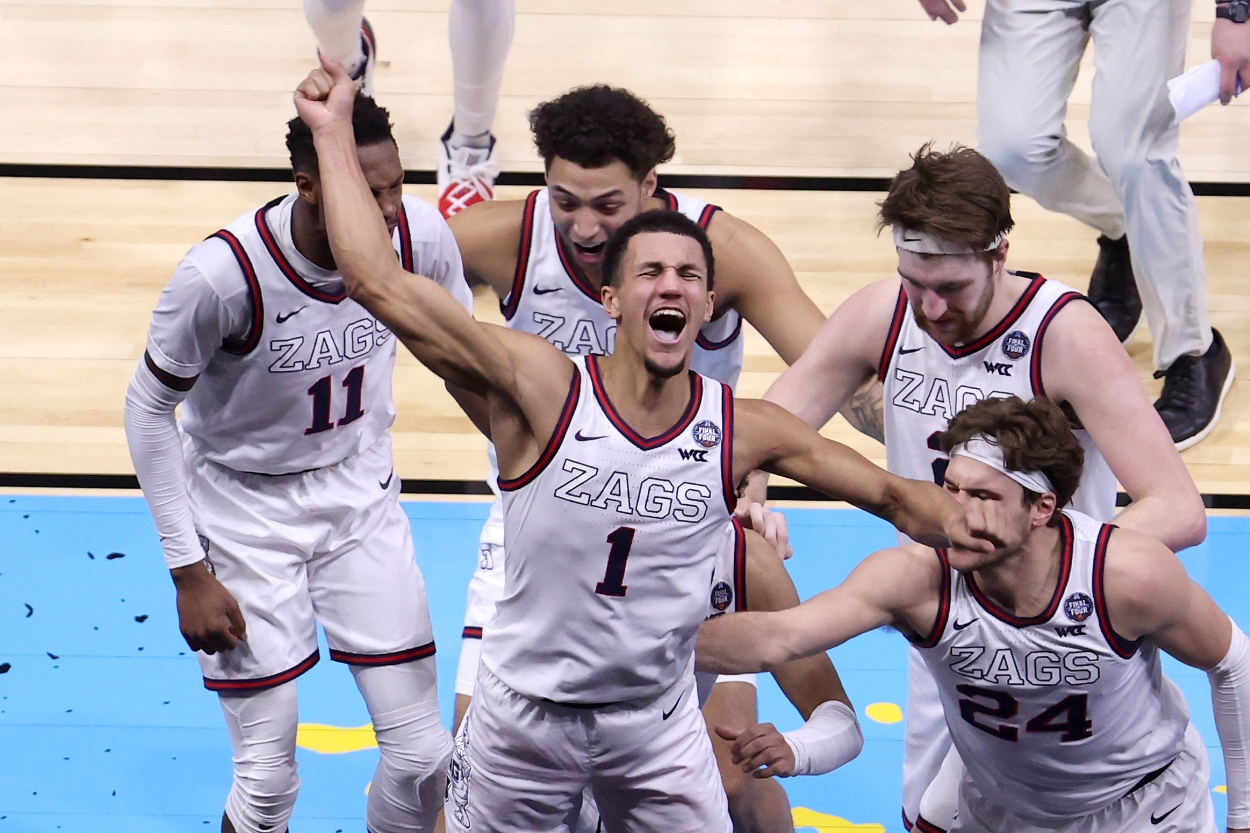 Suggs was a 247Sports five-star basketball recruit out of Minnehaha Academy in Minneapolis, Minn. He was the Gatorade Minnesota Player of the Year as a senior after averaging 23.5 points per game in addition to 7.3 rebounds, 5.1 assists, and 3.8 steals, according to his Gonzaga basketball profile.
He was the highest-ranked recruit ever to sign with the Bulldogs and backed it up by averaging 14.4 points, 5.3 rebounds, 4.5 assists, and 1.9 steals during his lone season in Spokane.
The Zags were ranked No. 1 in the country for the majority of the 2020 season before falling to Baylor in the national title game. Suggs' stat line — as well as his leadership, even as a freshman — was a major reason why.
But basketball wasn't the only sport in which the lottery pick shone.
Suggs was one of the top quarterback recruits in the country and almost became a dual-sport star
The Magic's new point guard was also named Mr. Football in Minnesota his senior year, becoming the first player in state history to win both the Mr. Basketball and Mr. Football Awards.
Suggs was a three-star recruit as a dual-threat quarterback. He threw for more than 2,200 yards with 25 touchdowns and ran for nearly 1,000 yards and 12 more scores as a senior. According to his Gonzaga bio, the five-time West Coast Conference Freshman of the Week also played defense — he picked off nine passes, two of which he took back for scores.
Suggs had scholarship offers to play football from Alabama, Georgia, Ohio State, Michigan State, and a handful of other college football blue-bloods. He considered playing both sports, but he wanted to stay close to home to do so.
But he never got the chance. Suggs wanted to play both sports at the University of Minnesota. He was set to play football for the Gophers and head coach PJ Fleck, but oddly enough, he didn't receive much interest from Minnesota's basketball coach at the time, Richard Pitino.
Suggs described his recruiting experience on the Road Trippin' Podcast:
"So, sophomore year going into junior year, I am ready to commit to Minnesota. I'm like ready to go. I'm ready to do both sports. I'll play with P.J. The basketball — I'll do it. I just need a little bit. I need a little more from the basketball side.

"They didn't come to recruit. They didn't come to many games. They weren't at practice."

Jalen Suggs on his experience being recruited as a two-way athlete by the University of Minnesota
Luckily for Orlando, Suggs' journey took him to basketball
What would have happened to the Magic's new starting point guard had he stayed at home and played football will have to remain a mystery. Regardless, Orlando has to be happy with the way things worked out.
The 2020 Consensus All-American likely isn't second-guessing his decision either as his checking account is scheduled to have more than $6.5 million (at least) deposited over the next four years, according to Spotrac.
Suggs is projected to be a franchise-altering player with his on-court athletic ability, demeanor, and leadership qualities. He already proved it at the highest levels of college basketball.
It's been a while since the Magic have had championship aspirations. Maybe the former two-sport star can help a struggling organization return to that level.
RELATED: Aaron Gordon's New Deal Is Further Proof the Orlando Magic Are Finally Making All the Right Moves