Orlando Magic Rookie Jalen Suggs Calls Injury 'One of the Best Things That Could've Happened to Me'
Just as Jalen Suggs was starting to show signs of why he was the No. 5 pick in last summer's NBA Draft and dig his way out of a slow start to his rookie season, an injury setback ruined the Orlando Magic guard's rally. Just about everything has gone that way this season for the hard-luck Magic, owners of the NBA's worst record at 7-35 and hostages of a 10-game losing streak.
Suggs, who is seemingly on the verge of returning to game action tonight in Charlotte, knows that if he is going to salvage his rookie season, he needs to make up for the lost time right away.
In hopes of shortening his rookie learning curve, Suggs stayed engaged with the Magic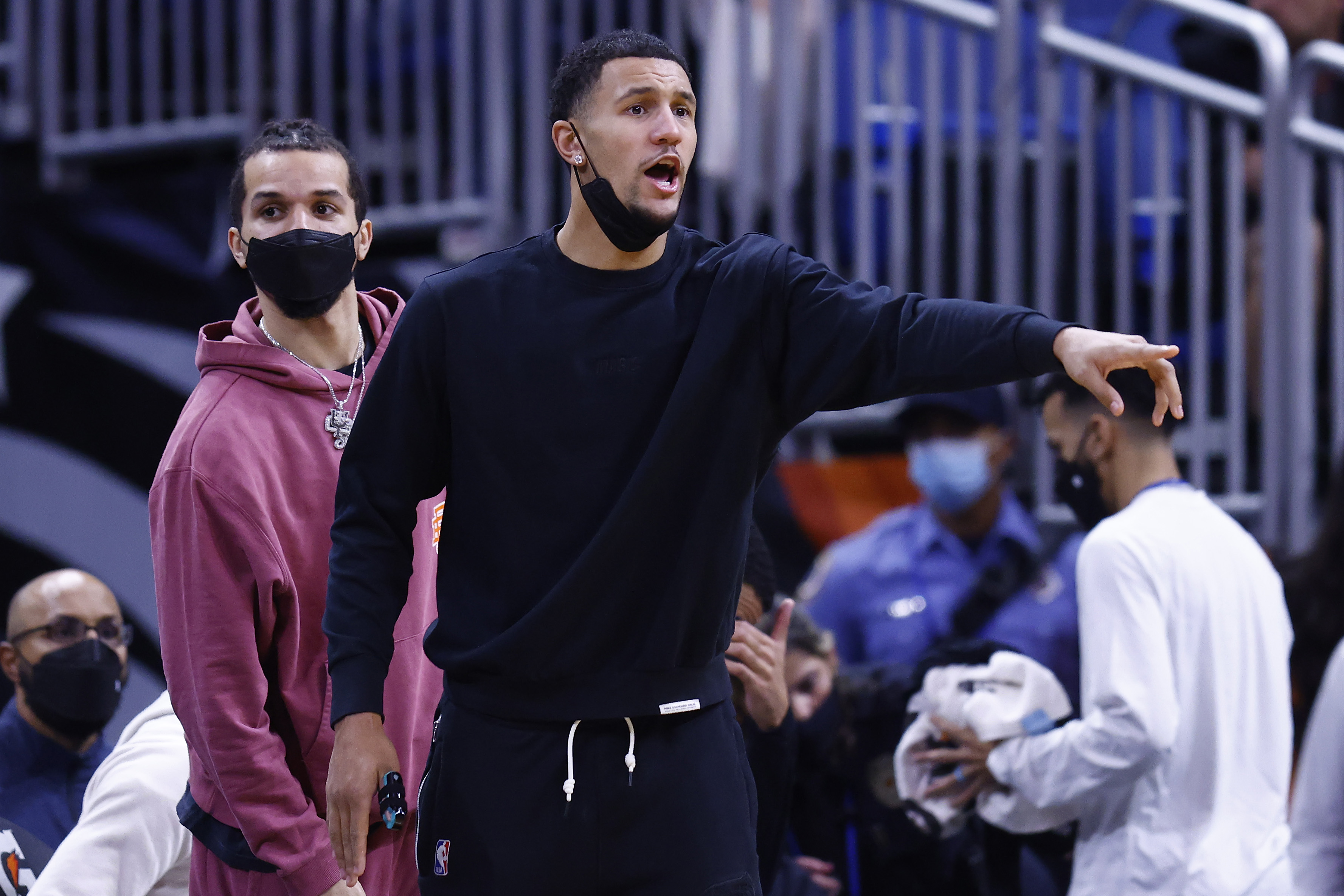 Suggs said he used his time wisely during his six weeks on the shelf with a fractured right thumb, and rookie coach Jamahl Mosley backed that up by raving about the rookie's commitment to the team while unable to play.
Outfitted with a cast over his right thumb and hand, Suggs watched game action from the bench, offered suggestions to players, and remained an active participant in team meetings and film sessions. He is hopeful that his continued mental engagement will make him a more effective player when he returns.
"A lot of excitement, and I've been anxious to get back out here and touch the floor and get up and down with my guys," Suggs said during his media availability on Friday morning. "We've looked so good out here. We've made real strides to put ourselves in position to be in every game. As soon as I get back out here and do everything that I've worked on in this past month-and-a-half, we can turn this thing around."
Orlando Magic rookie Jalen Suggs thinks his time away will benefit him going forward
An injury-ravaged Orlando Magic squad could be on the verge of getting guards Michael Carter-Williams and E'Twaun Moore back as well. Neither has played this season because of ankle and knee injuries. Also, Markelle Fultz and Jonathan Isaac — both recovering from serious knee injuries — recently rejoined the Magic as they progress in their rehabilitation stints.
However, Suggs's imminent return has Orlando most excited now. The former college star led Gonzaga to the NCAA National Championship Game in the spring. On draft night, he fell into Orlando's lap when Cade Cunningham, Jalen Green, Evan Mobley, and Scottie Barnes were the first four players selected. Magic fans greeted the selection of Suggs with tremendous excitement, feeling they got the steal of the draft.
However, Suggs' start to his NBA career was very shaky. He made just two of 15 3-pointers in his first three NBA games and shot just 30% from the floor in his first month as a pro.
Suggs' adaptation to the NBA game became more apparent in late November. That's when he put together a stretch of seven double-digit scoring nights in an eight-game stretch, highlighted by an effort against Brooklyn where he scored 21 points, grabbed four rebounds, and handed out three assists.
Disaster struck on Nov. 29 when Suggs was whacked across the hand by Philadelphia 76ers star center Joel Embiid on a drive to the rim by the rookie. That hit left Suggs with a fractured right thumb that sent him to the sideline for six weeks. Looking back now, Suggs thinks getting some time off to recalibrate and work on his game could have been for the best.
"It's one of the best things that could've happened to me," Suggs said boldly on Friday morning from Charlotte.
Suggs has some catching up to do to match other star players in his rookie class
Suggs hasn't even been the best rookie on the Magic this season. That honor belongs to Franz Wagner, the No. 8 pick of last summer's draft. Wagner, who had a 38-point night on Dec. 28, leads all NBA rookies in scoring (15.6 PPG).
Suggs has some serious catching up to do if he wants to contend for the NBA's Rookie of the Year award. No. 1 overall pick, Cade Cunningham, is second in scoring among rookies (15.4 PPG), while Houston's Jalen Green (15.2 PPG) and Cleveland big man Evan Mobley (14.9 PPG) aren't too far behind.
Toronto's Scottie Barnes is the pick of most experts for the top rookie honor for his work while averaging 14.7 points, 8.0 rebounds, 3.5 assists, and 1.0 steals a game. Some have tried to make a rivalry out of the Barnes and Suggs pairing after Toronto passed on the Gonzaga guard to pick the Florida State forward. In actuality, the two of them have known each other since they were early teenagers and have leaned on one another throughout their rookie years.
Now is the time for Suggs — who has averaged 12.3 points, 3.6 assists and 3.4 rebounds — to show what he learned while being away and that he can be one of the top rookies in the 2021 class.
"I know the work that I've put in and the amount of growing I've done in this month-and-a-half," he said. "It's allowed me to take a step back and really work on things that I needed to develop. I could see things from a different angle — instead of being on the court, I was watching it with coaches. I'm really excited to show everybody what I've been working on, and I just want to get back to being me."
Statistics are courtesy of NBA.com.
RELATED: Orlando Magic Guard Terrence Ross Shows Why He Should be a Top Target at the NBA Trade Deadline