Oscar Robertson Calls out NBA for Super Teams Hypocrisy: 'When Boston Got Kevin Garnett and Ray Allen, That Was David Stern's Deal'
Oscar Robertson was an NBA pioneer, even at the cost of his career. The man responsible for the nine-figure contracts players enjoy in today's era, Robertson never smiled for the cameras and never kept his feelings to himself. Robertson used the leverage he had to promote issues for social justice and players.
That landed him on the wrong side of management, and fans historically tend to side with ownership in those sorts of disputes. Call it the "shut up and dribble" approach to sports fandom. Now 82 years old, Robertson still doesn't shy away from controversial points of view. During a recent podcast appearance, he shared his feelings about the NBA's stance on super teams.
Oscar Robertson sued for players' rights
In 1970, Oscar Robertson set himself on a collision course with the powers of the NBA. He filed an antitrust lawsuit against the league, per Sports Illustrated, and in 1971 he testified before a Senate committee to argue against granting the NBA an antitrust exemption like that enjoyed by Major League Baseball.
His argument was simple: It was wrong for sports leagues to limit the ability of players to earn money. The reserve clause in contracts did that; players were tied to their teams even after their contracts had expired. In the end, the NBA didn't get its exemption. Robertson's battles led to players gaining free agency rights. The Oscar Robertson Rule, established in 1976, eventually led to eliminating teams receiving compensation after losing free agents.
But most discussions about Robertson today center on his 1961–62 season, when he became the first player to average a triple-double. He's known as a statistical outlier. But he's not a beloved figure among today's fans, most of whom have only casually heard his name mentioned in connection with Russell Westbrook. Besides being a pioneer, he's a dedicated family man.
Oscar Robertson says there is a double standard applied to super teams
Despite Gary Payton's claims to the contrary, super teams have been around the NBA much longer than since 2003. But before free agency allowed players to determine their futures, trading players assembled those teams. And that's Oscar Robertson's point.
A super team is legitimate if teams trade players like property to assemble the most talent. But if a player is empowered to choose where and with whom he plays? That's a different matter. The Hall of Famer expressed that point on a recent episode of the Knuckleheads podcast with Darius Miles and Quentin Richardson.
"When Boston got Kevin Garnett and Ray Allen, that was David Stern's deal, and the NBA allowed that. Everything was fine. But when LeBron (James) went to Miami, 'Oh man, like how can you do this?'"
James was subjected to great scrutiny in 2010 after teaming with Dwyane Wade and Chris Bosh in Miami. Kevin Durant got hammered in the court of public opinion after bolting the Oklahoma City Thunder to sign with the Golden State Warriors in 2016. His move to the Brooklyn Nets with Kyrie Irving drew a similar reaction.
The Nets trading for James Harden hasn't passed muster because Harden forced his way out of Houston.
Robertson is a significant figure in the history of basketball, with ripples still felt today. But he's not a beloved hero. Maybe he should be.
Creative interpretation of history has benefitted other past stars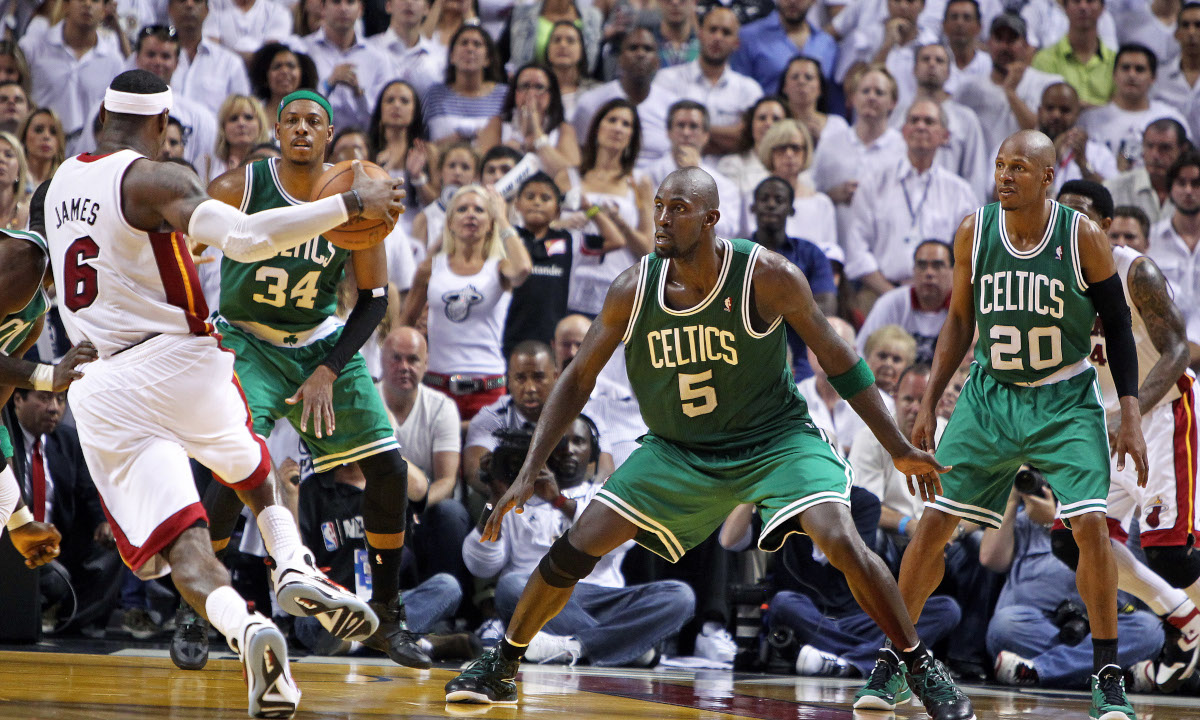 The NBA's all-time leading scorer, Kareem Abdul-Jabbar, speaks reverently of Oscar Robertson. The two teamed up to make the Milwaukee Bucks the quickest expansion team in league history to win a championship. Milwaukee's 1971 title came in the franchise's third season. The Portland Trail Blazers won their only title in their seventh season. Those are the only two franchises to do it in less than a decade.
But while Abdul-Jabbar is revered as a legend, doing so glosses over parts of his past. In much the same fashion as Harden in Houston, Kareem forced his way out of Milwaukee to the Los Angeles Lakers in 1975. Current interpretations of that event claim the Bucks made one of the worst trades in history. But then-general manager Wayne Embry did the best he could with an unwinnable situation.
But Abdul-Jabbar became likable late in his career, and today's generation sees him as a wise sage (correctly). Oscar Robertson never got that opportunity. He did a few years of television for CBS Sports before fading away. Robertson will be 83 in November. It would be great if the Big O could start getting proper recognition for everything he gave — and gave up — for future generations of NBA players.
Like Sportscasting on Facebook. Follow us on Twitter @sportscasting19.