Are There any Other Bosa Brothers Besides Joey and Nick?
Joey Bosa and Nick Bosa are part of a defensive family dynasty in the NFL. They represent the third and so far the best generation of their family to make waves at the professional level.

Joey of the Chargers and Nick of the 49ers are both healthy, and both are tearing it up in the AFC and NFC, respectively. Unfortunately, they don't have any hidden brothers out there waiting in line to play in the NFL. But their run is just getting started. Let's take a look at the origins of this dynasty of defensive linemen.

Two Bosas, one number: the Ohio State years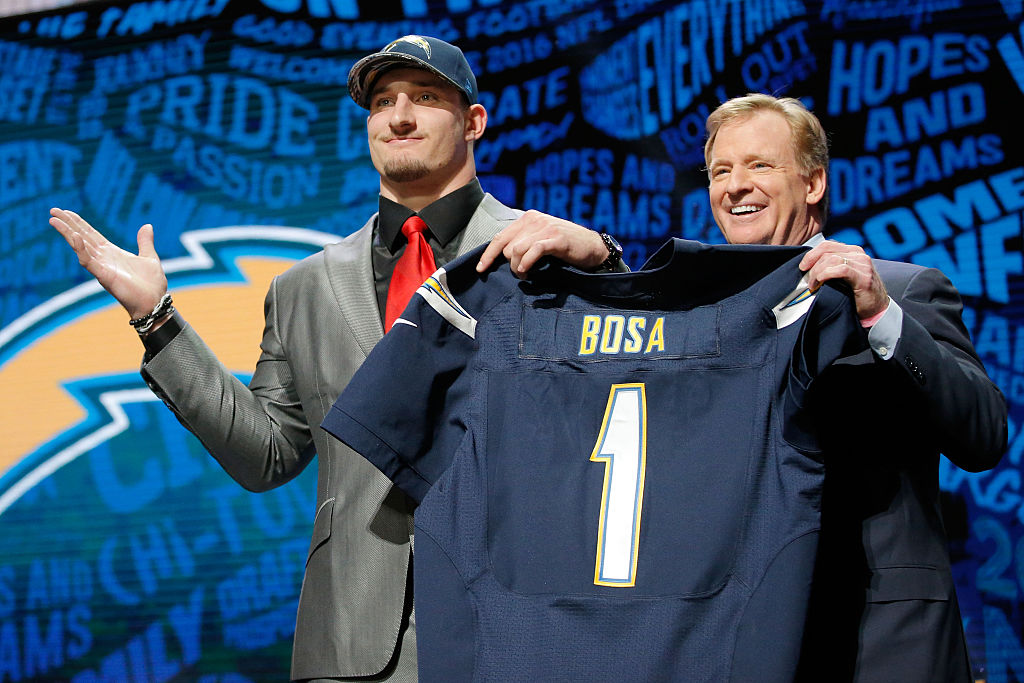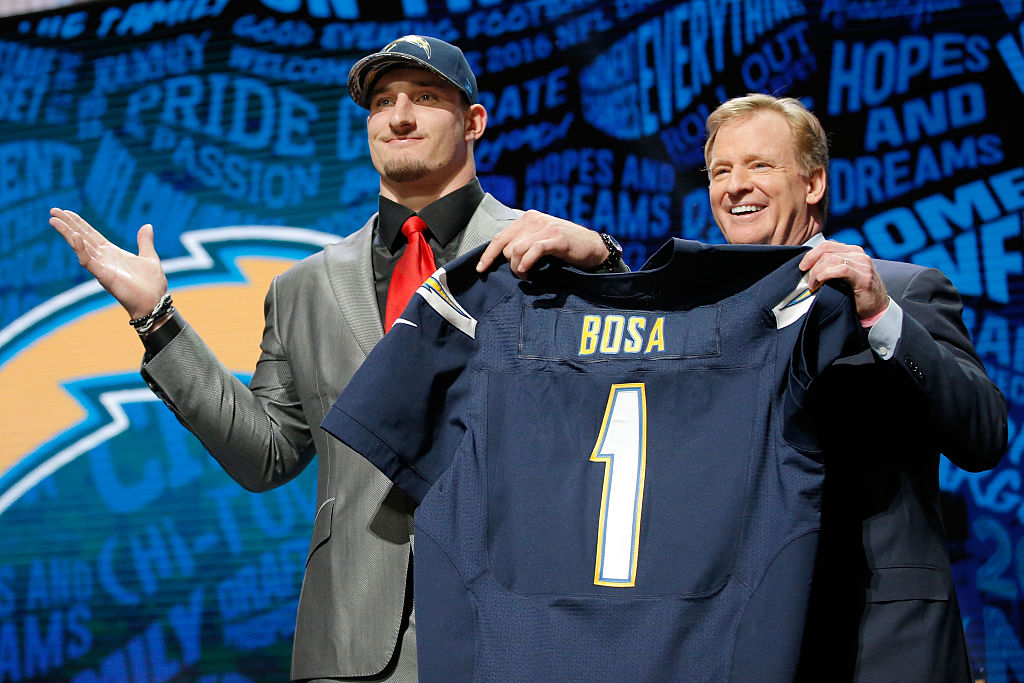 Joey Bosa, 24, has two years on his 22 year old brother Nick. They both played for the Ohio State Buckeyes, but the age difference allowed them to both wear their father John's jersey number — 97.

Joey Bosa spent three years with the Buckeyes before the NFL draft came calling in 2016. He was a great player who ran into some academic and other trouble, leading to a one game suspension in what became his final season.

Joey decided to double down on taking football more seriously than ever after those issues, and it paid off. He gave NFL scouts 16 tackles for loss and five sacks in his final season at OSU, capping off an All-American run in 2015. That got him drafted third overall in the 2016 NFL draft.
Nick Bosa might be even better than his accomplished brother. One anonymous scout told Bleacher Report, "There are a lot of similarities, and it goes beyond the physical stature. But I'm convinced Nick will be the better of the two."

Nick also cut things short after his third year with the Buckeyes. His sophomore year was essentially NFL draft bait: 32 total tackles, including 14.5 for loss, and seven sacks.

After a minor surgery kept him out of a portion of his junior year season, Bosa withdrew from Ohio State. He went second overall in the 2019 NFL draft.

The Bosa dynasty before Joey and Nick
The Bosa's historic relationship with the NFL begins in 1960. Palmer Pyle, grandfather to Joey and Nick, joined the Baltimore Colts that year. Between then and 1966, Pyle put in time with the Minnesota Vikings and the Oakland Raiders as well.

John Bosa is Joey and Nick's father. The Dolphins drafted the Boston College grad 16th overall in the 1987 NFL draft. He spent his three professional football years as a defensive end for the Miami Dolphins.
When John's short career does come up in Dolphins retrospectives, it's usually to note that the first round pick ended up being something of a bust. But he came into the league strong.

Bosa's left knee went out. He thought he recovered enough to play, until his right knee got injured too. Injuries spelled the end of Bosa's career before he had a chance to do more.

Instead, his role was to raise two NFL defensive phenoms to carry his name to much greater heights.
How the current wave of Bosas fares in the NFL
A potential fourth wave of NFL Bosas in the NFL is up in the air. It's up to Joey and Nick to mirror John's skill as a father if they have their own children. So what about the two guys tearing it up in the NFL right now?
The 2019-20 NFL season bodes well for both Joey Bosa and Nick Bosa. So well that they took the AFC and NFC Defensive Player of the Week nods at the same time.

Back in Week 8, Joey and the Chargers' defense valiantly held the Bears at arm's length. Joey personally sacked QB Mitchell Trubisky twice, becoming a big part of the narrative that the Bears offense simply can't hack it this year. The Chargers' 17-16 win ended with a humiliating field goal attempt by the Bears.

Nick Bosa's bid for Defensive Player of the Week recognition was even more wild. Nick proved how much the 49ers undefeated run has to do with a certain guy with number 97 on his back. Joey's two sacks looked good; Nick went for three against a Panthers offense that was like putty in his hands. And he made a pivotal interception complete with a 46 yard return. The 49ers' offense blew up Carolina with 51 points total, which shouldn't cover up the fact that Nick's work helped the Panthers to a paltry 13.

The third time's the charm for the Bosa family. Joey and Nick Bosa have what it takes to be superstars in the most demanding version of the NFL yet, which could help them give a new shine to the Bosa family name.