Outlaws Champion Gives Advice on Kyle Larson's 1 Weakness
Far from the international NASCAR Cup Series media glare, newly crowned champion Kyle Larson climbed into an open-wheel racing machine and competed on a little-known Northern California quarter-mile dirt track. 
He ended up struggling during the Hangtown 100 showcase event at Placerville Speedway on Nov. 20, but Larson felt comfortable enough to step out of his comfort zone to improve his skillset. 
Enter Brad Sweet, who played a mentoring role for the young NASCAR star. 
World of Outlaws champion shows Kyle Larson his weakness is coachable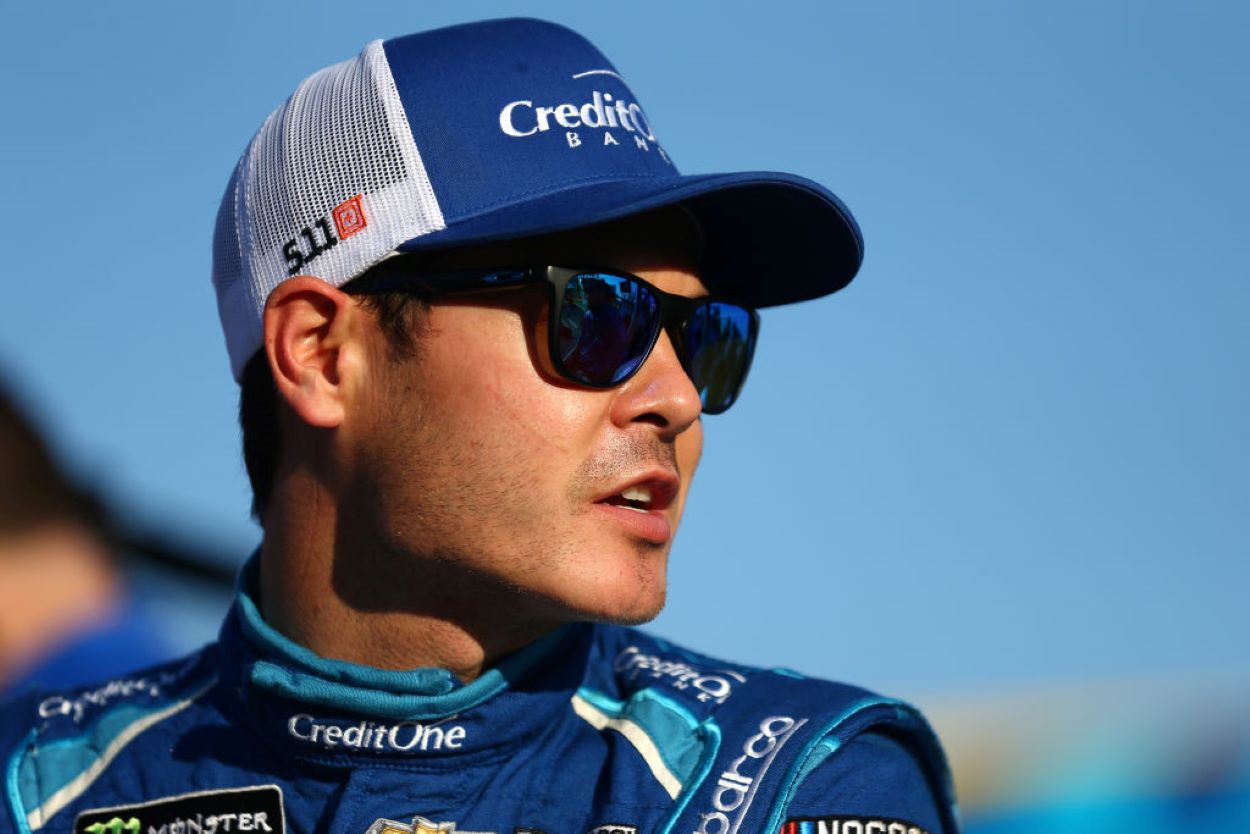 Larson admitted to focusing on one of his major weaknesses. 
"I'm not a good coach," Larson told nascar.com.
Sweet showed him a way to self-improvement.
Hendrick Motorsports teammate Chase Elliott joined Larson at his "hometown track" following Next Gen car testing at Charlotte Motor Speedway on Nov. 18. The 2020 Cup champion made the cross-country trip despite his inexperience on short dirt tracks.
Larson studied how Sweet tutored Elliott as a lesson in leadership he can carry forward in his Cup defense in 2022. Sweet is the three-time defending World of Outlaws sprint car champion. His knowledge of short dirt tracks was invaluable.
"It's been nice to have Brad Sweet here," Larson said. "… He's really been helping Chase a lot. I pitch in some advice when I can, but like I said, my only advice is I feel like to anybody when they ask me what to do is to say, 'run it harder.' " 
Larson learning to slow down 
With Sweet setting an example, Larson learned to expand on his only racing philosophy. It may have served him well en route to a Cup Series-high 10 wins last season, but a subtler tact is sometimes warranted. 
"Brad's really good at doing that and talking angles and explaining what to do with your hands and feet," Larson said. 
When Elliott completed his test laps in preparation for the Nov. 20 event, he huddled with Larson, Sweet, and crew members to review the video. 
Fans at the regional track were eager to witness the past two Cup champs after word spread through the stands; Elliott would appear. 
Most were already on hand to pay tribute to Larson, who hails from nearby Elk Grove, California. Elliott's presence was a bonus. 
Exhausted Larson, road-weary Elliott entertain Hangtown 100 fans
Since outrunning Elliott, Denny Hamlin, and Martin Truex Jr. in the Championship 4 race at Phoenix Raceway on Nov. 7, Larson has endured Elliott'slitz, promotional appearances, and photoshoots, traveling around the US celebrating his Cup title.
When the NASCAR-sanctioned activities slowed down, Larson raced home to Elk Grove for an honorary parade and a chance to compete at the track he learned to race as a youngster.0 Nov. 22 also was named in Larson's honor by city officials.
His old friends and on-track rivals were happy he made the trip. Ryan Bernal said he enjoyed racing against Larson on California dirt tracks again.
"He just hasn't changed," Bernal told nascar.com. "I mean, he just won a NASCAR championship and then wants to come out here and race a midget. "I mean, he does not need to do this, but then he'll stand out there until the last person leaves signing autographs. The guy has not changed throughout the whole process."
One thing Larson does hope to change is his ability to coach teammates.
With Sweet's help, perhaps he is starting to change.