5 Overpaid NFL Players Killing Their Teams' Salary Caps
The way the NFL is currently set up, successfully running a team is about more than compiling the best talent. It's about assembling the best talent for the right value. A bad deal or two has a chance to sink a team's chances to spend money elsewhere, giving them less of a chance to compete. As teams start preparing for the 2019 season, let's take a look at five overpaid NFL players killing their teams' salary caps.
5. Kyle Long
Long is only in the second season of a four-year extension with the Chicago Bears. He represents a modest $5.6 million cap hit for Chicago in 2019, but he restructured his deal to become slightly more team-friendly this offseason.

Long is a fine player when he's on the field, but he has a fairly long injury history. He missed significant time in 2018 to injuries. He's also 30 years old, which is practically ancient in NFL years. Bears fans may question the team's investment in Long if he's unable to stay on the field for long stretches.
4. Joe Flacco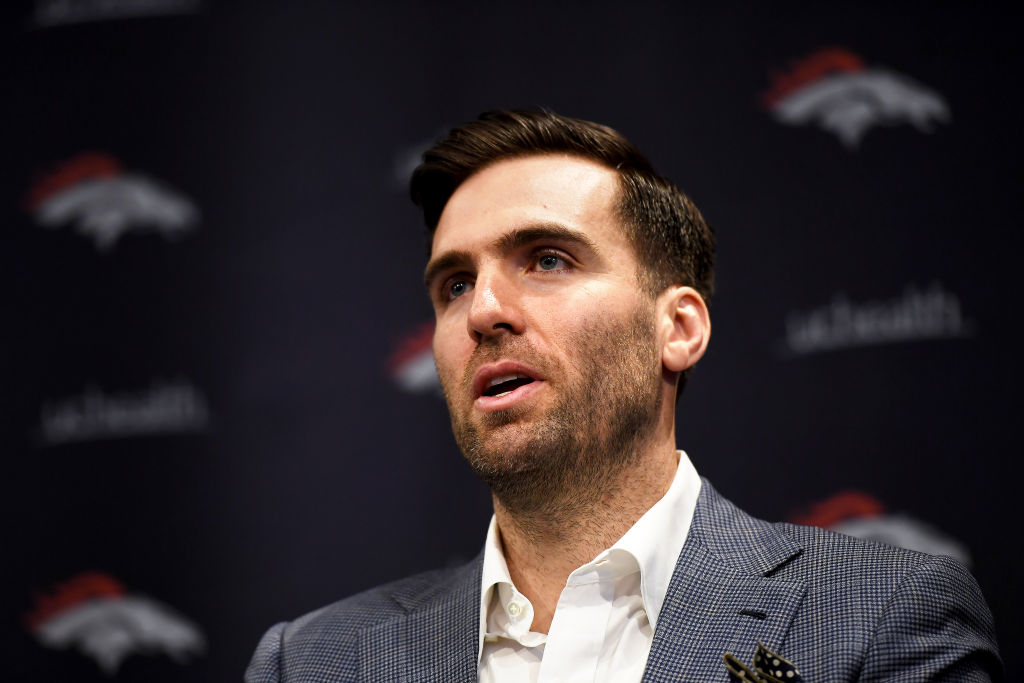 Since Peyton Manning retired, the Broncos have found themselves without a solid option at QB. They turned to Brock Osweiler, Paxton Lynch, and Case Keenum among others, and no one could play at a high level. In a fit of desperation, the team made a deal this offseason with the Ravens for the services of Joe Flacco.

Flacco put together the finest postseason in NFL history on his way to a Super Bowl championship, but that was several years ago. The last few seasons have served as a stark contrast to that one, however, as Flacco struggled and lost the starting job to rookie Lamar Jackson.

Flacco stands to make $18.5, $20.25 and $24.25 million over the next three seasons in Denver. While this is relatively low for a starting QB in today's NFL compared to what elite passers make, Flacco is no longer elite. If he can't play at the high level he used to, the money he's making will look disastrous compared to what teams like the Rams and Chiefs are paying their much more effective QBs on rookie deals. Based on his recent history, we'd say Flacco is one of the most overpaid NFL players in 2019.
3. Jason Witten
After deciding the broadcast booth wasn't for him, Jason Witten returned to his former team in Dallas. The Cowboys are reportedly paying him $4.25 million in 2019. There are also reports that he'll only play about a quarter of the team's snaps on offense.

There are three main reasons why Witten's contract may be a big problem for the team's salary cap considerations:
He's been off for a year, and there's no telling how his body will re-adjust to the pounding of professional football. Though he was known as an elite pass-catching tight end, Witten was never one to shy away from contact or blocking.
Witten is 36 years old. Even if he had played last year, he's due for a decline.
Only playing 25% of the team's snaps means that the team won't get as many opportunities to get big plays out of Witten, something he was known for during his first outstanding stint with the team.
Witten's deal feels more like a bonus for one of the franchise's all-time greats rather than a sound football decision.
2. Todd Gurley
Todd Gurley is a highly gifted running back. Last offseason, the Rams signed him to a monster extension keeping him with the team until 2023, and he earned it. However, Los Angeles to cut his usage significantly during its run to last year's Super Bowl. His cap hit surpasses $30 million for 2020 and 2021 combined, according to Spotrac, which is a lot of money at a disposable position such as running back.

The bottom line? Gurley's great but not really a great fit for Sean McVay's offense. He also may have lingering injury issues to deal with in 2019 and beyond. The big extension they gave him is looking more and more like a big mistake and one of the most overpaid NFL players wrecking his team's salary cap.
1. Kirk Cousins
You have to give Kirk Cousins credit. He was able to parlay his solid play and the Washington Redskins' uncertainty in his status as their QB of the future into three lucrative one-year deals under the franchise tag. That ended last offseason when the Skins moved on, and Cousins signed a big deal in Minnesota for three years and $84 million.
Cousins underperformed last season as Minnesota missed the playoffs. Now, the Vikings are stuck dedicating a large percentage of their cap to one player that may not be consistent enough to warrant the money. Based on the money and his uneven results, Cousins definitely fits in among the most overpaid NFL players killing their teams' salary caps.