The 5 Most Overrated Players in the NBA Right Now
Before you could blink the NBA year transitioned from the draft to free agency to the Olympics to the first three games of opening night on October 25th. Against this backdrop, the salary cap has already exploded from $70 million to $94 million, in light of the latest 2011 collective bargaining agreement and staggering $24 billion TV deal. Taken together, media hype and bloated financials equal overrated players.
Overrated players often come up on the losing end despite regularly stuffing their respective stat sheets and making appearances on the nightly highlight reels. Basketball purists seem to revel in lecturing these talented, yet flawed athletes, about "making their teams better" and "playing the game the right way." From here, it is only sustained winning at the highest levels that will ever help the following five players shed the overrated label.
5. Rajon Rondo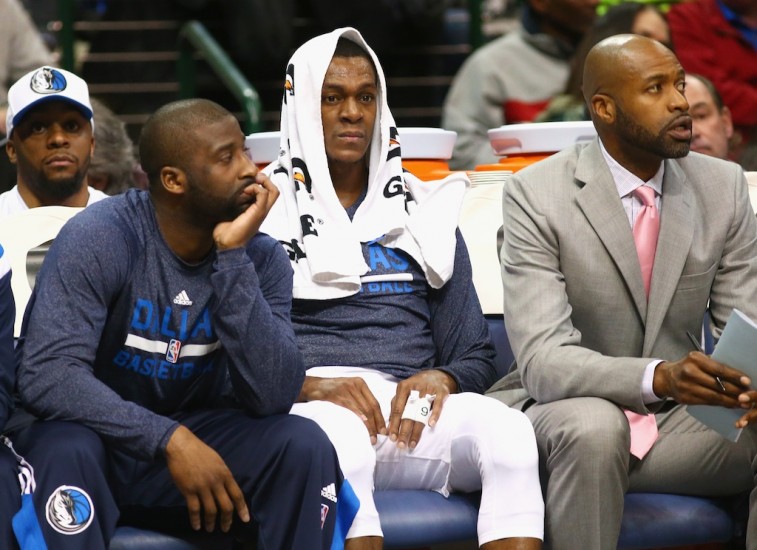 In 2007–08, Rajon Rondo was only in his second year when he was thrust into the starting lineup, as the lead guard alongside Paul Pierce, Ray Allen, and Kevin Garnett. Danny Ainge and his wheeling and dealing popularized the Super Team concept, with these worst-to-first Celtics improving by 42 wins with three Hall of Famers on the roster.
In Boston, Rondo was at his best beneath the strict guidance of Doc Rivers and Garnett. In half court sets, Rondo completed slick passes to wide open shooters and cutters, while opposing defenders dared him to shoot. On the defensive side of the ball, Rondo roamed free as a help defender to come up with timely steals and ignite the fast break. Rondo first made a name for himself as a primetime performer in the 2010 Eastern Conference Finals, when he racked up 18 points, 17 rebounds, and 20 assists against LeBron James and the Cleveland Cavaliers. Next, King James took his game to South Beach.
For Boston, Rondo made two trips to the NBA finals, winning one. Without the Big Three, however, Rondo quickly degenerated into a malcontent who bickered with teammates and coaches alike. For Dallas, the Rondo pickup was a complete disaster, with the former All-Star guard quitting on the team in the playoffs, before being benched and cut. In Sacramento, Rondo did lead the league in assists, as a small consolation prize for one of the more dysfunctional franchises in all of sports. The Kings went 33-49, with Rondo simply pounding the ball at the top of the key and making one pass to the wing coming off a pin-down screen for another cheap assist.
For 2016–17, Rondo will suit up for the Chicago Bulls — his fourth team in three years. Over time, Rondo will lose the freakish athleticism that made him such a unique player. Rondo, without his explosive first step, will be quickly exposed as a ball-dominant point guard who can't shoot or hit a free throw.
4. Chandler Parsons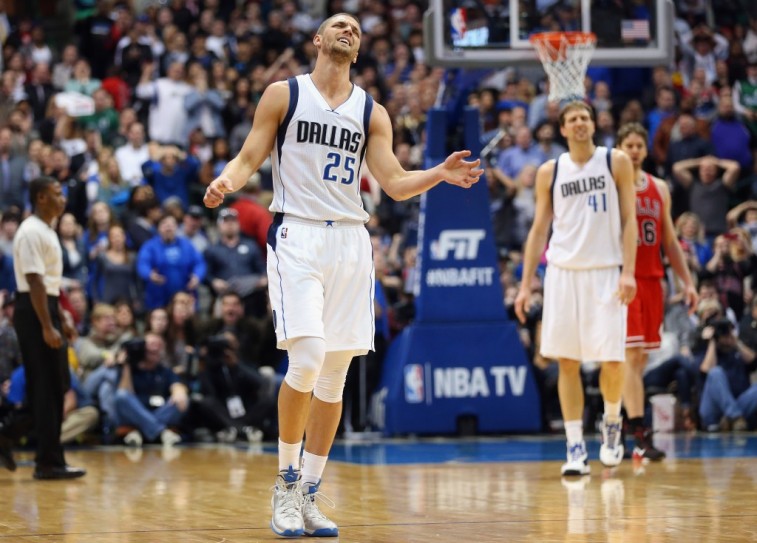 Chandler Parsons is a legend in his own mind. Last year, at this time, Parsons somehow emerged as the unlikely lead recruiter for the Dallas Mavericks in the DeAndre Jordan sweepstakes. Parsons pitched himself as a playmaking, point forward, who could run the offense, drive the basketball, hit open cutters, and even regularly step out beyond the arc to knock down shots. Parsons saw the Mavs as title contenders, with Jordan and himself being flanked by Wesley Matthews and an over-the-hill Dirk Nowitzki. Jordan, however, was clearly not impressed, as he backed out of his proposed Mavericks deal at the 11th hour.
Parsons, for his part, has averaged 15 points, five rebounds, and three assists per game through two injury-ravaged seasons in Dallas. Parsons, at 27 years old, has already undergone two separate surgical procedures to repair damage to his right knee. Last March, Parsons completed arthroscopic surgery to address a slight meniscus tear. This operation shut down the wing for the remainder of the season and kept him out of the playoffs.
Still, Parsons showed up at the negotiating table this offseason to demand maximum money. Mark Cuban and the Mavericks balked, which had Parsons step right into a four-year, $95 million contract with the Memphis Grizzlies. In Memphis, Parsons would be something of an afterthought, behind Mike Conley, Marc Gasol, and even Zach Randolph. If anything, Parsons has retained the services of one of the best agents and contract negotiators in all of sports.
3. DeAndre Jordan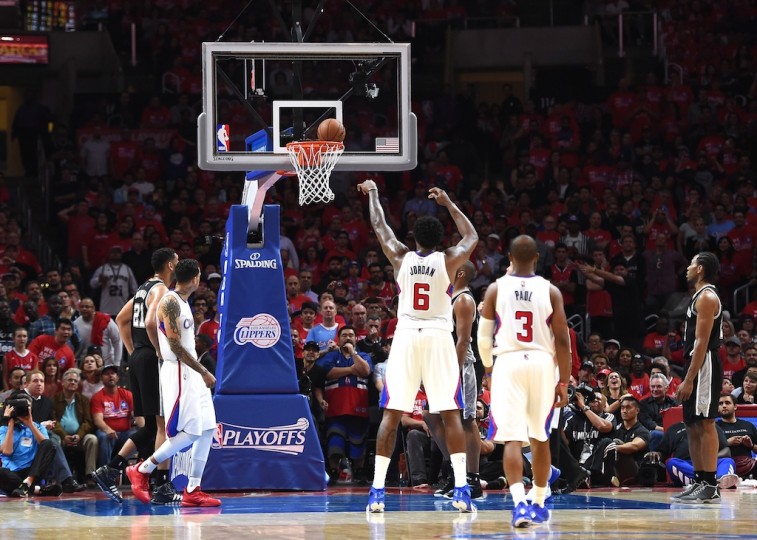 Jordan has made his bones as a raw athlete, shot blocker, and rebounder. He can jump out of the gym and is capable of putting on a show at any moment. The highlight reel dunks and rejections often go alongside staggering statistics, in terms of rebounds, blocks, and field goal percentage. Jordan has led the NBA in field-goal percentage through four consecutive seasons.
The Clippers, however, run no plays for DJ. After eight years in the NBA, he lacks any semblance of a go-to move in the post or a reliable shot anywhere beyond three-feet and in. With Jordan, any trip to the free-throw line is an adventure, where he is more likely to shoot an airball than he is to go two-for-two. For his career, he has put up nine points per game, largely off broken plays, offensive rebounds, lobs, and weak-side pick-and-roll action.
For years, various reports out of Clipperland suggested that DeAndre Jordan was unhappy with his role, as something of a sideshow act behind Chris Paul, Blake Griffin, and even J.J. Redick. Last offseason, the Mavericks nearly lured away Jordan with vague promises that he would be nurtured as a franchise center and team cornerstone. Backing out of the offer may have unwittingly acknowledged that he was not quite up to the challenge.
2. Carmelo Anthony
What a difference winning makes. At one point in time, Carmelo Anthony and James were actually thought to be 1A and 1B rivals, as schoolboy legends. Melo, of course, spent one year at Syracuse, where he carried the Orangemen to a title, after averaging up 27 points, 12 rebounds, and four assists per game through the Final Four, as a freshman. This type of across the board dominance was eerily similar to the 1988 title run of Danny and the Miracles.
James and Anthony went a respective first and third in the 2003 NBA Draft. The direct comparisons ended shortly thereafter. James has made six consecutive trips to the NBA Finals, winning three. Last June, King James was the first man to ever lead both Finals teams in points (30), rebounds (11), assists (9), steals (3), and blocks (2), in completing his epic quest to bring a title back home to the hard-luck city of Cleveland, after 52 long years. Melo, on the other hand, has never made it out of the Conference Finals.
To his many critics, Anthony is a selfish gunner, who fails to make his teammates better. He is now synonymous with "hero ball," or going isolation, pounding the basketball late into the shot clock, and clanging another contested attempt off the back iron. Like Bernard King, Melo is a pure scorer who often brings little else to the table. Much of the hype surrounding Anthony, of course, has to do with the fact that he punches the clock as Employee No. 7 in the biggest media market in the U.S. Certainly, the talking heads will play up a LeBron James versus Carmelo Anthony showdown, if these two were to ever meet again in the playoffs.
For his part, Anthony has retired from international play as the most decorated Olympian of all time. Basketball purists, however, have balked at the idea that winning a gold medal on a stacked All-Star team is anywhere near comparable to an NBA title.
1. James Harden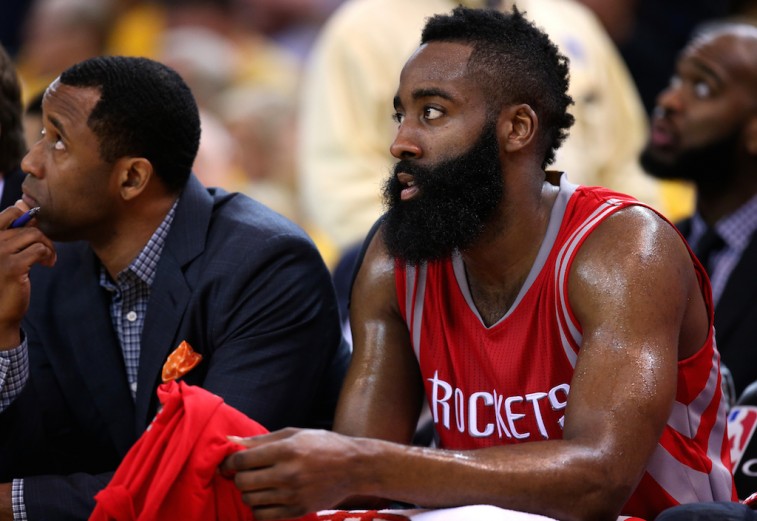 As recently as two seasons ago, James Harden was actually in the running against Russell Westbrook, Stephen Curry, and LeBron James for league MVP honors, through one of the more tightly contested races in NBA history. The Beard came away with the NBA Players Association award, while a panel of journalists voted in Curry for his first and more official league MVP. That summer, Harden led a like-able group of Houston Rockets deep into the postseason, where they ultimately lost to Curry and the Golden State Warriors in the Western Conference Finals.
For 2015–16, however, the wheels inexplicably fell off in Houston. The Rockets got off to a surprisingly slow start, with Harden going through the motions and apparently quitting on his head coach. Kevin McHale was gone by mid November and the Rockets stood at a lowly 4-7. At season's end, Dwight Howard, went on TNT to openly complain that he could not "go between his legs and shoot threes." This not-so-subtle jab at The Beard confirmed speculation of serious chemistry issues within the Houston locker-room. For added measure, even Jeremy Lin and Ty Lawson were all but non-factors when attempting to mesh their respective styles alongside James Harden.
Harden did put up an impressive 29 points per game last season. This production, however, came off 44% shooting, while Harden also went down in infamy for setting the single-season record for turnovers, with 374. If anything, The Beard was pounding the ball, crossing over, going into a Euro-step, pump-faking, flopping, and flailing at the front of the rim to draw cheap fouls. Harden, because of this herky-jerk style, has led the NBA in free-throw attempts through three seasons.
On the other end of the floor, Harden is notorious for his matador defense, where he is often disinterested and out of position. If anything, he may offer up a token reach in from behind, after being beaten badly off the dribble, yet again. 29 points per game doesn't sound so hot, when The Beard is simply giving the points right back to the other team, through bone-headed turnovers and cherry-picking on defense.
Statistics courtesy of ESPN and Basketball-Reference.