The Pacers Are the New NBA 'League Pass' Team to Watch
The Indiana Pacers sit near the bottom of the Eastern Conference. They're devoid of All-Stars after trading Domantas Sabonis to the Sacramento Kings ahead of the deadline.
Despite these factors, Indiana is the team you should pay to watch on NBA League Pass in the final month-plus of the 2021-22 season. That's right, the 20-40 Pacers demand your viewership in the home stretch.
While the Pacers have nothing to play for, the Sabonis trade suddenly gives them a future star in Tyrese Haliburton, whose arrival could make talented combo guard Malcolm Brogdon expendable this summer. Aside from Haliburton, Indiana quietly acquired an intriguing frontcourt product in Jalen Smith. Sabonis' departure frees Myles Turner up to anchor the middle and maximize his exceptional athleticism and two-way talents.
Perhaps most notably, however, general manager Kevin Pritchard's moves give head coach Rick Carlisle the personnel to run a read and react, spacing-heavy offensive style he typically enjoys.
Don't let their record deceive you: The Pacers are a future contender. Now is the time to jump in and watch their ascent begin in earnest.
The Pacers' young pieces: Tyrese Haliburton and Jalen Smith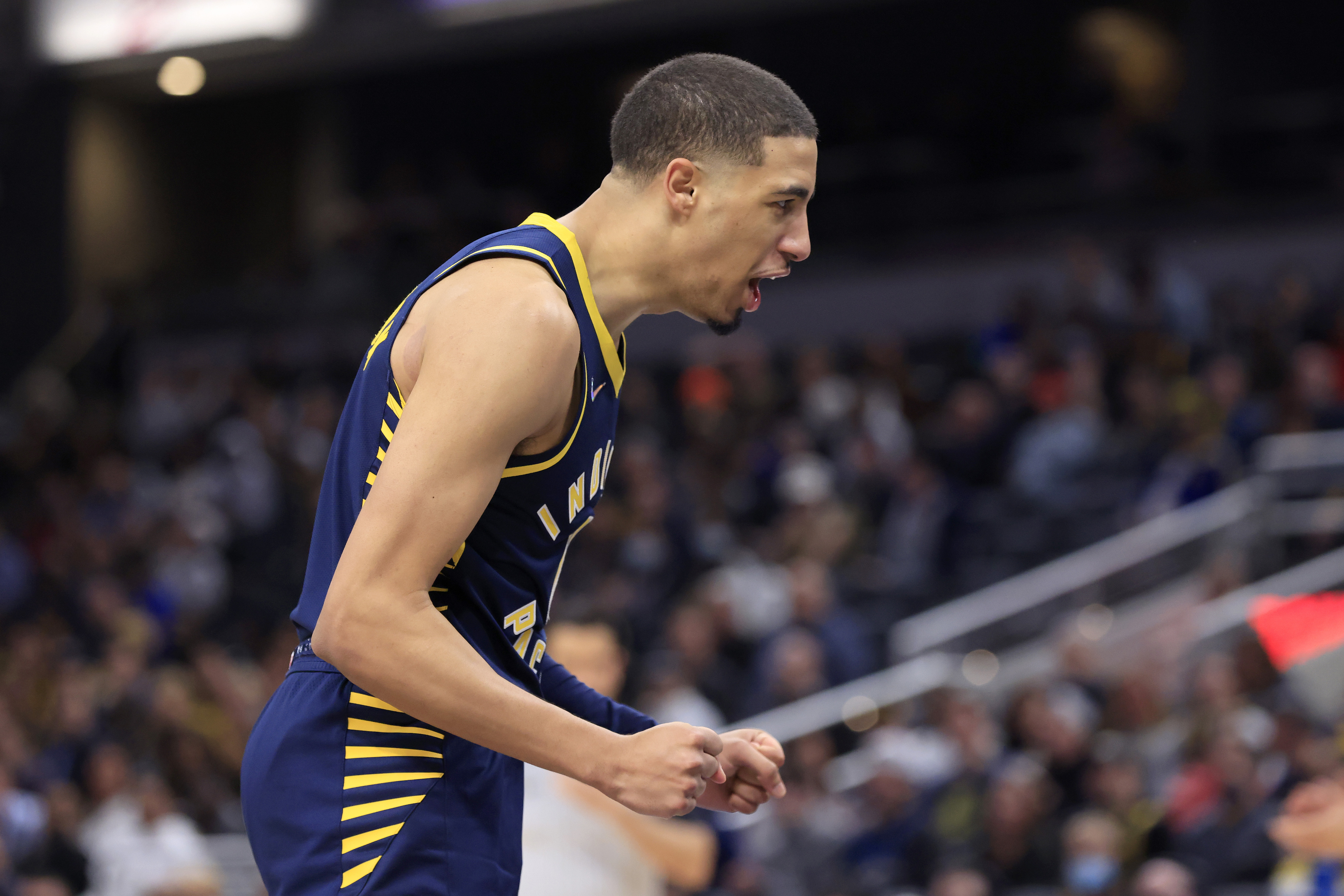 Generally speaking, a "League Pass" team rosters young and athletic talent with high ceilings. The Pacers have just that in Tyrese Haliburton and Jalen Smith.
Haliburton already flashed plenty of upside during a 2020-21 campaign in which he made All-Rookie First Team. He opened more eyes when he excelled as the Sacramento Kings' starting point guard in De'Aaron Fox's stead. The Iowa State product has looked all the more special since coming to Indiana.
Haliburton averaged 20.8 points, 11.0 assists, 4.3 rebounds, and 2.3 steals in his first four games with the Pacers. He shot 48.3% from the field and 45.2% from beyond the arc on 7.8 attempts per game. Those numbers are essentially an extension of what he did at the end of his Kings tenure, and they underscore his star potential.
Growth has been a lot harder to come by for Smith.
He showed signs of breaking out when he got an extended run amid the Phoenix Suns' frontcourt injuries at the end of December and appeared to create a potential issue for the Suns in the trade market. But Phoenix relegated him to the bench after signing Bismack Biyombo and getting Deandre Ayton back. The Suns ultimately dealt him to Indiana in a package for Torrey Craig.
The Pacers will gladly take the 2020 No. 10 overall pick.
Smith has shown a propensity for scoring in bursts. He averaged 12.0 points and 6.3 rebounds on 21.0 minutes in his first four games with his new team. That equates to 20.6 points and 10.7 boards per 36 minutes.
The 21-year-old can still live up to his draft spot. Indiana would probably like to keep him, though they cannot offer him more than $4.7 million after the Suns declined his third-year option before the season began.
Smith can be a hyper-athletic, floor-spacing big who can make plays around the rim on both ends of the floor, sort of like Myles Turner. Speaking of which …
Myles Turner unlocked?
Initially, it seemed almost certain that the Pacers would trade Turner. But an untimely injury lessened his value, and Indiana essentially committed to keeping the two-time block champion after trading Domantas Sabonis.
Is it possible that Sabonis' exit ultimately brings out the best in Turner?
When Turner and Sabonis shared frontcourt minutes, Turner often found himself playing on the perimeter and spacing the floor because of Indiana's desire to establish "Domas" on the elbows and low block. But now he's the unquestioned man in the middle.
Turner has always been a true 5 on defense in terms of his elite protection. But the addition of a lengthier, more proficient perimeter in Haliburton should alleviate the need for Turner to clean up some of the Pacers' defensive miscues and perhaps allow him to be even more of a deterrent in the painted area.
Offensively, Turner's freedoms as a rim-roller are more clearly defined. In the only game he played without Sabonis this season, Turner dropped 32 points. He attacked the basket and slipped ball screens for easy dunks.
Haliburton should also make things easier for Turner on this end of the floor with his vision and pretty strong floater game, which forces defenses to respect him as a scorer and further unlocks Turner as a lob threat. Pick-and-rolls between those two should be a sight to see.
Turner is expected to return in the near future. He's one of the players to watch on this new-look Pacer team.
Indiana has strong ancillary pieces and a fun, new system
Haliburton, Smith, and Turner are the top Pacers to watch in the final several weeks, but they aren't the only ones worth examining.
Chris Duarte could make an All-Rookie team, and his ability to score off the bounce makes him a backcourt piece to build around. Isaiah Jackson showed signs before suffering an injury before the All-Star break, though Turner's return could limit his minutes.
Brogdon and Buddy Hield are the two most fascinating case studies in Indiana's new, free-flowing offensive system.
Brogdon can now experiment as an off-ball cutter with Haliburton assuming ball-handling duties. Hield, meanwhile, gives the Pacers one of the top perimeter shooters in basketball. He's also flashed some playmaking early, averaging 5.0 assists in his first four games in Indiana. Both guys could hit the trade market this summer. Alternatively, this final stretch could see them excel with new personnel.
The Pacers can play five-out and spread the floor, using Turner as a screener. That gives their backcourt players and wings the chance to make decisions on the ball and exploit catch-and-shoot opportunities. It's a fun and thought-provoking system, with Carlisle pulling the strings.
Most fans will tune in to see their teams make a playoff push. Still, Indiana is a squad that everyone should have on their radars going forward.
Stats courtesy of Basketball Reference unless otherwise noted.
RELATED: Former Pacers Executive Larry Bird Predicted That His Infamous Draft-Day Trade of Kawhi Leonard Would Backfire