The Packers' $20 Million Gamble on Davante Adams Can Only Play out in 1 Way
The Green Bay Packers did what they had to do regarding Davante Adams this offseason, applying the franchise tag.
The Packers don't like to use the tag, and there are reasons behind that. This is a massive gamble that the Packers are taking with their star wide receiver, and they're going to need it to work out in one specific way in order for it to pay off.
The Green Bay Packers have hesitated to use the franchise tag in the past
It's been a while since a player has had to operate under the franchise tag in Green Bay. In fact, it's never happened in the Brian Gutekunst era and it rarely happened when the late-Ted Thompson was general manager. Thompson placed the franchise tag on defensive tackle Ryan Pickett in 2010. That was the last time any player in Green Bay received such a designation.
Until Adams, of course.
There's a reason the Packers don't like the franchise tag, and specifically, there's a reason they tried to avoid it this offseason.
First, if you apply it to a star player such as Adams, there's a chance it can hurt the relationship. Players don't like the franchise tag because it offers them no assurance outside of a guaranteed paycheck for one year. Any player thinking long-term quickly realizes that if he plays on the franchise tag and gets injured or takes a step or two back performance-wise, he's costing himself a ton of money and long-term security.
It's also not a great move for the Packers because as of now, Adams' guaranteed $20.1 million salary in 2022 counts fully against the cap. There's no way to manipulate it in order to get the cap hit down, and that's a bad situation for a team that's still roughly $44 million over the cap now that they're carrying that money.
How the Packers need this situation with Davante Adams to play out
There's only one way where this franchise tag gamble makes sense, and that's if the Packers and Adams are able to come together quickly and figure out a long-term deal. 
The secret to the franchise tag is that there are actually a few different types: The exclusive, the non-exclusive, and there's also something known as the transition tag.
The Packers applied the non-exclusive franchise tag to Adams, meaning that he technically still can receive offers from other teams, but the Packers have the right to match that offer. If they don't, the other team will owe them two first-round picks as compensation, so it's unlikely to happen.
That effectively means that Green Bay has until July 15th come to terms on a long-term deal with Adams, and that's the only option that makes sense in this scenario.
For his part, Gutekunst did seem to hint before the NFL combine that he's hoping the tag will simply be a short-term bandaid.
"It's kind of a last-option type of thing," Gutekunst said, according to Bill Huber of Sports Illustrated. "And then even if we do have to use it, it's more of a bridge to hopefully an extension down the road. We try to be respectful. I had a very good conversation with Tae before he left about all that stuff. He's a unique player, unique person, and we'd certainly like to make him a long-term contract offer that works for both sides."
The Packers still have a ton of work to do this offseason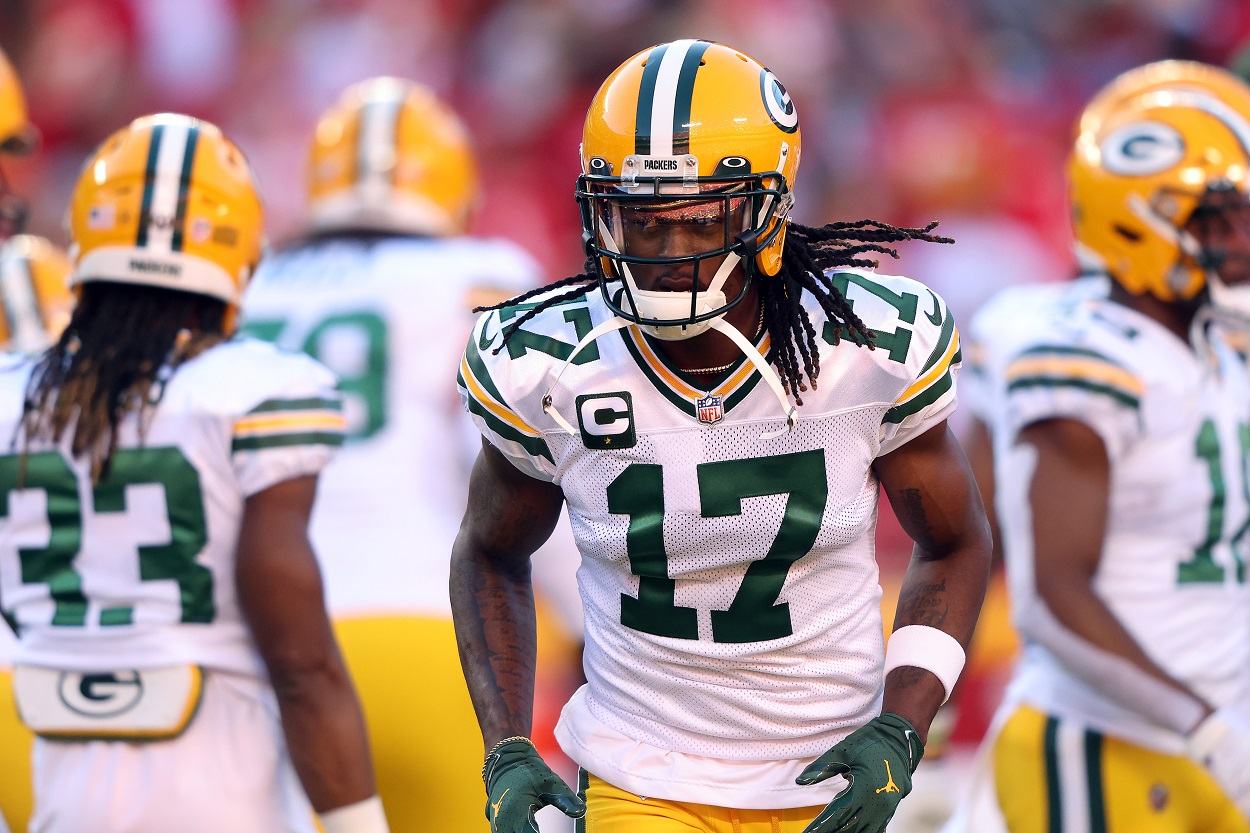 As of now, Adams' cap hit is just far too substantial.
Green Bay has been working hard to get under the cap before the new league year, but even with Adams "locked up" the Packers still have 14 unrestricted free agents of their own they need to consider. Plus, there's the prospect of actually improving the team in free agency instead of simply getting the band back together.
"The Band" got bounced in their first playoff game this past season, remember, so simply standing pat can't be good enough for the Packers.
Here's the good news: We don't yet know the details of Aaron Rodgers' new contract, but it's supposedly going to be cap friendly. His current deal takes up 21.6% of the 2022 salary cap as it stands, so that's likely to create substantial room.
There's also likely to be some cuts involved. Za'Darius Smith has long been considered a cut candidate because the Packers can save $15.2 million by letting him go. There's also a chance several key contributors from last season don't get an offer because they're not worth it or have priced themselves out of Green Bay's market.
Players like tight end Robert Tonyan Jr., cornerback Rasul Douglas, and linebacker De'Vondre Campbell could all go elsewhere this offseason. However, the Packers should do anything to hold on to Campbell, specifically.
When looking at how little room Green Bay has to operate with this offseason, the importance of quickly working out a long-term deal with Adams becomes ten-fold.
The Packers don't have to wait until July 15th to get it done. In fact, the sooner they do so the better because free agency is right around the corner and after that is the 2022 NFL Draft.
Franchise tagging Adams was a gamble. It sounds counterintuitive, but he actually has a ton of leverage over the Packers now because he undoubtedly has to know how much they want him back long-term and how important it is for Green Bay to create some cap room.
We'll have to wait and see how it works out, but it would be a massive miscalculation for the Packers to apply the franchise tag and then simply allow Adams to carry it into the 2022 season. 
They have to get a long-term deal done, ASAP.
Stats courtesy of ESPN and Pro Football Reference. Contract information via Spotrac
RELATED: Davante Adams Says There Are Only 2 Ways to Try and Stop Him but Won't Reveal 1 of Them