Packers QB Aaron Rodgers Channels Allen Iverson, Talks About Practice…Not a Game
Green Bay Packers quarterback Aaron Rodgers and Allen Iverson have two things in common. Rodgers is elite at what he does. So was Iverson back in his playing days.
Apparently, neither player has much of a need for practice, either. This, according to Rodgers in a recent interview.
Green Bay Packers QB Aaron Rodgers talks about practice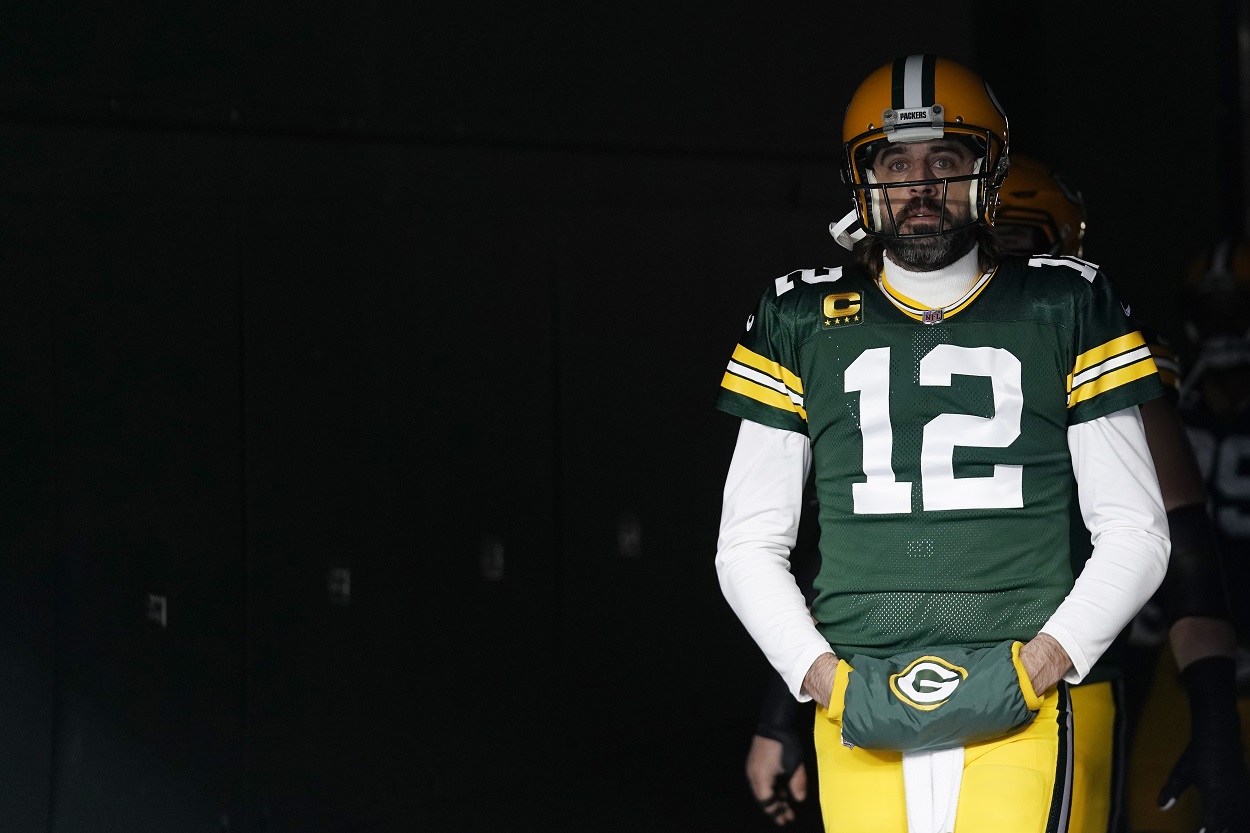 Rodgers has been banged up for quite a few weeks and has missed a ton of practice recently as a result. First, there was a positive COVID-19 test, which kept him away from the team for 10 days and caused quite a stir. Somehow during his quarantine, Rodgers suffered a toe injury that has been painful enough to cause him to consider surgery. He didn't move forward with surgery during the bye week, and he did say on The Pat McAfee Show that the toe is getting better. Without a doubt, though, he's had to miss a ton of practice.
McAfee understandably wondered if all the missed practice has gotten Rodgers out of habit.
Just the opposite, according to the three-time MVP.
"It's kind of the habit now," Rodgers said of not practicing. 'It takes 21 days to form a habit, so we're going on that many days of not doing a whole lot of practice."
Rodgers has suffered and played through numerous injuries in his career, so this is nothing new. He is coming off a 2020 season that saw him, and the Packers as a whole, remain remarkably healthy, though. The 2021 season has been far from the case, but Rodgers admitted that's just part of football. It's a tough sport. Injuries happen.
"Really, at just about any position, there's going to be something that puts you on the list one way or another. You might miss a practice here or there as a precaution because you're dinged up and banged up," he explained.
Rodgers channels his inner Allen Iverson
Iverson was one of the most dynamic players in NBA history, despite the fact that he checked in at just 6-foot, 165-pounds.
Arguably, the only thing more famous than his wicked crossover was his epic rant on practicing.
A year after making the NBA finals, Iverson and the Philadelphia 76ers were booted from the first round of the playoffs by the Boston Celtics. After the final loss of the five-game series, then-76ers head coach, Larry Brown, criticized Iverson for missing practices.
Responding to Brown in a press conference, Iverson let loose one of the most epic rants in sports history.
"We sitting in here — I'm supposed to be the franchise player, and we in here talking about practice. I mean, listen: We talking about practice," Iverson said. "Not a game. Not a game. Not a game. We talking about practice. Not a game. Not the game that I go out there and die for and play every game like it's my last. Not the game. We talking about practice, man."
While nowhere near as epic or angry as Iverson's rant, Rodgers did also give a take on practice.
"Last year was amazing. I felt incredible. That's not the case this year; I'm obviously missing a number of practices now. I'm not going to disparage practice and say it's not important. I think it's important. I think there are things to be talked out and figured out during the week by practicing and taking those reps," Rodgers said. "At the same time, I'm old enough, I've been in this league long enough, I've played in enough games where I can still go out and perform at a really high level without practicing."
Rodgers is once again firmly in the MVP race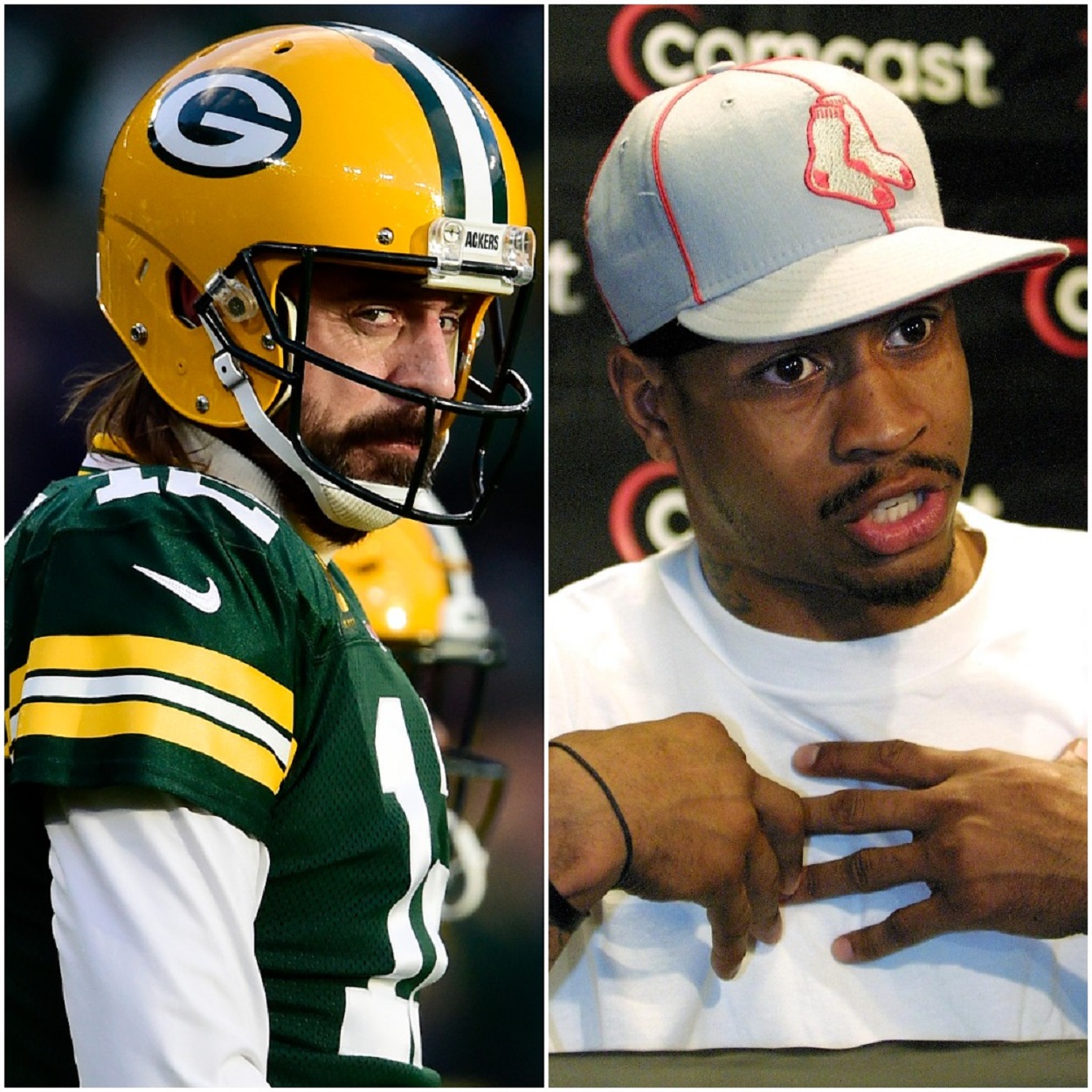 Even with missing a ton of practices, and even a game, over the past few weeks, Rodgers still finds himself in the running for his fourth MVP title and second in a row. Tom Brady is likely the hands-down favorite right now with his 3,771 yards and 34 touchdowns tossed, but Rodgers still has a case.
First and foremost is his control of the game. Brady has thrown ten interceptions this season, including three pick-sixes. Rodgers has thrown only four interceptions, and he has Brady beat in quarterback rating, 105.5% to 104.0%.
There's also the game Rodgers missed to consider. While that hurts him in terms of overall stats, and the MVP award is largely stat-based, it did show the NFL world just how much the Packers need Rodgers.
With backup Jordan Love getting the start, a typically explosive Green Bay defense only accumulated seven points in an ugly loss to the Kansas City Chiefs. At the time of that game, Kansas City's defense was among the worst in the league. They still shut down Love and the Packers.
Perhaps no player has been as crucial to a franchise as Rodgers has been since the Packers last won a Super Bowl. Sure, Green Bay would obviously prefer that he practices as much as possible in the lead-up to a game, but if there's anybody who can pull that type of lack of preparation off and still make an offense click, it would be him.
Stats courtesy of ESPN and Pro Football Reference.