Packers QB Aaron Rodgers Heaps Praise on a Former Rival Currently Taking Heat: 'Those Are Trash Comments'
Green Bay Packers quarterback Aaron Rodgers knows a thing or two about playing in the NFL at a high level. He also knows a thing or two about Matthew Stafford, who was his rival in the NFC North for many seasons as a member of the Detroit Lions.
Now with the Los Angeles Rams, Stafford has come under fire for two-straight terrible games. The Rams are still 7-3, but they're on a two-game losing streak, and Stafford is one of the main reasons why.
Despite the recent struggles in LA, Rodgers gives no credence to any of the criticisms his former NFC North counterpart is facing.
Green Bay Packers Quarterback Aaron Rodgers is a Huge Fan of Matthew Stafford
During Rodgers' typical Tuesday long-form interview on the Pat McAfee Show, Stafford's recent struggles were brought up. The Packers, currently 8-2 and coming off a shutout of the Seattle Seahawks, have a game against the Minnesota Vikings coming up, but LA is up next after that. On the other hand, the Rams mercifully have a bye week, but their next opponent is Green Bay.
McAfee brought up that critics are taking shots at Stafford after two miserable games, going as far as to say that he "stinks" and should be benched.
For his part, Rodgers had a strong take in favor of the Rams' quarterback.
"Those are trash comments," he said. "I'm a huge Stafford fan. I have been for a long time. We played against him for so many years. [He's] one of the most gifted throwers of the football definitely in my generation, and I'd put him up there with some of the most gifted guys ever to throw the football."
"I'm a fan," Rodgers reiterated.
Matthew Stafford is no stranger to the struggle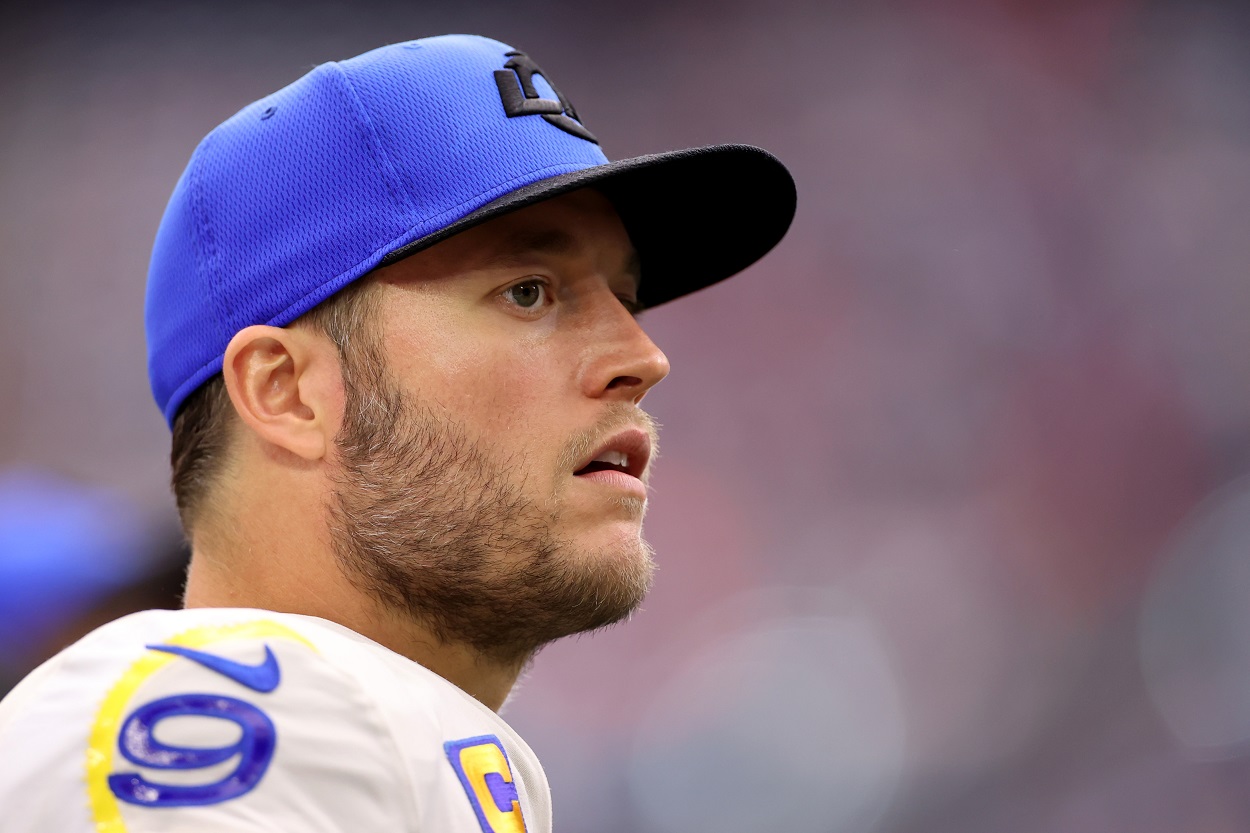 Though immensely talented, it's not as if Stafford is facing adversity for the first time in his career. Drafted No. 1 overall by the Lions back in the 2009 draft, Stafford was the face of Detroit, good or bad, for many seasons.
There were many moments during his time in Detroit where he flashed the immense talent that made him the first overall pick. Despite playing for a horrible franchise and not winning many games, he was generally considered a Top 10 quarterback talent-wise.
There were also moments when Stafford struggled, though. He was often injured because of the lack of protection he got from his offensive line, and he was a gunslinger in the sense that Brett Favre was. That's a really nice way of saying he threw a ton of interceptions.
He threw 144 interceptions while in Detroit, to be exact.
He's a tough dude; he's played through some crazy injuries," Rodgers said of Stafford.
The Green Bay superstar also took a small shot at his divisional opponents when discussing their former quarterback.
"He played in Detroit all those years. You've got to have a base level of mental fortitude already," Rodgers said with a smirk.
Rodgers shows respect to his upcoming opponent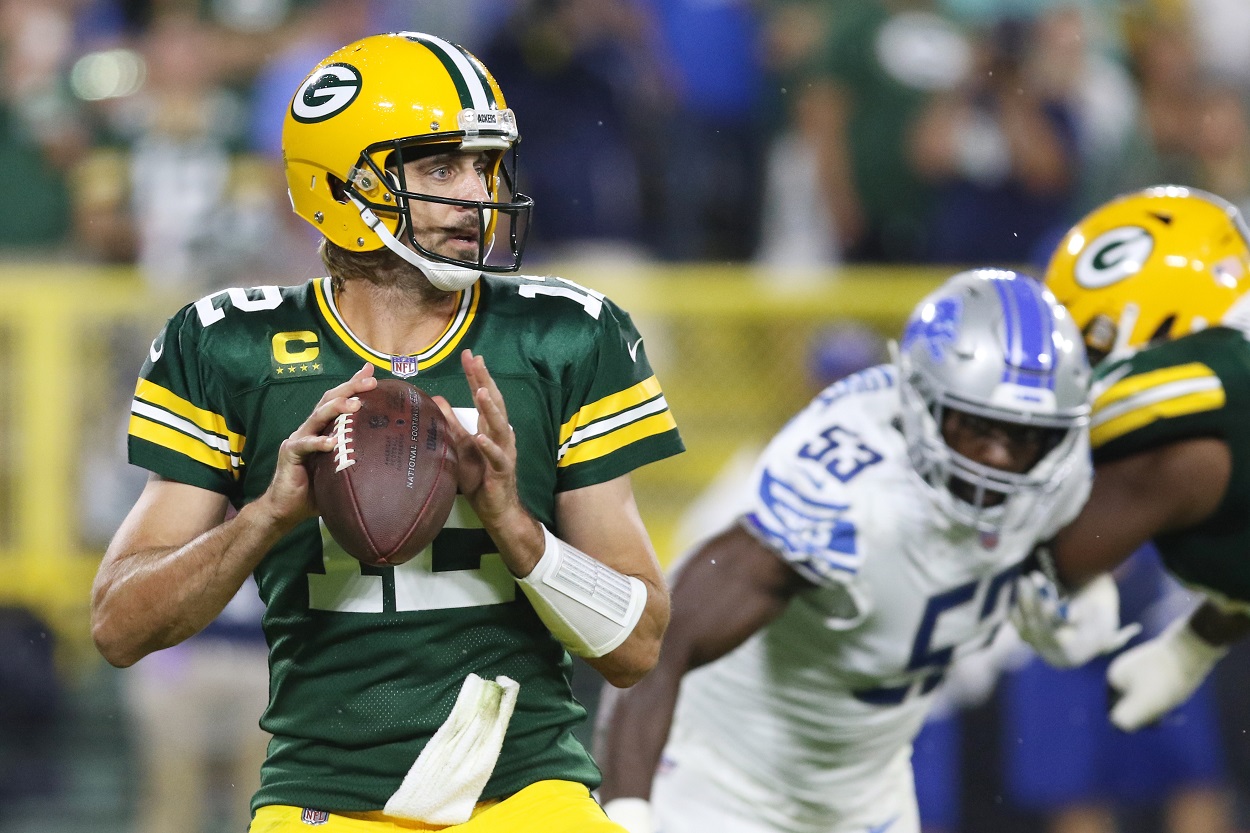 Though the Packers have a tough divisional game coming up against Minnesota, their matchup against the Rams will, without a doubt, be a showstopper. Though LA has been struggling, the Rams are still one of the top teams in the NFC, and they still do have legitimate Super Bowl hopes, as do the Packers.
Though he has thrown four interceptions, including two pick-sixes, in the past two games, Stafford is still the league leader in yards thrown with 3,014, and he's top three in touchdowns thrown with 24. Only Tom Brady (27) and Patrick Mahomes (25) have thrown more touchdowns this season.
For comparison's sake, Rodgers has thrown for 2,186 yards and 17 scores.
"He's had a really nice season," Rodgers said of Stafford. "I mean, they're 7-3. He's played really well in his first year in the system."
Rodgers has played Stafford many times in his career. They've faced off two times a season for as long as both were in the NFC North, so the Packers quarterback knows that this slump isn't going to hold LA's quarterback down.
Stafford basically said as much after the Rams' loss to San Francisco. Despite losing two games in a row, the Rams are still a very imposing team, and he's still one of the top quarterbacks in the league. Two bad games don't change that, and he seems to be confident that he can learn from the losses.
"We'll spend some time thinking about it, reflecting on the first 10 games of the year and some of the good stuff, some of the bad, how I can be better to help lead this team," Stafford said, according to ESPN.
Stafford has been playing quarterback at a high level for long enough that two bad games, as bad as they were, won't define who he is for the rest of the season.
Coming off a bye week, Rodgers, of all people, knows not to overlook the Rams and their star quarterback.
"I'm not here for any Matthew Stafford trash talk," he said.
Stats courtesy of ESPN and Pro Football Reference.