Packers CEO Gives Gloomy Update on Possible Aaron Rodgers Return: 'We Are Significantly Over the Salary Cap'
Aaron Rodgers and the Green Bay Packers are coming off a strange 2021 NFL season.
On one hand, they cruised to a 13-win finish during the regular season. Rodgers is the betting favorite to win league MVP, and head coach Matt LaFleur could easily win Coach of the Year as well.
On the other hand, Rodgers and the Packers dramatically underachieved when the postseason rolled around. Despite having home-field advantage, they were knocked out by the pesky San Francisco 49ers in the Divisional Round. It was an embarrassing loss considering how well Green Bay performed during the regular season.
Throw in some off-the-field controversy for Rodgers in 2021, and the Packers have some tough decisions to make about their future.
Common sense suggests the Packers should try to retain Aaron Rodgers
Playoff collapse and shaky vaccination status aside for the moment, common sense suggests the Packers should do whatever it takes to retain their star quarterback this offseason. MVP-caliber QBs don't grow on trees, and as we saw with Tom Brady in Tampa Bay and Matthew Stafford in Los Angeles, sometimes all it takes is an elite QB to turn a franchise around.
If the Packers decide to trade Rodgers this spring, they could very well be putting a firm end to their Super Bowl window. If they keep him, they'd still be considered one of the favorites to come out of the NFC in 2022.
With Brady no longer in the NFC either, things are looking even more wide-open moving forward.
Packers CEO Mark Murphy gave a gloomy update on the Aaron Rodgers situation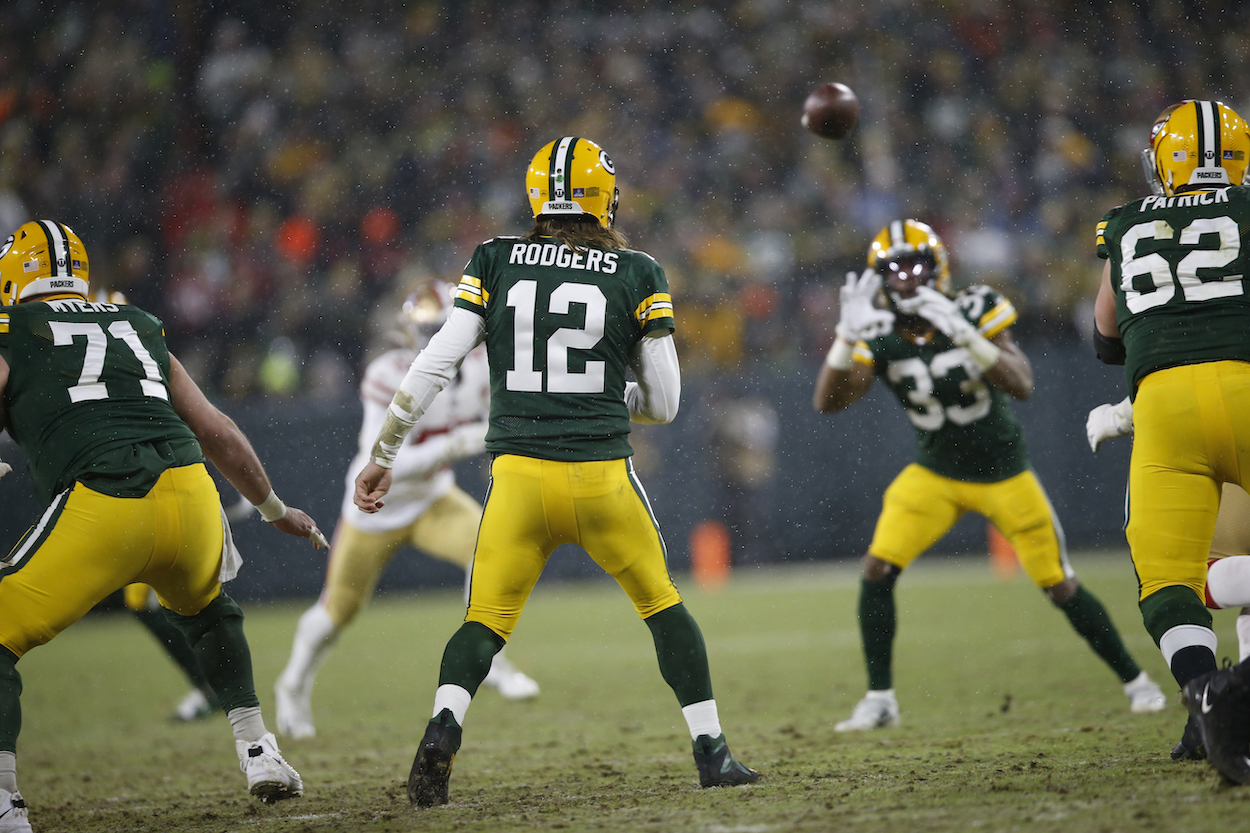 Despite all this, another factor that has to be considered in Green Bay is its cap space. The Packers are currently projected to be $50 million over the salary cap next season, with Rodgers accounting for $46 million of that number, per Over The Cap.
Packers CEO Mark Murphy was quick to point out this reality when asked about the future of his team's QB position.
"We are significantly over the salary cap for next year and will have to make many difficult decisions in order to get under the cap," Murphy said for Packers.com. "A key factor will be whether Aaron Rodgers comes back for the 2022 season."
Murphy did clarify that he wants Rodgers back in 2022. However, his comments about money seem to suggest otherwise.
Green Bay could be feeling pressure to turn things over to Jordan Love
Despite the money problems, off-the-field controversies, and playoff failures, Rodgers is still a fantastic quarterback. However, the current state points toward Green Bay trading him this offseason.
Moving Rodgers alone would all but solve the team's complicated financial situation.
In addition, the Packers have a 2020 first-round pick on the roster in Jordan Love. He's been sitting on the bench for two full seasons now. Pressure is beginning to mount for him to actually see the field consistently.
The Packers' Rodgers decision will likely come down to what rival teams are willing to offer for the star quarterback. It'd be hard to turn down multiple first-round picks for a 38-year-old, especially when doing so would free up a significant amount of already-limited cap space.
All stats courtesy of Pro Football Reference.
RELATED: Justin Jefferson Took a Subtle Shot at Kirk Cousins When Discussing New Vikings HC Kevin O'Connell