Packers WR Davante Adams Recalls His Frustrating Early Struggles in the NFL: 'Sad Time in My Career'
Davante Adams had to work his butt off to climb the NFL ranks. The Green Bay Packers star wideout faced adversity on the football field for the first time when he entered the league.
While the 4-time Pro Bowler makes it look super easy catching touchdown passes from Aaron Rodgers, he recalls a time when he started to lose his love for the game that made him famous.
Davante Adams struggled to produce in his first 2 seasons
Davante Adams plays with a chip on his shoulder because of where he went in the draft. The Fresno State product fell to the second round of the 2014 NFL Draft, and the Green Bay Packers just couldn't let the opportunity pass them by.
Adams enjoyed a highly-productive college career in Fresno, catching 233 passes for 3,031 yards, and 38 touchdowns in just two seasons.
The Redwood City, California native figured it would be a smooth transition from the college game to the NFL. However, it turned out to be much more difficult than he imagined.
Adams recorded 38 receptions for 446 yards and three touchdowns as a rookie in Green Bay. His production didn't experience a significant jump in his second season, either. He caught 50 passes for 483 yards and just one score.
The wideout dealt with a few nagging injuries and also had to overcome his drops problem. He was seeing a high volume of targets but failed to capitalize on his opportunities.
"I hate football!" he told The Athletic he said after a loss in 2015.
The missed opportunities on the field began to take a toll on him mentally.
The Packers WR was concerned about people's perception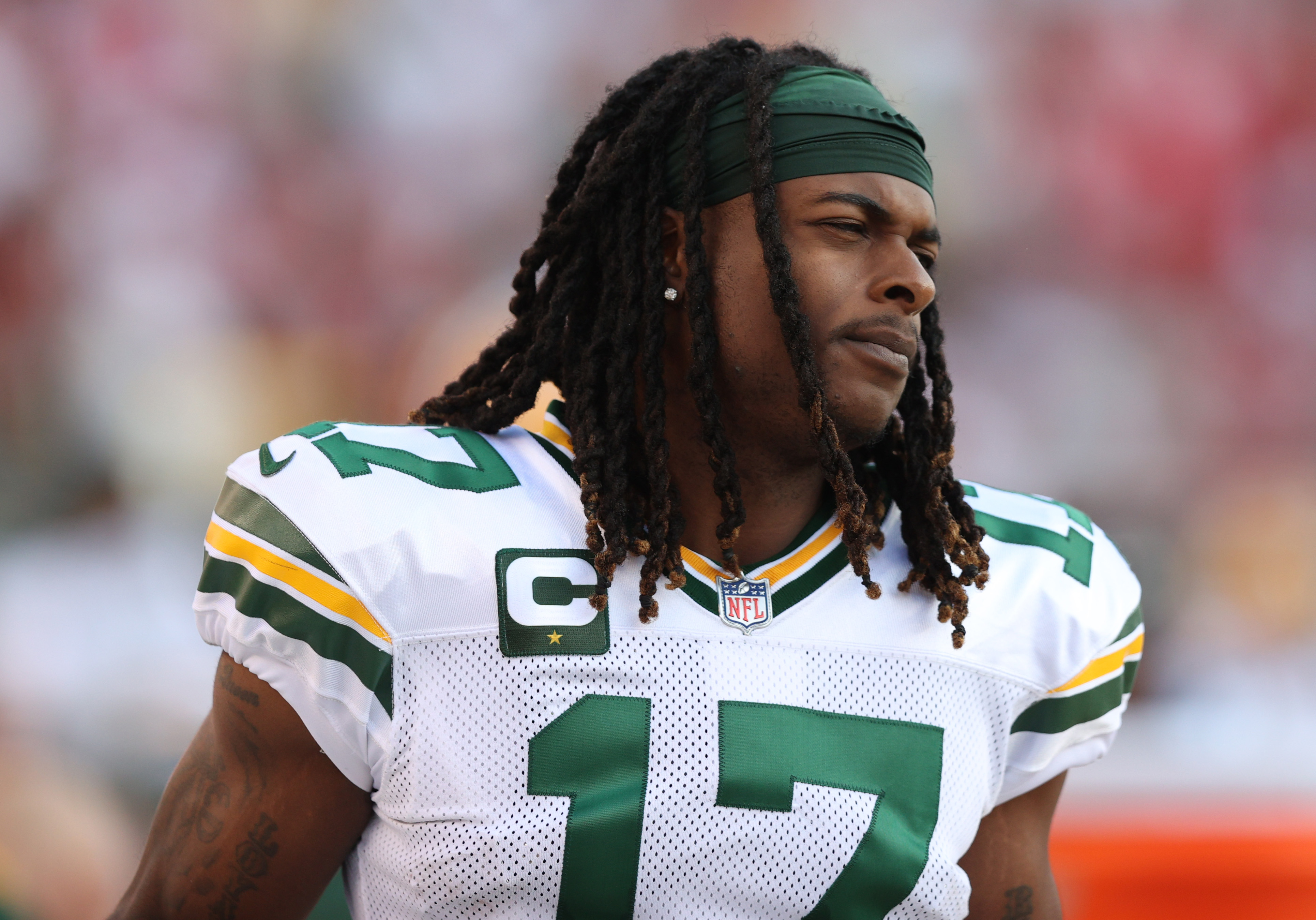 If you watch Davante Adams play today, you would never think that he ever lacked confidence. Well, that was the case after his early struggles. It became an internal battle for the young Packers receiver during his first couple of seasons in the NFL.
Sports fans can be ruthless sometimes. Adams remembers all of the times people on social media criticized his poor performances in 2014 and 2015.
Adams dropped 10 passes between the regular season and postseason in 2015, which led the NFL during that span. As a result of his struggles, detractors began calling on the Packers' coaching staff to bench the young wideout. To make matters worse, he also tore his MCL at the end of the season.
The second-rounder got too wrapped up in the outside noise, and he admits that it actually rattled him for a while.
"It was definitely a sad time in my career," said Adams. "I was so used to doing what I was doing in college. Go and score literally two touchdowns a game, putting up monster numbers, just having a great time."
It took longer than he expected, but Davante Adams is having fun playing football again.
Green Bay now has arguably the best wide receiver in the NFL
When debating the best wide receivers in the game today, Davante Adams should be near the top of everyone's list.
Now in his eighth NFL season, the Packers wideout has blossomed into a legitimate superstar at his position. Adams' game is so refined and is well beyond what it was in years one and two.
You'd be hard-pressed to find any notable holes in his game. They don't exist. Adams has it all, from route-running to reliable hands to even run blocking.
The former Fresno State Bulldogs standout has racked up 618 receptions for 7,547 yards and 67 touchdowns in 110 games in Green Bay. He's been to four Pro Bowls and earned first-team All-Pro honors in 2020.
Adams is a touchdown machine these days. He's put together four double-digit touchdown seasons, including a league-high 18 scores in 2020.
Watching Davante Adams operate on the gridiron is nothing short of a thing of beauty. He puts on a masterclass every time he steps on a football field.
The 28-year-old argues the best receiver in the NFL debate is over. It's him.
"I'm truly done with even answering that question," Adams told The Athletic. "Because now I feel like it's so obvious, to a certain extent at least, that I believe it. When people ask that, it's like, 'Ugh, God, like, you shouldn't even be asking.'"
There's not another wideout in the NFL right now with a stronger case.
All stats courtesy of Pro Football Reference.