Packers Injury Update: Rashan Gary Will Tilt the Scales Against the Rams
In a season that has seen injuries absolutely decimate the Green Bay Packers, there's finally some good news.
Heading into what's shaping up to be as close to a must-win game as you can get against the Los Angeles Rams, the Packers are going to need all the help they can get.
At 8-3, the Packers are in the race for the NFC's top seed. Checking in at 7-3 and coming off a bye, the Rams are a significant threat to that goal.
Rashan Gary will play for the Green Bay Packers against the Los Angeles Rams
The Packers have finally gotten some good news on the injury front after seemingly suffering some form of major injury on a week-in, week-out basis.
Rashan Gary, who's shaping up to be Green Bay's most impactful pass rusher in 2021, is expected to play against the Rams. Gary missed last week's game against the Minnesota Vikings with an elbow injury he suffered against the Seattle Seahawks.
While the injury initially looked gruesome, soon after the game, the Packers seemed assured that it wasn't major and that Gary may even be able to play against the Seahawks with a brace. That never transpired, and Gary essentially got another week of rest. He was a full participant in practice on Friday for Green Bay and will play against the Rams with a brace, according to Zach Kruse.
Getting Gary back is a major win for the Packers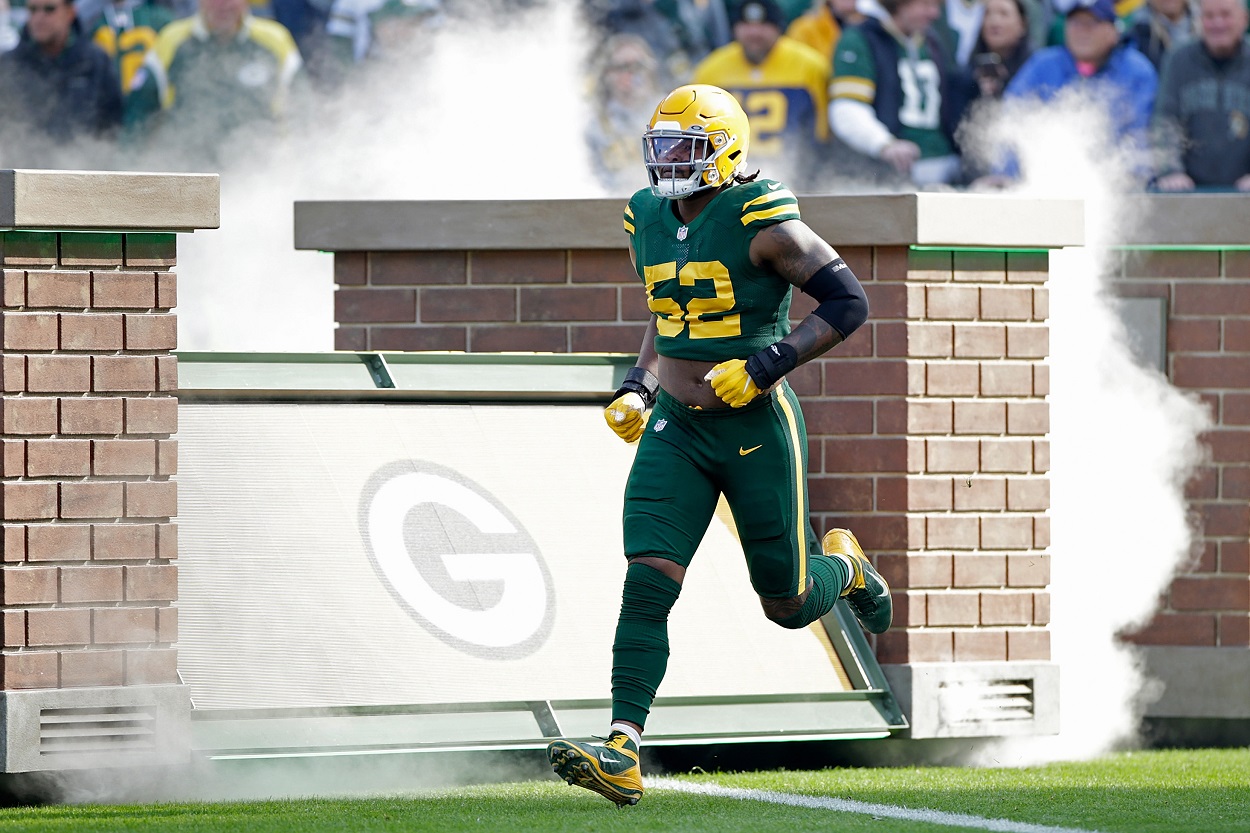 With Za'Darius Smith having missed all but one game for the Packers with a back injury, Gary has stepped up in his third season and has finally put it all together.
The Packers drafted Gary with the 12th overall pick in the 2019 draft, knowing that he was a project player coming out of Michigan. He played defensive end for the Wolverines and was largely tasked with taking on double teams and eating space. Green Bay saw his athletic upside and projected him to be a pass-rushing outside linebacker. While he's shown flashes of that upside in his first two seasons, 2021 has seen that vision realized.
Gary has come away with 5.5 sacks so far this season, and he's also been strong against the run with 31 total tackles. His most significant impact hasn't necessarily been taking the quarterback down but instead pressuring the quarterback, though. He's almost always getting pressure on the quarterback in pass-rushing situations. To that point, he has 19 quarterback hits on the season, which has him ranked 10th out of all eligible pass-rushers in the NFL.
Za'Darius Smith accounted for 26 sacks in the past two seasons for Green Bay, so with him out, every quarterback pressure from Gary has been valuable.
Defensive pressure is the key for Green Bay's defense against the Rams
Green Bay has one of the best turnover defenses in the NFL this season, and much of that has to do with the defensive front. Gary has been a big part of forcing rushed throws from opposing quarterbacks, but a few other players have also stood out.
Defensive tackle Kenny Clark is playing like a Pro Bowler (eight quarterback hits, six tackles for loss, three sacks), Preston Smith has found shades of his elite-self with five sacks of his own, and even little-discussed defensive end Dean Lowry has chipped in with three sacks on the season.
The equation is simple. When the Packers get pressure up front, they get turnovers. When they don't, well, look at the loss to the Vikings to see how that turns out. With Gary out, the Packers didn't force any official turnovers (two interceptions were overturned), and they notched only two sacks. They lost that game, 34-31, and Minnesota's offense looked like a juggernaut led by star players like Justin Jefferson, Adam Thielen, and Dalvin Cook.
The Rams have offensive stars of their own. Cooper Kupp is the best receiver in the league right now, and Matthew Stafford, now out of Detroit, is once again an elite quarterback. Stafford is rather banged up heading into this contest, though, which makes Gary being in the lineup for this game that much more critical.
Gary can single-handedly tilt this game in favor of Green Bay.
Stafford is as tough as they come, but he's not immune to throwing interceptions, especially when under pressure. The Packers need to get after him early and often, using pressure to force turnovers and keep him and an otherwise explosive Rams' offense off track.
That would have been tough to do without Gary, but that's a formula for getting a big win with him.
Stats courtesy of ESPN and Pro Football Reference.