Packers: Jordan Love's Future Could Be Determined on 'The Pat McAfee Show'
To think that the fate of Green Bay Packers backup quarterback Jordan Love will be decided on The Pat McAfee Show. That very well could be the case, though, as the guy in front of Love on the Green Bay depth chart, Aaron Rodgers, should be nearing a decision about his future.
What a world.
Rodgers has said in the past that when he does have an announcement, he'll do it with McAfee, his former teammate A.J. Hawk, and "the boys," as they're known.
That announcement could happen any moment now, and one imagines that Love will be intently watching and listening as the four-time MVP decides his future.
The Green Bay Packers stirred up drama by drafting Jordan Love
Love never asked for this.
The Packers traded up in the first round of the 2020 NFL Draft to snag the athletic but raw quarterback out of Utah State. It was a draft that already saw three quarterbacks go (highlighted by Joe Burrow going No. 1 overall to the Cincinnati Bengals), and Green Bay was apparently not comfortable waiting at pick 30 and hoping that Love would fall.
General manager Brian Gutekunst traded away the 30th pick and pick No. 136 (a fourth-rounder) to the Miami Dolphins and shocked the NFL world by moving up four spots and taking a quarterback. This, despite having Rodgers on the roster and seemingly still in his prime.
It was reminiscent of when the Packers drafted Rodgers despite having Brett Favre, but even then…Rodgers fell to the Pack. They didn't trade up to go get him. 
It was a pivotal moment for the organization, but whatever Gutekunst and head coach Matt LaFleur saw in Love, his selection started a process that created a wedge between Rodgers and the front office.
To Rodger's credit, he never took his frustration out on Love himself, and he seems to still have a great relationship with his backup quarterback. His initial reaction was telling, though.
"I was watching the draft feed with A.J. Hawk and Pat McAfee, and my first reaction was surprise," he said, via USA Today back in May of 2020. "I wasn't thrilled by the pick, obviously, but the organization is thinking about the present and the future, obviously. He is such a talent that they wanted to move up and get him."
Love is still an unknown commodity for the Packers
Love was the third-string quarterback his rookie season and in fact, he never even suited up.
With Rodgers "holding out" for much of the last offseason, Love did get his first chances to take the reins of Green Bay's offense. He seemed to fare well for himself over the summer, but he quickly went back to the bench when Rodgers reappeared at training camp.
Love did start a game in 2021 with Rodgers on the bench thanks took a positive COVID-19 test. The Packers lost that game, a tough road contest against the Kansas City Chiefs that saw the young quarterback complete 19 of 34 passes for 190 yards, one touchdown, and one interception.
He was in a tough spot; there's no doubt about it. He was playing against a Kansas City defense that was starting to heat up and on the road at one of the toughest places to play in the NFL, Arrowhead Stadium. That's not even to mention that Patrick Mahomes on the other sideline. What an intimidating scenario for a young quarterback making his first start.
Ultimately, Love was underwhelming in that contest, but one game does not a quarterback make.
Love also got extended snaps in the last game of the season against the Detroit Lions. He looked more comfortable in that game, completing 10 of 17 passes for 134 yards and a touchdown, but he did throw two interceptions.
Heading into his third season, at least to the public, Love is still quite a mystery. He appears to have all the physical tools to be a starting-caliber NFL quarterback, but can he put it all together?
That's the question when it comes to Love, and frankly, it's why the Packers are trying to do everything they can to get Rodgers back for 2022 and beyond. That's not to say that Green Bay made a mistake by drafting Love because it's still too early to tell. With that said, the Packers clearly aren't yet comfortable enough to hand the reins to him unless they have to.
What does Love's future hold?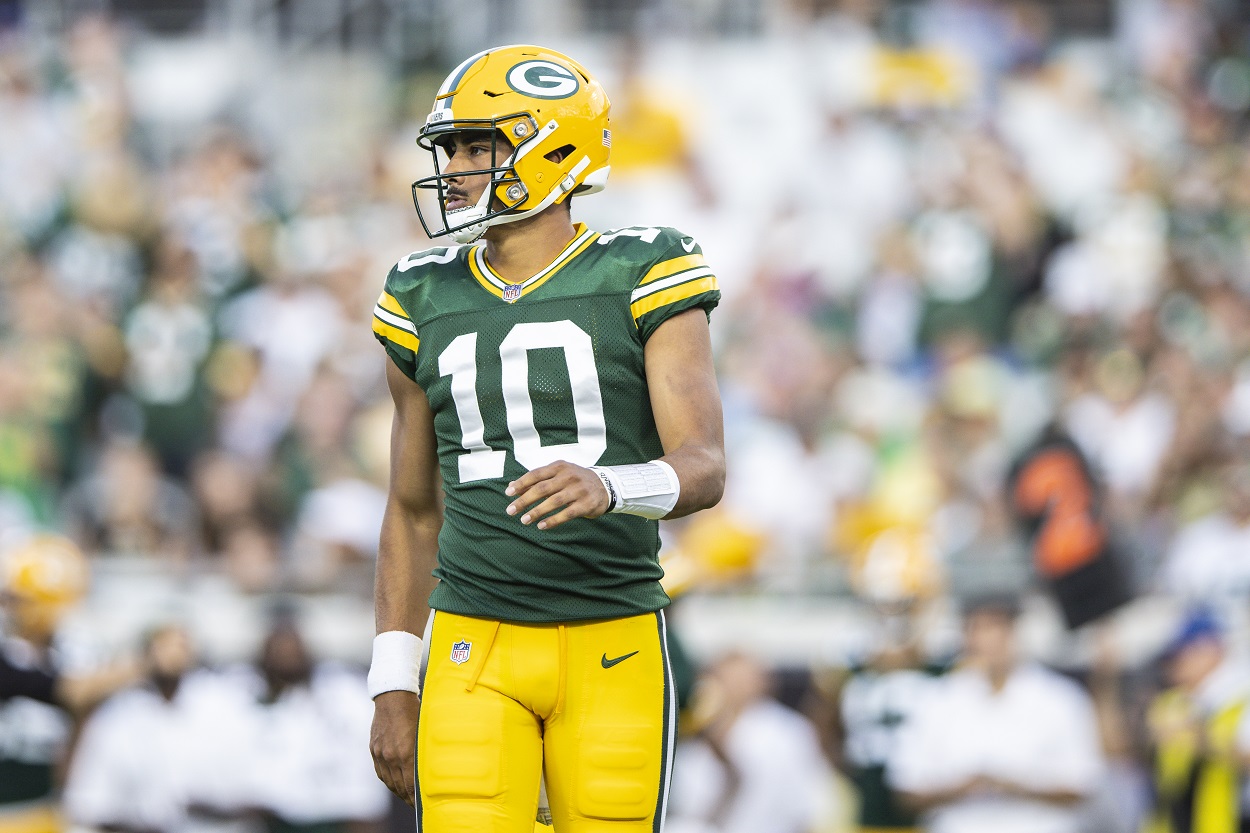 Rodgers said he wasn't going to draw this process out. He knows the Packers have a lot of work to do this offseason, and he knows that he's an important piece of the puzzle either way.
The Packers are operating as if Rodgers is coming back. They're working hard to clear cap space and basically mortgage their future to keep the Super Bowl window open with the four-time MVP.
The issue is this: Nobody besides Rodgers knows what he's really going to do, and he may not even know at this point.
What we do know is that the next time he appears on The Pat McAfee Show, most of the NFL world is going to tune in. 
Rodgers showed up last week and quickly deflated McAfee's balloon by announcing that no decision had been made. He may do the same thing the next time around, but considering the timeline, there's an excellent chance that his announcement will come soon.
Ultimately, Rodgers' decision will dictate the future for Love.
If Rodgers decides to come back, Love is at least looking at one to two more years as a backup. He may even be traded, and the Packers would be wise to look into that.
If Rodgers decides he wants to retire or play elsewhere, though, all of a sudden, Love becomes the starting quarterback of the Green Bay Packers.
The whole trajectory of Love's career could be determined on a Youtube show featuring a host that rarely, if ever, wears sleeves.
Stats courtesy of ESPN and Pro Football Reference. Contract information via Spotrac
RELATED: The Pittsburgh Steelers Should Replace Ben Roethlisberger Not With Aaron Rodgers, but With Jordan Love