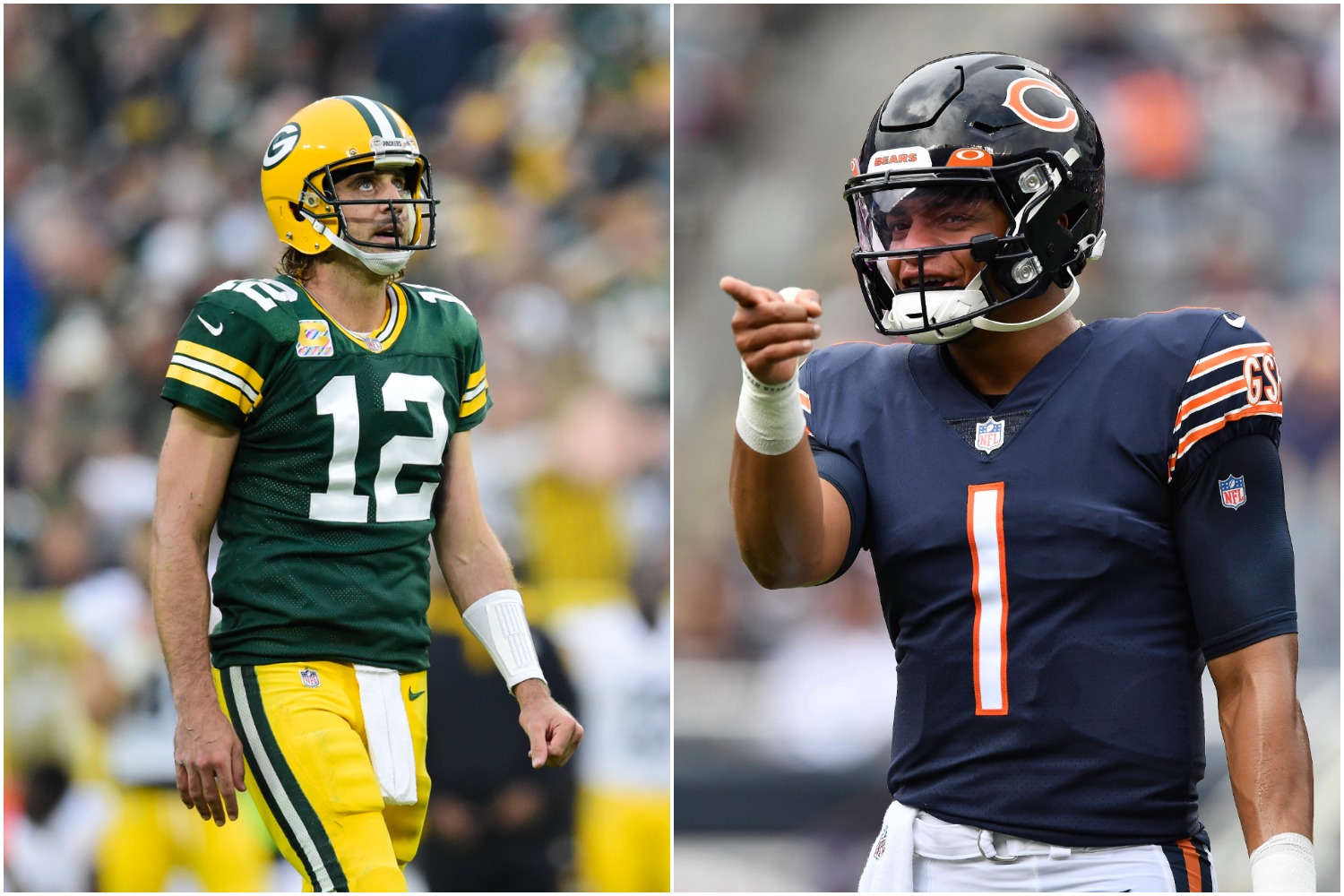 The Packers' Latest Injury Blow Leaves Justin Fields in a Fantastic Position to Ruin Aaron Rodgers' Trip to Chicago
With the Packers experiencing major depth issues on defense, don't be surprised if Justin Fields and the Bears earn a home victory over Aaron Rodgers and Co.
Aaron Rodgers owns a 20-5 career record against the Chicago Bears, but he faces a challenging path to earn win No. 21. Not only does the reigning MVP have to face a defense that's done a terrific job shutting down opposing offenses, but he also has to deal with playing for a Green Bay Packers team that doesn't exactly excel at keeping opponents out of the end zone.
Unfortunately for Rodgers, personnel problems may prevent him from coming out on top against a franchise he's dominated for more than a decade.
On the other hand, for Justin Fields, the latest hit to the Packers' defense leaves him in a fantastic position to earn a victory over one of the most prolific quarterbacks in NFL history.
Green Bay's defense has failed to impress under first-year coordinator Joe Barry
Despite changing defensive coordinators, the Packers have yet to take a substantial leap forward on that side of the ball. In fact, they've actually experienced a slight regression with Joe Barry in charge.
After finishing 13th in points allowed (23.1 per game) in 2020, Green Bay currently ranks 20th at 24.4 points per game. While giving up 38 in a season-opening loss to the New Orleans Saints skews the numbers a bit, there's no doubt Barry's unit has fallen short of expectations.
According to Football Outsiders, the Packers rank 20th in defensive DVOA, a metric that measures a team's efficiency. Considering they finished 17th a year ago, it's impossible to ignore their early-season struggles and not have doubts about what lies ahead.
Of course, it's also impossible to look past the Packers' health issues. With star outside linebacker Za'Darius Smith limited to 18 snaps because of a back injury that required surgery, Green Bay has mustered just 10 sacks. Plus, without him in the lineup, the front seven has performed poorly against the run.
Just how bad have the Packers been in that area?
Football Outsiders only has the Houston Texans, Los Angeles Chargers, and the Kansas City Chiefs rated lower in rush DVOA.
Besides losing Smith, Green Bay also placed All-Pro cornerback Jaire Alexander on injured reserve. His absence has exposed the team's lack of depth and forced Barry to rely on less talented players. And given Alexander's status as one of the top players at his position, there's simply no way to replace him.
The Packers' latest injury blow could pave the way for Justin Fields to send Aaron Rodgers home with a loss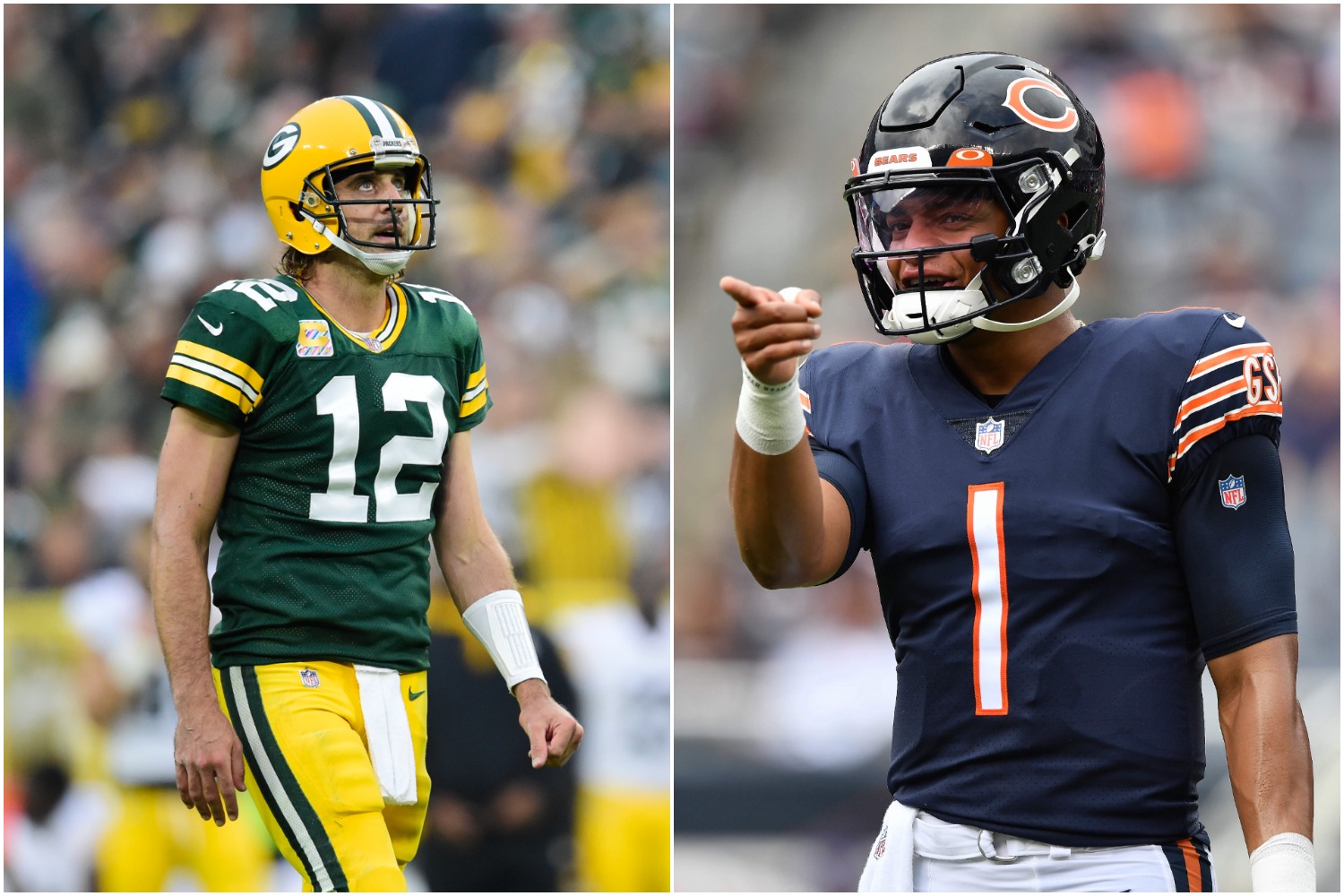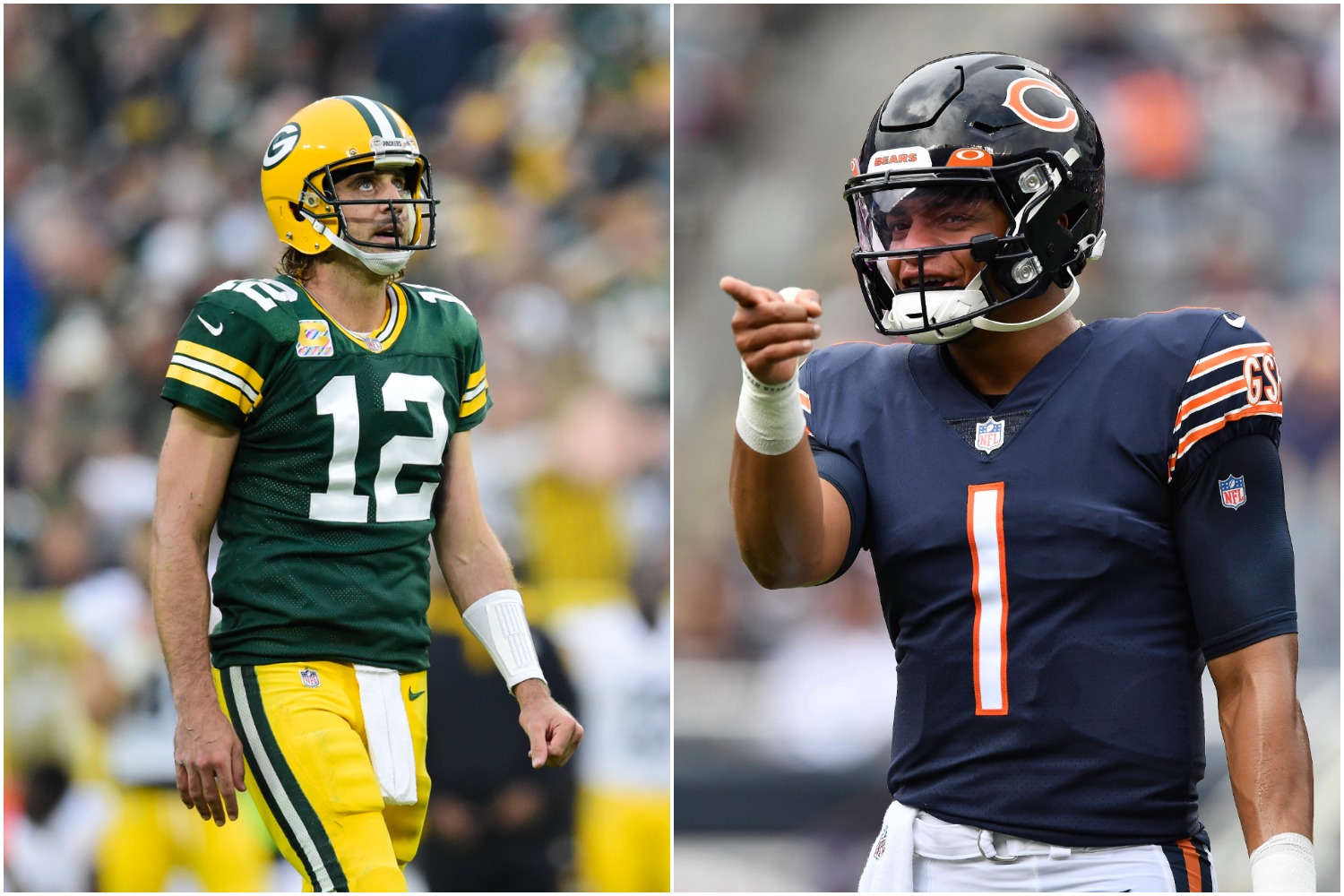 Unfortunately for Rodgers, another one of his teammates got hurt last week. Cornerback Kevin King suffered a shoulder injury against the Cincinnati Bengals that raised doubts about his availability for Week 6.
In a move that clearly puts Justin Fields in a better position to win, Packers head coach Matt LaFleur officially ruled King out Friday.
With the fifth-year pro set to miss yet another game (King has only played 44 since he arrived as a second-round pick in 2017), the Packers will face the Bears without two of their top three corners. As a result, first-round rookie Eric Stokes and offseason trade acquisition Isaac Yiadom appear destined to start.
Green Bay's latest injury blow gives Fields a chance to finally have a big day at the office. Coming off a performance in which he completed 60% of his passes for 111 yards and one touchdown, he should put up much better numbers against a depleted Green Bay defense. The uber-talented rookie possesses a fascinating combination of size, arm strength, and athleticism that's screaming to be unlocked.
Could the Packers present the perfect opportunity for Matt Nagy to let Fields shine?
Sure, the Bears have a bit of a mess going on at running back. But given the state of their opponent's secondary, why not give your young quarterback a chance to showcase his passing skills? Allen Robinson certainly should have the edge over whoever's guarding him, and Darnell Mooney has the ability to make plays, too. Plus, tight ends Jimmy Graham and Cole Kmet present potential matchup problems simply because of their size.
If Fields takes care of the football and makes a few splash plays, the Bears can defeat their division rival. After all, unlike the Packers, they actually have a real defense.
Can the Bears do enough on defense to snap their division rival's four-game winning streak?
Rodgers' latest trip to the Windy City could end in a loss if Sean Desai's unit plays like it did a week ago. Chicago's defense limited the Las Vegas Raiders to 259 yards of total offense in a 20-9 victory. That came one week after it held the Detroit Lions to 14 points on 351 total yards.
Currently sixth in the league in points allowed, the Bears rank fifth in Football Outsiders' defensive DVOA ratings. From a personnel standpoint, they have several key players who can make Rodgers' life difficult. Explosive linebacker Roquan Smith has the sideline-to-sideline speed to track down running back Aaron Jones. Despite being on the wrong side of 30, both Khalil Mack (five sacks, six quarterback hits) and Robert Quinn (4.5 sacks, six QBH) remain high-impact pass rushers. Meanwhile, 2020 second-round pick Jaylon Johnson ranks 10th out of 110 corners in Pro Football Focus' grading system.
Don't forget the Packers still don't have David Bakhtiari back, and Elgton Jenkins has been dealing with an ankle injury. Their offensive line remains a major question mark heading into a matchup against a tough, physical front seven.
Ultimately, this game will come down to Justin Fields' ability to make plays in the passing game and the Bears' ability to disrupt Aaron Rodgers' timing.
With the state of the Packers' roster, though, don't be surprised if the less experienced quarterback emerges with a victory.
All statistics courtesy of Pro Football Reference.