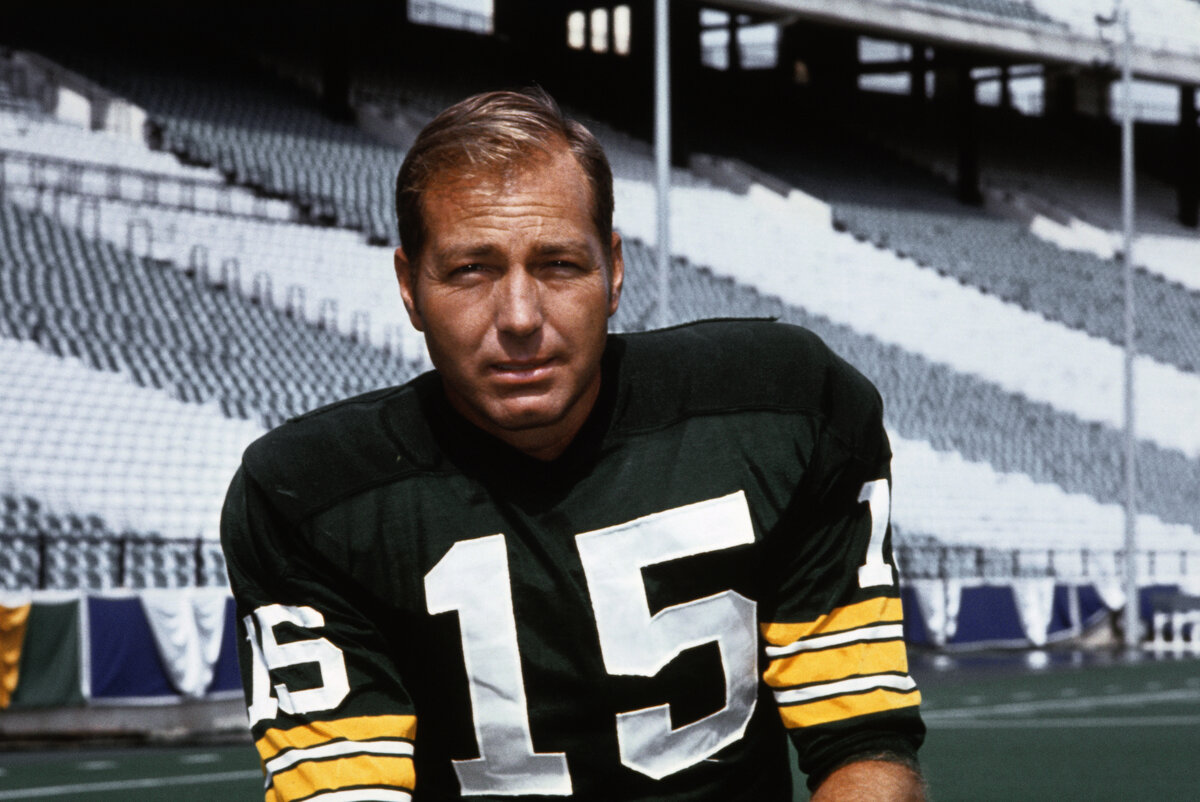 Packers Legend Bart Starr's 11-Year-Old Brother Tragically Died 3 Days After Stepping on a Dog Bone
Before reaching the NFL, Green Bay Packers legend Bart Starr had to overcome tremendous adversity in the form of his younger brother's tragic death.
Aaron Rodgers has kept Green Bay Packers fans very spoiled with who they see at quarterback each week.
Long before Rodgers became one of the greatest quarterbacks in NFL history, Bart Starr defined the position in a Packers uniform. Starr and Vince Lombardi formed one of the greatest quarterback and head coaching duos ever to take the gridiron.
Starr had to overcome a great deal of tragedy before reaching the NFL. His younger brother, Bubba, died at 11 years old because of a horrific accident.
Bart Starr is a Green Bay Packers legend
Much like Joe Namath and other quarterbacks from the 1960s and 1970s, Bart Starr's final numbers aren't indicative of how successful he was as a quarterback.
In 16 seasons, Starr completed 57.4% of his passes for 24,718 yards, 152 touchdowns, and 138 interceptions across 196 games and 157 starts. Those stats might not look like much now, but Starr usually threw more touchdowns than interceptions and went 94-57-6 as a starting quarterback.
A capable runner, Starr picked up 1,308 yards and 15 touchdowns on 5.3 yards per carry.
Starr was one of the NFL's first Super Bowl legends
Bart Starr saved his best play for the postseason.
In 10 career playoff games, Starr completed 61% of his passes for 1,753 yards, 15 touchdowns, and three interceptions. Starr brought a Tom Brady-caliber performance to the postseason long before Brady was even born.
Starr led the Packers to three NFL championships from 1956-65. The 1966 season ended with the first Super Bowl, a Packers victory over the AFL champion Kansas City Chiefs.
Starr earned Super Bowl MVP honors after throwing for 250 yards and two touchdowns in the 35-10 victory.
Starr returned to the Big Game a year later, and Green Bay routed Oakland, 33-14, at the Orange Bowl in Miami. He won Super Bowl MVP honors yet again.
Although it didn't happen in a Super Bowl, Starr's play in the 1967 NFL championship game. Green Bay was inside the Cowboys' 1-yard line with 16 seconds left when Starr dove in a surprise quarterback sneak, giving the Packers a 21-17 lead.
The Packers forced two Cowboys incompletions in freezing weather to clinch the Ice Bowl and the NFL championship.
Bart Starr's younger brother tragically died at age 11
Before he ever reached the NFL, Bart Starr had to overcome an immeasurable tragedy.
Starr grew up in Alabama during the 1930s and 1940s, which was a far different time for medicine and overall health. Bart's younger brother, Hilton "Bubba" Starr, stepped on a dog bone in 1946. 
According to The New York Times, Hilton stepped on a dog bone while walking barefoot and cut his foot. Because Hilton hadn't received a tetanus shot, he died three days later at age 11.
Hilton's death had a profound impact on the Starr family. The Times reported that Starr said his brother's passing "put more distance between him and his father."
Like Sportscasting on Facebook. Follow us on Twitter @sportscasting19.