Packers Legend Charles Woodson Weighs In on Aaron Rodgers' Uncertain Future in Green Bay: 'He Knows It'
The Green Bay Packers are playing excellent football right now, setting themselves up for an enticing pitch to Aaron Rodgers in the offseason. Rodgers' future with the team is still uncertain, but Hall of Fame defensive back Charles Woodson believes some stars are beginning to align.
The Packers legend recently weighed in on if he thinks the football marriage will continue.
Charles Woodson predicts Aaron Rodgers' future in Green Bay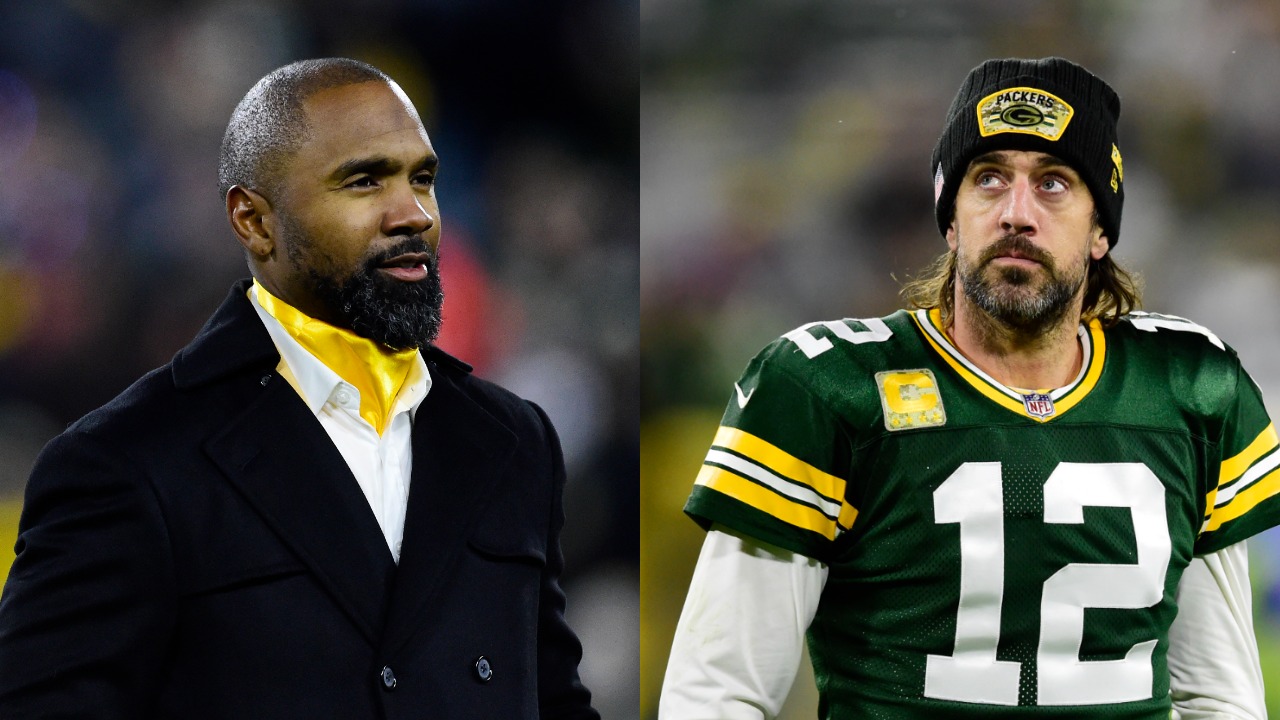 The Green Bay Packers recently honored Charles Woodson at halftime of the Week 12 game against the Los Angeles Rams. Woodson enjoyed a Hall of Fame career, spending seven of his 18 NFL seasons in Green Bay.
As a former teammate of Aaron Rodgers and someone who knows him well, Woodson often gets asked to weigh in on the quarterback's future with the franchise.
The 9-time Pro Bowl defensive back was a guest on The Rich Eisen Show, and he gave his thoughts on Rodgers' uncertain future with the Packers beyond the 2021 season.
"As this season has played out, I would have to say Aaron Rodgers is going to be more receptive to staying in Green Bay," said Woodson. "Everything he had problems with, he put out in the open. They understand that this is one of the best quarterbacks in all of football. I think the Packers better do everything they can. You want to lock this guy in, make him happy for as long as you can."
As a Packers legend himself, it sounds like Charles Woodson is in favor of Rodgers finishing his career where it started. He added that Lambeau Field is home.
"If you watched him walk off that field yesterday, and people chanting 'MVP,' they love Aaron Rodgers," said Woodson. "I think that Aaron, as he walks off that field, I think he feels it. I think he knows it. As the season plays out, Aaron is more receptive to being in Green Bay for his entire career."
The Packers are one of the best teams in the NFL
Aaron Rodgers and the Green Bay Packers' front office have had their differences in the past, as recent as the summer. However, it's hard to tell by how much fun he's having during the 2021 NFL season.
The Packers are playing excellent football right now. They're currently 9-3, good for first place in the NFC North. If the season ended today, Matt LaFleur's squad would be the 2-seed in the NFC playoffs.
Charles Woodson's assessment makes plenty of sense. The Packers got a brief taste of life without the 9-time Pro Bowler in Week 9. Jordan Love got the start against the Kansas City Chiefs but struggled against a less than stellar defense.
There's no way the Packers seriously want to part ways with Rodgers now, especially with how he's been playing in 2021.
Rodgers has thrown for 2,878 yards, 23 touchdowns, and just four interceptions while completing 66.2% of his passes. He's playing at an MVP level right now. Even with all of his distractions, Rodgers is arguably leading the best team in the NFL.
Could winning heal all wounds in Green Bay?
Would a Super Bowl convince Rodgers to stay?
There appears to be more parity in the NFL in 2021 than there's been in recent years. The AFC and NFC feature several teams who can legitimately represent their respective conferences in Super Bowl LVI.
The Green Bay Packers have some stiff competition in the NFC. The Tampa Bay Buccaneers, LA Rams, Arizona Cardinals, and Dallas Cowboys each can make a strong case. However, Aaron Rodgers and company have just as solid of a case as any team.
When all of the pieces are healthy, the Packers' offense can score with anybody. The core nucleus of Rodgers, Davante Adams, and Aaron Jones gives Green Bay a balanced offensive attack.
On defense, Joe Barry has done a masterful job of getting the most out of his unit. Green Bay is allowing just over 20 points and 321 yards per game to opposing offenses.
Having a top-10 defense helps take some of the pressure off of Rodgers and the offense.
If the Packers win the Super Bowl in 2021, it's difficult to imagine Aaron Rodgers not running it back with the team in 2022. Green Bay has already proven it has the necessary talent to compete with the best of the best in the NFL. Now, the onus is on Brian Gutekunst and Mark Murphy to concede to some of their superstar's demands.
For Charles Woodson's words to come true, it will take some sacrifices from all parties involved.
All stats courtesy of Pro Football Reference.