Packers RB Aaron Jones Is Foolishly Putting Faith in Aaron Rodgers Returning to Green Bay Next Season
After back-to-back disappointing postseason performances as the No. 1 seed, it appears the Aaron Rodgers discourse is finally coming to a head for the Green Bay Packers. They went backward this past season, getting bounced by the San Francisco 49ers in the Divisional Round after making it to the Conference Championship the year prior.
Now, all attention is being turned toward Rodgers. The long-time Packers quarterback has been hinting at a trade for two full seasons now. It feels incredibly likely he's going to push for a fresh start elsewhere this spring.
Packers RB Aaron Jones believes Aaron Rodgers is staying put
Despite all the signs pointing toward Rodgers joining a new franchise this offseason, at least one current Packers player is choosing to put his faith in the star QB returning to Green Bay for another season.
Speaking on NFL Total Access Live, Jones stated he believes Rodgers will be rocking green and yellow in 2022.
"I've heard what everybody else has heard, what they're reading," Jones said on Tuesday. "But I think he'll be there, in my heart. Green Bay, I can't imagine him anywhere else. That's where he's been his whole career. I just can't picture him anywhere else. I think we had a lot of fun this year, I hope to have him back, and I believe in my heart he'll be back."
Jones doesn't reference any inside information that Rodgers may have tipped him off on. He's instead leaning on the emotional appeal of being unable to picture Rodgers playing in another uniform.
What's the incentive for Aaron Rodgers to return to Green Bay?
Rodgers is in full ring-chase mode at this stage of his NFL career. His list of personal accolades is too long to write out. However, the one thing that's managed to evade him is that second Super Bowl trophy.
With another long-time NFC QB in Matthew Stafford potentially set to win his first Lombardi, the pressure on Rodgers to win another, to establish himself above some of his competition, is only getting more intense.
This is why returning to Green Bay doesn't make a ton of sense for Rodgers. Yes, they've been a consistent playoff threat the past couple of years with Rodgers under center. However, they're quickly running out of cap space and have shown a reluctance to draft win-now type talent for Rodgers in the past.
If Rodgers is serious about securing that second ring, his best bet would be to travel somewhere with greater cap space and a better core. A team that could also acquire WR Davante Adams, for example.
The Packers need to begin the transition process to Jordan Love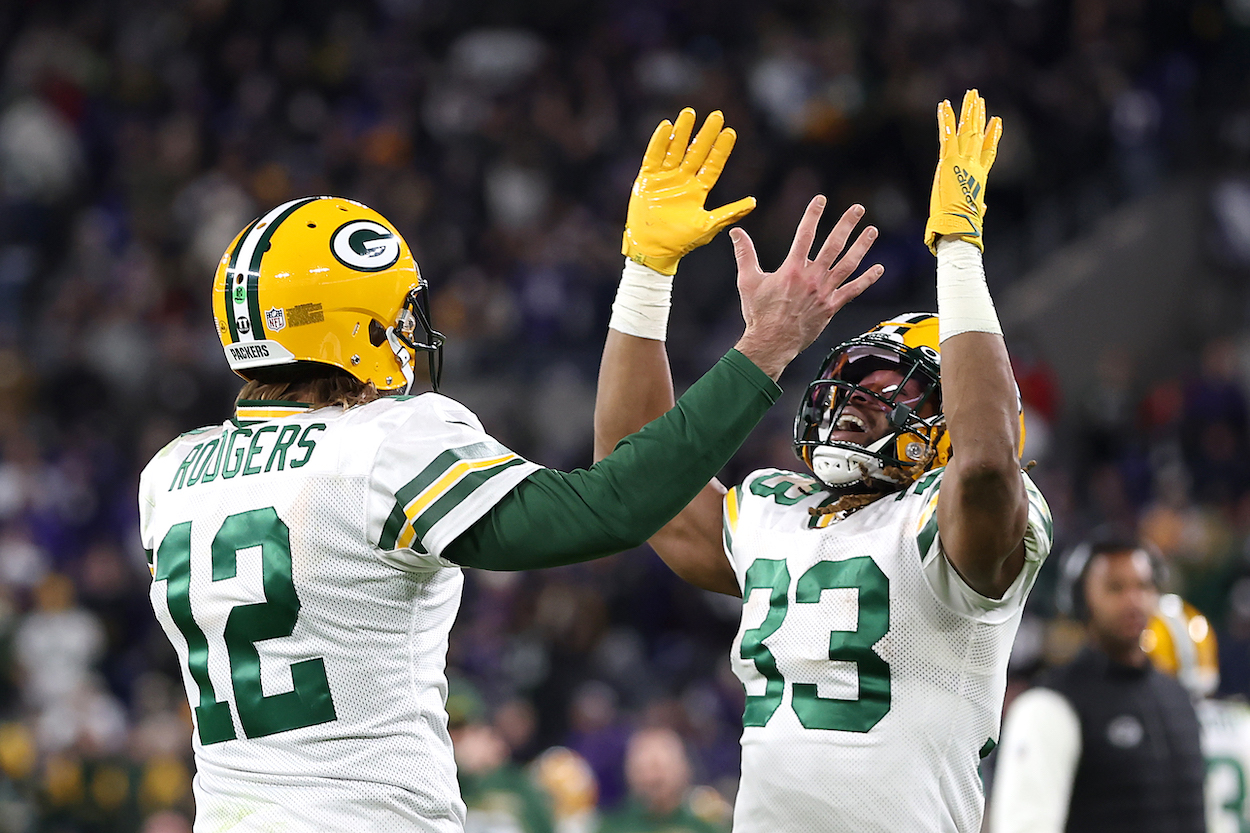 Understandably, Aaron Jones is struggling to accept Rodgers is likely leaving this offseason. However, the best thing the Packers can do moving forward is fully embrace 2020 first-round pick, Jordan Love.
Whether his teammates like it or not, Love was drafted to be Rodgers' replacement. It just took longer for the transition period to occur than initially expected.
Jones working to establish a strong relationship with Love would go a long way toward the Packers being competitive again in 2022.
Like Sportscasting on Facebook. Follow us on Twitter @sportscasting19.
RELATED: Former Cardinals WR Larry Fitzgerald Is Hinting at a Kyler Murray Trade