Packers RB AJ Dillon Only Needed 3 Hours to Fully Appreciate the Franchise That Took a Controversial Risk on Him: 'Sometimes I Still Gotta, Like, Pinch Myself'
Article Highlights:
Second-year running back AJ Dillon is proud to play for the Green Bay Packers
The Boston College product recently opened up on how he grew to appreciate the team that took a risk drafting him
The Packers will need Dillon at his best in the coming weeks after Aaron Jones suffered a knee injury
The Green Bay Packers shocked the football world when they traded up and used a first-round pick on Utah State quarterback Jordan Love in the 2020 NFL Draft. Critics continued firing full steam ahead when the Packers drafted Boston College running back AJ Dillon in the second round.
We say that with respect to Dillon, a three-time first-team All-ACC selection who ran for 4,482 yards and 38 touchdowns at Boston College from 2017-19. He heard the noise and the skeptics, and less than two years later, the 23-year-old running back is thrilled to silence his critics.
AJ Dillon only needed three hours to fully appreciate the Green Bay Packers organization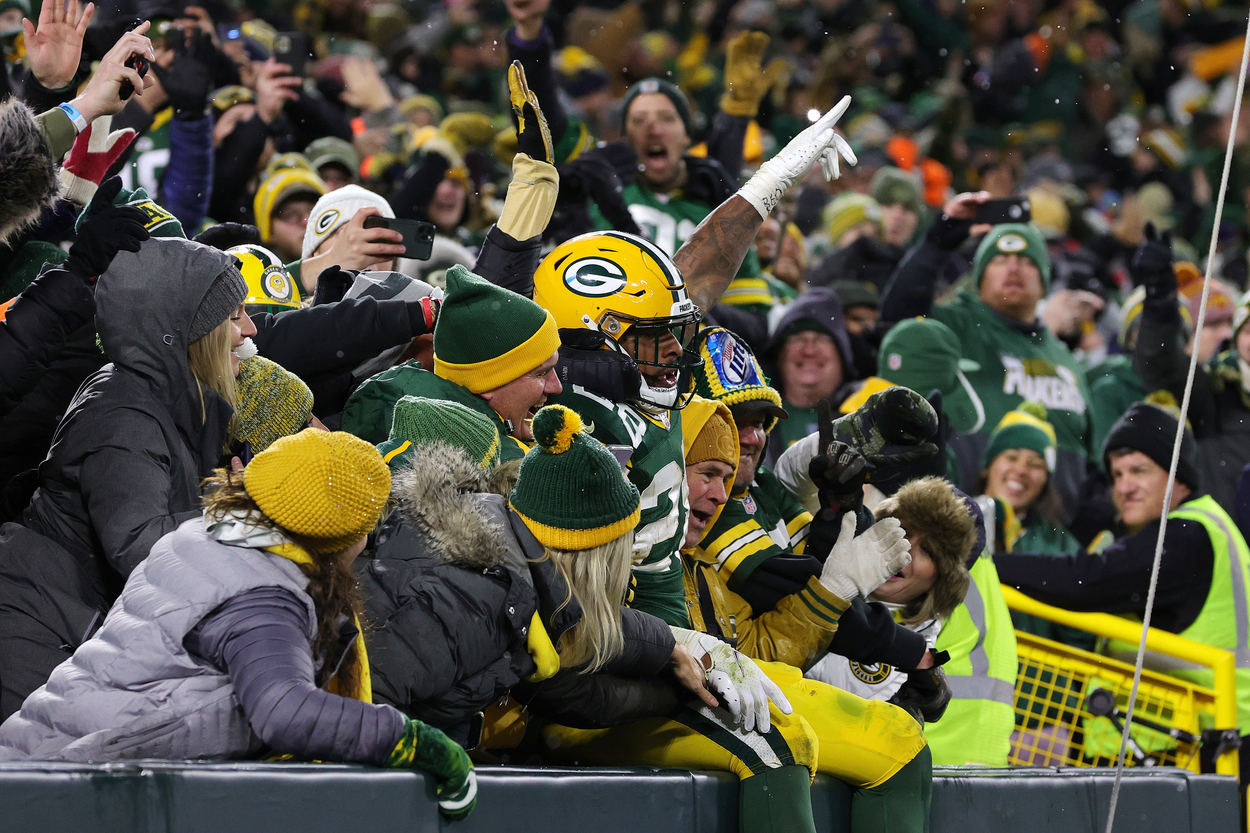 The Packers entered the 2020 draft with a wide receiver-sized hole. As we now know, the team instead used its first two picks on a raw quarterback and a running back who, barring injury, would have begun his career playing behind the electric Aaron Jones.
Dillon, for his part, did his best to ignore the critics. In a recent interview with NBC Sports' Peter King, the second-year back admitted he used the negativity as "bulletin board material" in order to become a successful NFL all-purpose back.
The day after the 2020 draft ended, Dillon said he watched a three-hour documentary on the Packers' history and what the franchise meant to Green Bay.
"Sometimes I still gotta, like, pinch myself before I get into practice. Or I'm driving over to practice, and I'm like, 'Oh wow, this is real, I'm a Packer' when I'm pulling up and see Lambeau. I've walked into the Green Bay Packers Hall of Fame like three times now, just to see it. Now I know the history, and I'm so honored to be a part of the family here."

AJ Dillon
The combination of Jones' Pro Bowl campaign and Dillon missing time while on the COVID-19 list limited the AP All-American to 46 carries in 11 games last year.
Dillon has steadily improved and silenced his critics this season
Any hopes Dillon had of earning the Packers' starting running back job in 2021 ended when the Packers officially awarded Jones a four-year, $48 million extension with a $13 million signing bonus in March. Unless, of course, the latter wound up in a situation where he couldn't play.
Although Dillon came off the bench in all of the Packers' first 10 games, he picked up 421 yards and two touchdowns on 4.3 yards per attempt in that span. He also furthered his goal of being a dangerous all-purpose back by turning 16 catches into 196 yards and a touchdown. Perhaps most importantly, he's avoided turning the ball over since fumbling twice in a Week 7 victory over the Washington Football Team.
With the 17-game season in mind, that's a 716-yard pace from a backup running back. Every team would take such numbers, especially the Packers if Rodgers has any lingering issues from his recent COVID-19 bout.
Most of Dillon's work came in Week 10 as he rushed for his first two touchdowns of the year and picked up 66 yards on 21 carries while replacing Jones, who left midway through a 17-0 victory over Russell Wilson and the struggling Seattle Seahawks with a knee injury.
Those who think the Packers should have used the 62nd overall pick on a receiver or weapon for Rodgers probably aren't going to change their minds at this point. Still, at least Dillon is showing what he can do when given an opportunity.
The Packers will need Dillon at his best in the coming weeks
Some of the Packers fans who openly questioned and hated the Dillon pick got to celebrate with the man in question when he performed a Lambeau Leap in Week 10.
Those same fans should expect to see more of Dillon in the coming weeks. Jones has a sprained MCL, and he is expected to miss the Packers' Nov. 21 showdown with the rival Minnesota Vikings. It is not known yet if the UTEP product will be ready to go when the Packers host Odell Beckham Jr. and the new-look Los Angeles Rams in Week 12.
The Packers know they can use Dillon as either a traditional rusher or as a receiving back. He's gradually improved and impressed as the season has progressed, which is excellent news for a team hoping to reach its first Super Bowl in 11 years.
A year ago at this time, no one was really sure how to feel about Jones. Now, he might be the key to the Packers clinching the NFC's No. 1 seed. It's funny how quickly life can change in the NFL.
Like Sportscasting on Facebook. Follow us on Twitter @sportscasting19.