The Packers Should Call the New York Giants about an Aaron Rodgers Trade
Aaron Rodgers should be announcing a decision about his future soon. The Green Bay Packers are hoping he'll decide to come back and try to win another Super Bowl, but anything and everything is on the table.
It doesn't sound like a trade is something the Packers are interested in, but seriously, they should at least take and make a few phone calls.
The Denver Broncos have long been considered a hot trade partner, but here's why the Packers need to give the New York Giants a call.
The Green Bay Packers need to reconsider pushing too much money into the future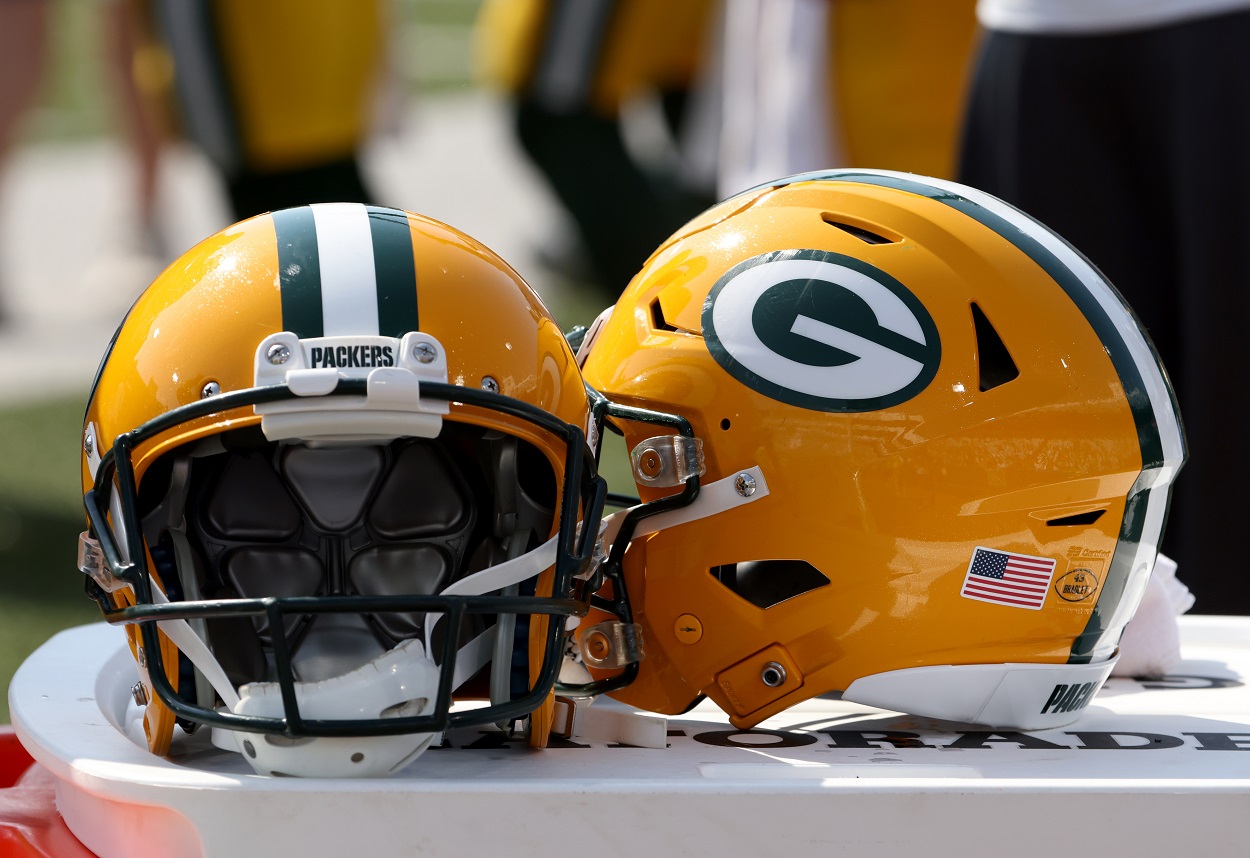 The Packers are planning (and already beginning) to mortgage their future in order to bring Rodgers back. Much of the room they're trying to create will also likely be used to give Davante Adams a long-term deal.
While Adams seems like a no-brainer, considering he's the best wideout in the league and still only 29, Rodgers is nearing the back nine of his career. Yes, he's the back-to-back NFL MVP, but if the Packers want to go all-in to maximize his Super Bowl window…just how long is that window?
The Packers have already restructured contracts for David Bakhtiari, Aaron Jones, and Kenny Clark to cut down on the salary cap. They're still roughly $28 million over the cap, but that's better than where they started (nearly $50 million over).
While restructuring those deals has helped Green Bay's current cap situation, it's only serving to hurt the Packers in the future.
For example, Bakhtiari's cap hit in 2023 is now $28.5. In 2024, it balloons up to $32.5.
Jones' cap hit will jump up from $5.8 million this season to $20 million next offseason because of his restructure.
The Packers are clearly going for broke, but it's going to leave them broke in 2023 and beyond.
If they don't win a Super Bowl this season, where does that leave them in the future? Especially with players like Jaire Alexander and Elgton Jenkins up for contract in 2023, Green Bay is playing a dangerous game.
The Packers can re-tool instead of rebuild by trading Aaron Rodgers
The issue for the Packers is that they seem so desperate to bring Rodgers back they've seemingly lost sight of both the future and what was supposedly the plan.
Green Bay traded up to draft Jordan Love in the first round on the 2020 NFL Draft, and general Brian Gutekunst didn't do that just to secure a high-level backup. Both he and head coach Matt LaFleur were high-fiving like they just drafted their LeBron James. Love was their guy, and they drafted him to be the heir apparent to Rodgers.
Rodgers admitted that he threw that plan off by winning the NFL MVP in 2020.
"All I can do is play my best, and I feel like I did do that and may have thrown a wrench into some timelines that may have been thought about or desired," he said on The Pat McAfee Show back in April of 2021 (h/t Pro Football Talk).
If that was a wrench into the timeline, his second-straight MVP in 2021 was a straight-up tire iron. It doesn't take away the fact that the Packers had a plan and now they're throwing it away, though. 
If the Packers were to trade Rodgers, which is still a possibility, they'd be able to avoid much of the lousy cap situation that's brewing in the future while getting back assets to help build for that future. And heck, maybe the future shouldn't be built around Love, but rather, a defense that's a few key pieces away from being elite. Either way, trading Rodgers gives the Packers the opportunity to re-tool rather than go for broke and then straight-up rebuild.
That's where the Giants enter the conversation.
Why the Packers should give the New York Giants a call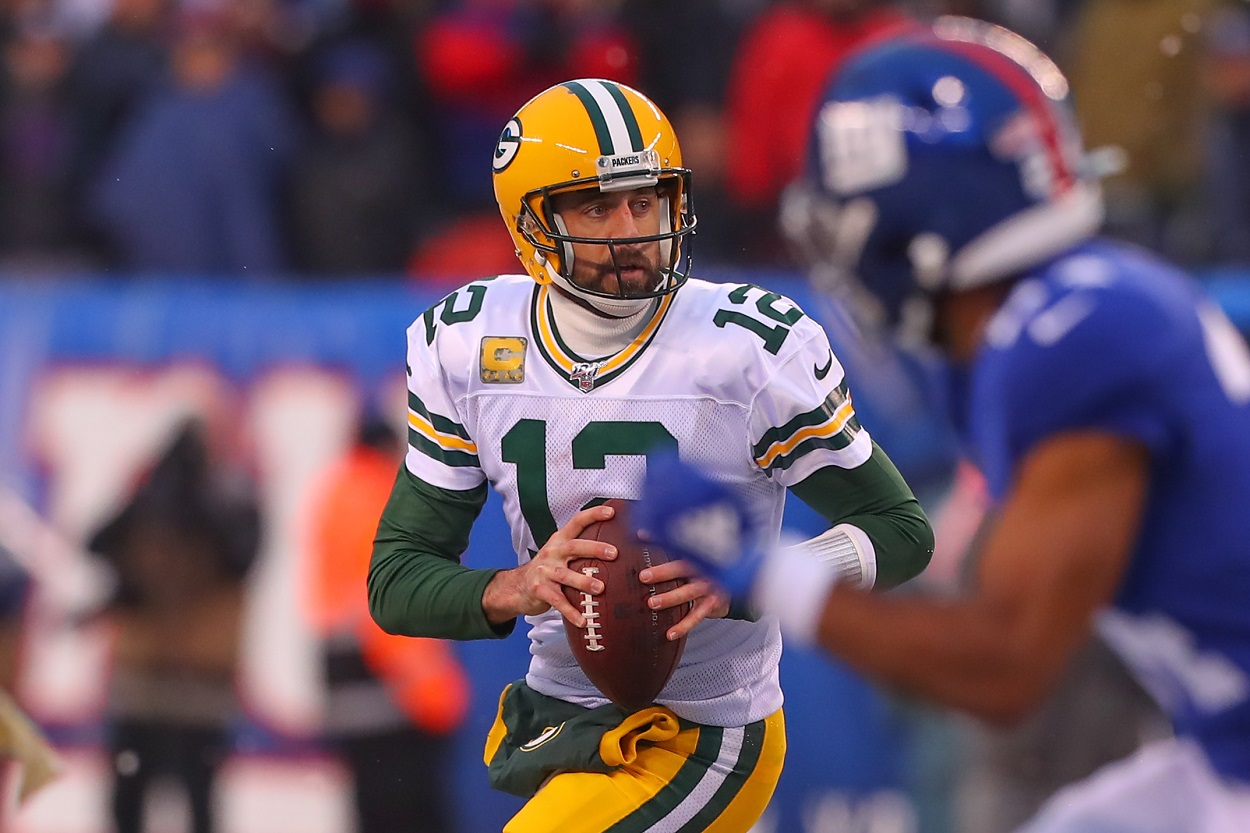 As mentioned, Denver has been a popular destination for those speculating about a possible Rodgers trade, but the Giants could actually provide the Packers with a much better package in return.
To be clear, New York probably wouldn't be Rodgers' favorite destination. It may be suitable for his brand, but the Giants are far from the potential Super Bowl contenders that the Broncos would be because of his addition.
From the Packers' perspective, though? Green Bay needs to at least think about giving the Giants a call.
Here's why: New York has two first-round picks in the 2022 NFL Draft and they're not just any old first-rounders, but rather two top 10 picks.
The Giants have picks No. 5 and No. 7. They may not be willing to part ways with both considering they'll be entering the first year of their own rebuild under new head coach Brian Daboll and general manager Joe Schoen, but wouldn't a four-time MVP quarterback accelerate that rebuild much more than two rookies would?
The Packers could trade Rodgers to New York and receive two prime-time picks in return. They could use both selections on high-level defenders, which all of a sudden gives them an elite defense to complement an offense that will certainly have growing pains under Love. Green Bay could also alleviate those growing pains by spending both picks on offense. They could draft one offensive star and one defensive star. Heck, even if they get one of those top 10 picks to pair with their own first-rounder, that would be huge in terms of team development.
The point is this: The Packers can trade Rodgers, who likely has only a season or two left of elite play, for one or two players who can impact the team for years to come. They'd have options, and they'd have a future.
Right now they are pigeonholed into Super Bowl or bust mode with Rodgers, and that's only worked one time since they drafted him in 2005.
At the very least, it's worth a call.
Stats courtesy of ESPN and Pro Football Reference. Contract information via Spotrac
RELATED: Aaron Rodgers Regrets Blowback to Others Because of COVID-19 Rants