The Packers Would be Better Off Catering to Davante Adams than Aaron Rodgers
Aaron Rodgers used his superstar leverage to back the Green Bay Packers into a corner. After Rodgers' offseason exploits, the franchise was forced to defer to him on a number of fronts. His contract was restructured and includes vague "mechanisms" that Rodgers asked for (presumably some level of control over personnel decisions). The Cal product may be the reigning MVP, but the Packers would be better off catering to their future franchise MVP in receiver Davante Adams.
Adams has become one of the most dominant wide receivers in the NFL, but he's also become a leader in Green Bay's locker room. The team will need Adams to help bring along Jordan Love — or whoever the next franchise quarterback is — on the field. But once Rodgers moves on, the team will need Adams to be the face of the franchise.
Davante Adams should be the Packers' main priority, not Rodgers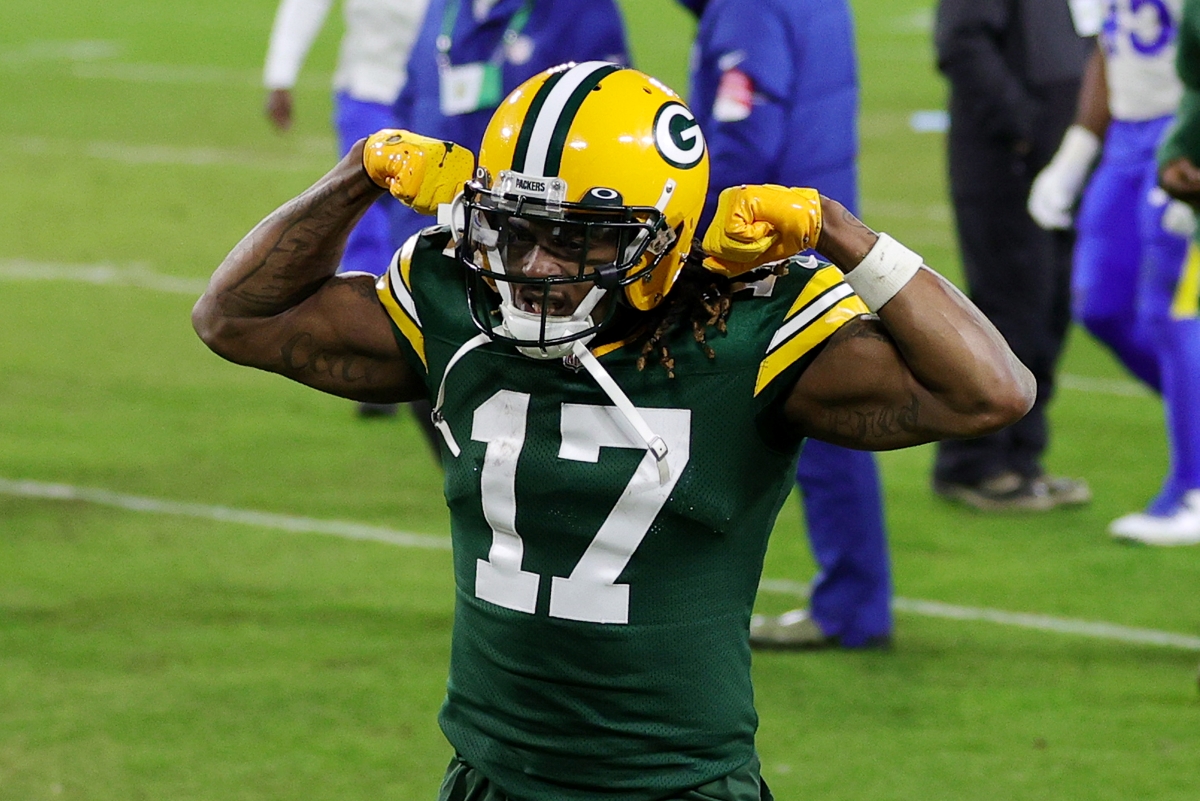 Adams is 28. Rodgers is 37. Though he won the MVP award last season, Rodgers is on the back nine of his career. Adams, on the other hand, is in his prime
The Fresno State product had issues with drops early in his career, but the last three seasons have been his best. Adams should be ranked in the top 10 of this year's NFL Top 100 List and arguably the top-ranked receiver. He's gone over 1,000 yards and 100 receptions two of the last three seasons. He had 83 receptions and 997 yards receiving in 2019 when he only played 12 games due to injury.
Adams is also becoming one of the Packers' best leaders in the locker room. During a recent post-practice interview, he praised rookie cornerback Eric Stokes for his development and desire to get better. He also had positive things to say about receiver Marquez Valdes-Scantling. Valdes-Scantling, like Adams, has had issues with drops his first few seasons in the league. Adams was quick to point out that the fourth-year pro has worked hard on improving his hands, citing himself as an example, and said Valdes-Scantling is ready for a breakout season.
Rodgers, on the other hand, continues to bring drama to Green Bay. He showed up to training camp and immediately had a 30-minute press conference to air his grievances and issues with the organization. Rodgers now has publicly stated he was 50/50 on whether to retire or return to the Packers just one week shy of the start of training camp. He said that more than three weeks into preseason practices. The saga continues.
Adams will still be producing long after Rodgers moves on from Green Bay
Adams is square in the middle of his elite seasons. He's coming off a 115-catch, 1,374-yard, 18-touchdown 2020. He's unarguably one of the best receivers in football right now. His route-running ability is off the charts and is what separates him from other wideouts. Admittedly, Rodgers is coming off an MVP campaign and played a big part in Adams' huge season. But the two are headed in opposite directions.
When If Rodgers leaves after this season, he'll end up with a new franchise, a new head coach, a new offensive system, and new players around him. He's one of the greatest quarterbacks of all time, so he'll adjust. But everything will be unfamiliar as he heads into his 17th season. If Adams stays in Green Bay, he'll be comfortable in his surroundings. The only drastic change would be replacing Rodgers with Love. That's a step down, to be sure, but Adams would be entering his third season working with Love and would still be south of 30 years old. An argument can be made that Adams will be better without Rodgers than Rodgers will be without Adams.
When Rodgers leaves, Davante Adams can become the face of the Packers' franchise
The Green Bay Packers are one of the most popular and storied franchises in all of sports. Its leaders are etched in stone forever. Bart Starr. Brett Favre. Reggie White. Aaron Rodgers.
If the team prioritizes Adams' new contract and keeps him in a Packers' uniform, he'll be next in a long line of hall of famers to lead the franchise.
All statistics courtesy of Pro-Football-Reference.