The Panthers Appear Primed to Delude Themselves Into Another Cam Newton Reunion
Article Highlights:
The Carolina Panthers appear open to bringing Cam Newton back for the 2022 season
The 2015 NFL MVP, who turns 33 in May, struggled after rejoining Carolina midway through the 2021 campaign
There is no reason why the Panthers should even entertain the notion of bringing Newton back
There's no reason to hide the truth. The Cam Newton experiment and reunion mostly bombed for the Carolina Panthers last season, enough to the point that one would rationally believe the team would have less than zero interest in bringing him back in 2022.
Then again, these Panthers don't exactly operate using rational thinking and conventional wisdom. This is the same organization that guaranteed Sam Darnold's 2021 salary before the USC product even played a game for them.
As of now, it appears Darnold is slated to return to the Panthers next season, and Newton might be rejoining him after all.
Panthers general manager Scott Fitterer said the team is still open to re-signing Cam Newton
For months, Panthers fans have been wondering who will serve as the team's starting quarterback in 2022. Will it be Darnold, who fell off after a hot start when his chariot resumed its regular life as a moldy pumpkin? What about a young quarterback in the draft such as Liberty's Malik Willis or North Carolina's Sam Howell?
When he spoke with reporters at the NFL Combine, Panthers general manager Scott Fitterer didn't entirely dismiss the idea of re-signing Newton. The 2015 NFL MVP completed 54.8% of his passes for 684 yards, four touchdowns, and five interceptions in eight games and five starts last year. He also rushed for 230 yards and five touchdowns on 4.9 yards per attempt.
Fitterer said the Panthers told Newton last year that the organization intended to evaluate his future after the season, and the two sides would meet in person before announcing anything. The 32-year-old is slated to hit unrestricted free agency when the new league year begins on Wednesday, March 16.
Although Fitterer shouldn't be blamed for wanting to provide a safe answer when discussing one of the greatest players in franchise history, the reality is there is no reason why the Panthers should even consider re-signing Newton unless he's inking a one-day deal and retiring.
There is zero reason why the Panthers should even entertain the notion of bringing Newton back
In hindsight, the Panthers weren't wrong to sign Newton, whose previously-unvaccinated status may have played a role in him spending the 2021 season's first half as a free agent. Carolina hoped its former star quarterback, who spent the 2020 campaign with the New England Patriots, could provide a desperate offensive spark that had been missing for weeks.
There's only one problem: Newton didn't provide enough of a consistent spark when he became the starter. In fact, his 54.8 completion percentage marked the worst of his career.
Some Panthers fans might suggest Newton would be an excellent fit as a backup or a change-of-pace quarterback. And, yes, he might perform adequately in that role on another team, especially one with an offensive mastermind like the Los Angeles Rams' Sean McVay.
Asking Newton to fill such a role on the Panthers is another story.
The Panthers and Newton have too much history, and asking him to return in a reduced role feels like it'd be more trouble than it's worth. If Darnold or Willis or whoever opens next season as Carolina's starting quarterback has early issues, the questions about when head coach Matt Rhule will insert Newton into the lineup will be loud and lingering.
Newton isn't an older receiver who is asked to play 40 snaps per game instead of 60, and he's not an aging hitter who, after spending years hitting third or fourth, will now hit sixth every game. He's a quarterback who will play all of next season at 33 years old and hasn't been even close to a reliable starter since 2018.
Will Newton play in the NFL again?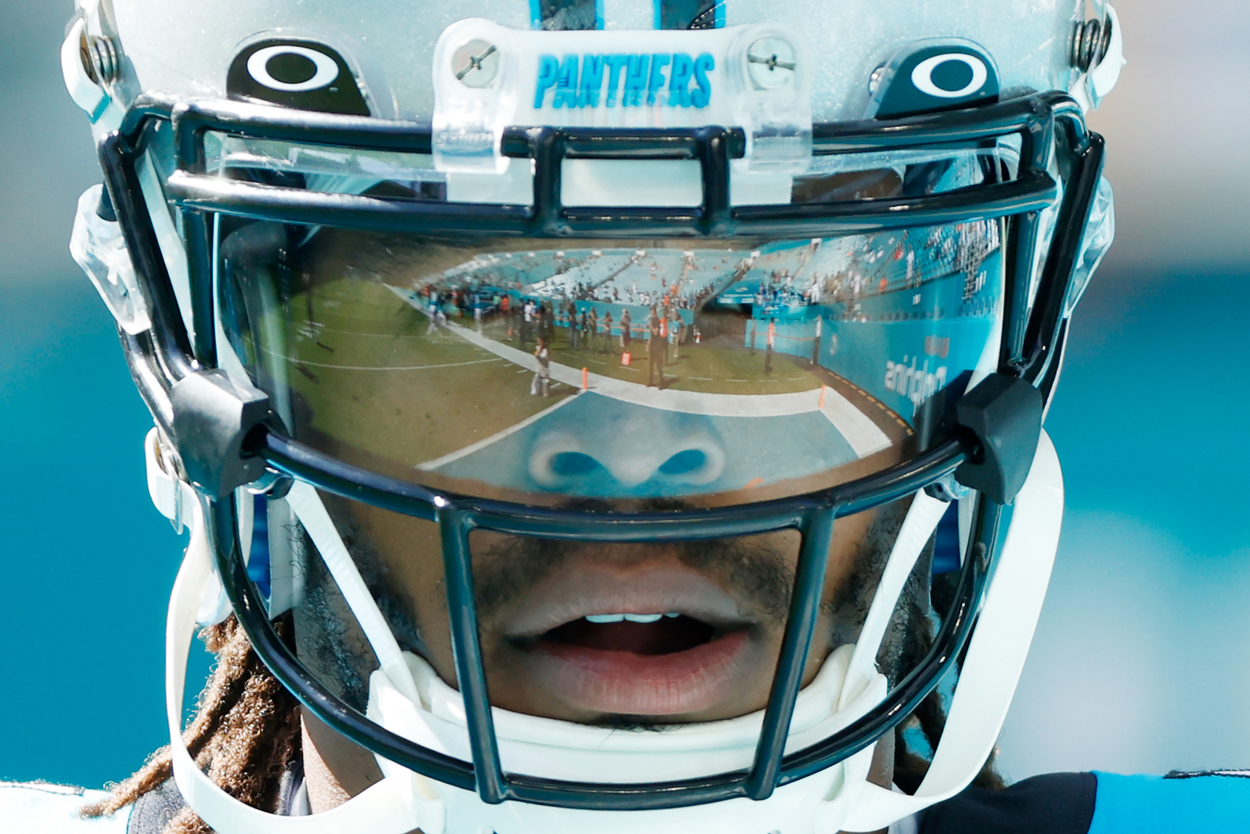 The first question that needs to be asked is if Newton wants to play again. He's already entering his 12th NFL season and, if he doesn't re-sign with the Panthers, might need to settle for being a backup quarterback.
For the sake of argument, let's say Newton does want to play next year. He's still searching for that elusive Super Bowl ring, and he rushed the ball extremely well last season. Even if his days of being an effective passer are behind him, the Auburn product proved he can at least contribute as a runner.
That doesn't sound like it would be enough for him at this point. The Washington Commanders, despite being led by ex-Panthers head coach Ron Rivera, passed in 2020 and 2021. Teams needing a backup quarterback are far likelier to settle for the likes of Andy Dalton, Colt McCoy, or Jacoby Brissett. 
Is it possible Newton signs with a team next October or November if injuries ravish a quarterback room? Sure. Does it seem likely that a team not named the Panthers will sign him in the coming weeks? No, it doesn't.
And, yet, there's a nagging feeling that the Panthers, in spite of every argument here, will shrug and re-sign Newton. In other news, look for Carolina to be in the market for a new head coach, and potentially a new general manager, upon the 2022 season's conclusion.
Like Sportscasting on Facebook. Follow us on Twitter @sportscasting19.
RELATED: Pros and Cons to the Carolina Panthers Trading Christian McCaffrey During the 2022 NFL Offseason