Panthers' Christian McCaffrey off to Historic Fantasy Football start
In his third season in the league, Carolina Panthers star running back Christian McCaffrey has continued his steady climb as one of the best players in the league. It has also elevated him to the thick of the MVP race just over a quarter of the way in the regular season. In the fantasy football realm, McCaffrey has taken his production to a historic pace through the first five games.
Christian McCaffrey's rise to stardom
Despite putting together an impressive collegiate career at Stanford, McCaffrey faced many questions about his ability to translate that dominance over to the NFL.
In his third campaign, the 23-year-old has not only silenced those critics but has also made a strong case for being regarded as the NFL's most complete running back and best players from his stacked draft class. He has proven to be a dual-threat asset that can impact the course of a game on a single play.
McCaffrey put together a breakout 2018 campaign, where he notched 1,965 total yards from scrimmage. He recorded 1,098 rushing yards with seven touchdowns along with 867 receiving yards on 107 receptions, an NFL record for catches for a running back in a single season.
All this building momentum set the stage for a career-best 2019 season for Panthers' all-around back.
McCaffrey's historic fantasy football start
Before the start of the 2019 regular season, McCaffrey was widely projected to be one of the top selections in fantasy football leagues in all formats.
The third-year running back has more than lived up to that billing this season as has racked up 159.6 fantasy points through Week 5. According to NFL Research, his point total is only second to former Kansas Chiefs star running back Priest Holmes for the most ever over that span of a season.
McCaffrey is coming off yet another stellar performance, posting 176 rushing yards on 19 carries with two touchdowns, along with six receptions on nine targets for 61 receiving yards and a touchdown. In total, he has posted north of 100 rushing yards three times, at least one rushing touchdown on four occasions, and 10 or more receptions twice.
His hot start to the year has also navigated him to put up north of 25 fantasy points all but once this season, including more than 30 points three times in fantasy football leagues with full-point PPR. This type of dominance has put him on track to possibly test Hall of Famer LaDainian Tomlinson's 2006 MVP campaign that saw him put forth what is believed to be the best single fantasy year ever.
Christian McCaffrey's promising season ahead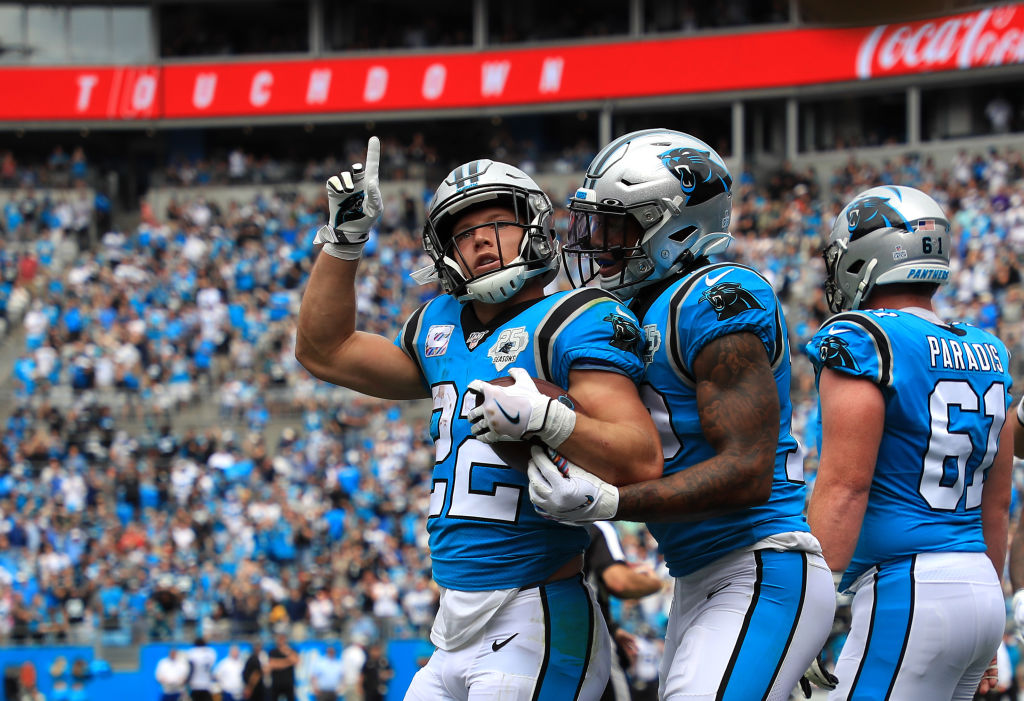 The Panthers have quickly rebounded from a 0-2 start to the 2019 season with much of that coming on the shoulders of McCaffrey's production leading the offense.
Given the amount of success the team has had with McCaffrey as their primary factor, it will remain the game plan translating to plenty of work ahead of him. The only concern at that point is whether that heavy workload will, at some point, wear him down.
Keep in mind, McCaffrey did deal with cramps near the tail end of Sunday's game, which may lead the team to tread lightly in practice this upcoming week. The Panthers may look to adopt a more rest-friendly plan during the week to keep him fresh throughout the course of the season.
McCaffrey will likely head into Week 6 as the league's top rusher with 587 yards along with posting 40 catches for 279 receiving yards. With Cam Newton still sidelined for an unknown time frame, it will continue to see their Pro Bowl running back get a massive slate of work ahead.