Carolina Panthers Better Prepared to Handle Christian McCaffrey Injury Than in 2020
Less than a year ago, the Carolina Panthers saw their season go up in smoke when All-Pro running back Christian McCaffrey landed on injured reserve with a high-ankle sprain after just two games. By the time McCaffrey returned in November, the Panthers had fallen to 3-5 and had no realistic path to the postseason.
While McCaffrey entered 2021 with a clean bill of health, he has already suffered a major setback. During the second quarter of the Panthers' Thursday night tilt with the Houston Texans, the running back suffered a hamstring strain and did not return. He finished the game with seven carries and two receptions for 40 total yards from scrimmage.
It remains unclear how much time McCaffrey will miss. However, the Panthers have better insulated themselves in the event of an extended absence from their superstar running back than they did in 2020.
Chuba Hubbard the new Mike Davis
With McCaffrey on the shelf for 13 games last season, the Panthers turned to journeyman Mike Davis to lead the backfield rotation. Davis had a largely forgettable career up to that point, playing with four teams over a five-year stretch while averaging just 3.6 yards per rush attempt.
Davis didn't set the world on fire as Carolina's new primary back, but he did a commendable job in the role. The Panthers finished the year with the No. 16 rushing attack by Football Outsiders' DVOA, a considerable accomplishment given the state of the offensive line. Buoyed by his performance, Davis signed a multiyear contract with the Atlanta Falcons this offseason.
This time around, the Panthers will roll with a less traveled running back in McCaffrey's absence. Chuba Hubbard, a fourth-round selection in the 2021 NFL Draft, saw the lion's share of the action Thursday after McCaffrey departed. The rookie finished the night with 11 carries for 52 yards (4.7 average) and added another 27 yards on three catches. In an offense that asks running backs to shift into receiving roles, Hubbard possesses attractive versatility.
Higher ceiling at quarterback
McCaffrey's 2020 injury put additional weight on the shoulders of Teddy Bridgewater, the quarterback the Panthers signed in free agency earlier that year. While Bridgewater offered a high floor, he lacked the upside to lift an offense that lacked McCaffrey's field-tilting skill.
Desiring an upgrade, the Panthers acquired Sam Darnold from the New York Jets, parting with three draft picks in the process. While Darnold had not lived up to his status as a No. 3 overall pick, Carolina continued to believe in his potential and, with him removed from a difficult situation in New York, thought he might thrive after a change of scenery.
Whether Darnold can finally meet expectations with the Panthers remains unclear, but the early results look promising. In three starts, he has improved in every major passing category and set a new career best in rushing touchdowns (three). Darnold hasn't played perfectly — multiple interceptable passes have fallen incomplete — but he has demonstrated marked improvement so far in Carolina.
Christian McCaffrey could miss fewer games than last year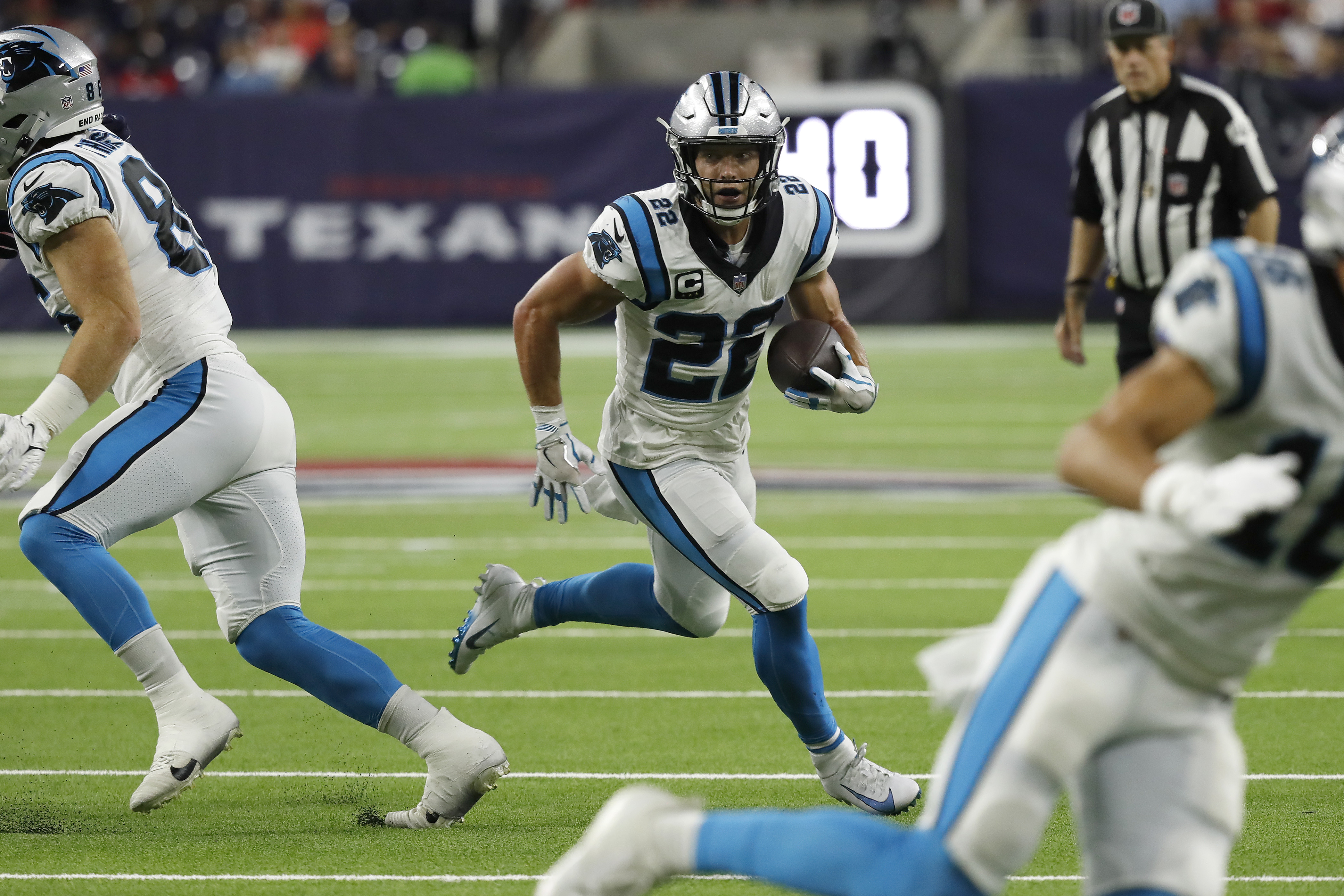 The Panthers have not set a timetable for McCaffrey's return, and soft-tissue injuries like strained hamstrings can linger. That the team ruled him out so quickly following his injury Thursday doesn't bode well for a quick return either.
However, not all hamstring injuries require extended absences. McCaffrey hasn't dealt with hamstring issues even dating back to his college days. That leaves the door open for a quicker recovery even if the Panthers might put him on a pitch count upon his return.
RELATED: Panthers Owner David Tepper Promised He'd Bring Cam Newton Home 'Eventually,' and the Time Is Now