Panthers Coach Matt Rhule's Former College QB Commit Could Be the Key to Saving His Job in Carolina
Article Highlights:
Matt Rhule and the Carolina Panthers need to target Pittsburgh quarterback Kenny Pickett in the 2022 NFL Draft
The 2021 Heisman Trophy finalist once committed to play for Rhule at Temple University
The Panthers must figure their quarterback situation out in the coming months
When Carolina Panthers head coach Matt Rhule woke up on Friday, Sept. 24, he enjoyed his breakfast as the man in charge of a 3-0 team. After several down seasons, the two-time NFC champions looked like they were in for a fun and busy next few months.
Well, the Panthers' season has been fun, at least for their opponents.
Carolina is 2-9 since beating the woeful Houston Texans in Week 3 and has already clinched a fourth straight losing season. If Rhule earns a third season and wants to stay with the Panthers, he and his front office need to direct their attention toward Pittsburgh quarterback and top 2022 NFL Draft prospect Kenny Pickett.
Carolina Panthers coach Matt Rhule and Pittsburgh's Kenny Pickett nearly teamed up at Temple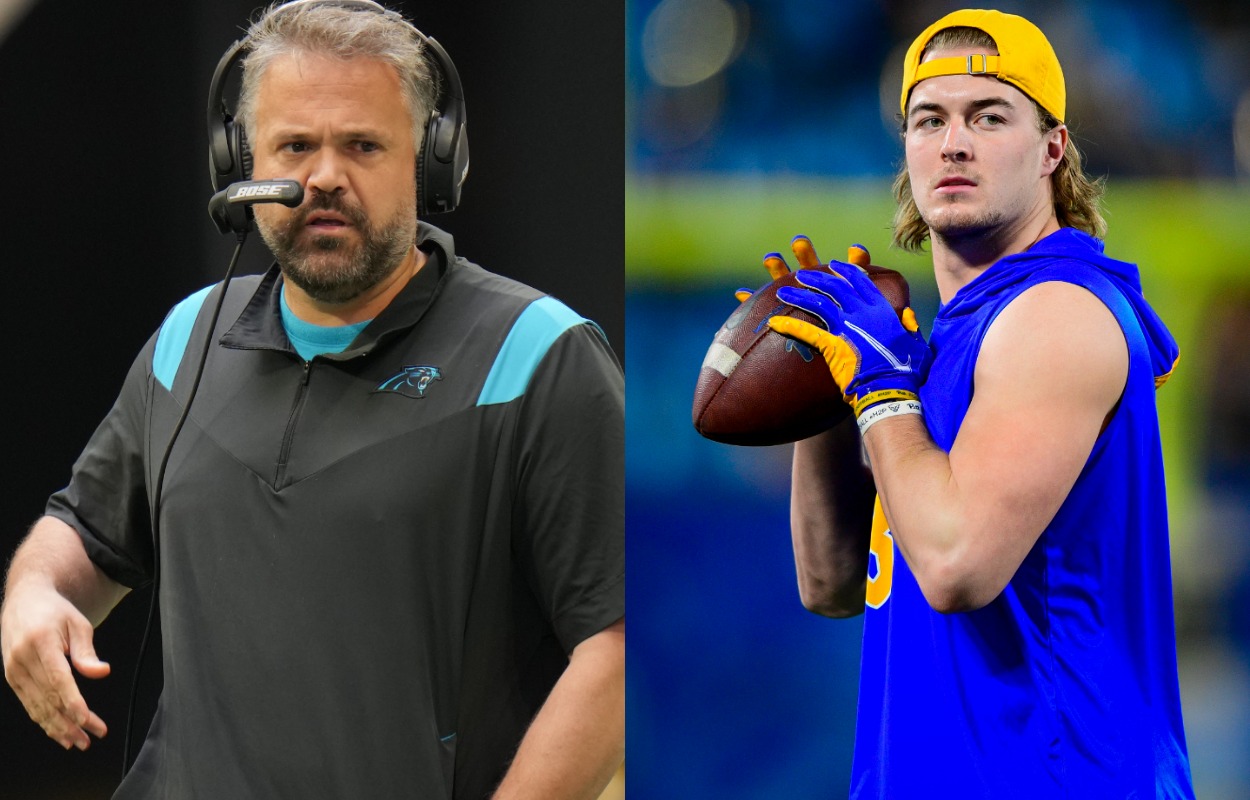 Once upon a time, Rhule wasn't the Carolina Panthers head coach. Instead, he held that role at Temple University, a mid-major football program in Philadelphia. 
In the spring of 2016, Rhule presided over an Owls team that went 10-4 and reached the Boca Raton Bowl a year earlier. He also received a commitment from Kenny Pickett, a New Jersey high school quarterback who was entering his senior year. A three-sport athlete at Ocean Township High School (Oakhurst, N.J.), Pickett wanted to stay close to home and enroll at Temple, roughly 80 miles away. 
However, Pickett's recruitment grew during his senior year, and he eventually signed with the University of Pittsburgh. Meanwhile, Rhule took over at Baylor, which desperately needed stability after former head coach Art Briles' alleged involvement in suppressing accusations of sexual assault involving student-athletes.
Assuming the Panthers retain Rhule and give him a third year at the helm, he may finally have an opportunity to team up with Pickett in 2022. As of publication, the Panthers are set to pick seventh in the upcoming NFL draft. Pickett, who will play the 2022 season at 24 years old, completed 67.2% of his passes for 4,319 yards, 42 touchdowns, and seven interceptions this year.
Not only could Pickett finally get to play for Rhule next year, but he'd still be a Panther. Football has a strange sense of humor sometimes.
Rhule and the Panthers need to ensure they have a chance at drafting Pickett next spring
Quarterback play isn't the only reason why the Panthers are 10-20 in Rhule's tenure. With that said, the inconsistent performances under center and former All-Pro running back Christian McCaffrey's constant injuries certainly haven't helped things.
No one is guaranteeing Pickett will be an above-average quarterback, let alone a star or a perennial Pro Bowl selection. However, the Panthers need a legitimate fresh start at quarterback, and they must give a fair chance to someone who will have an opportunity to hold the job for multiple seasons.
Offseason acquisition Sam Darnold struggled with interceptions after a solid first few games and is now a non-factor. The Panthers confusingly gave up on Teddy Bridgewater, a 2020 signee, earlier this year and traded him to the Denver Broncos. Cam Newton has been an excellent running back (183 yards and five touchdowns in five games) but a mediocre quarterback who owns a 46.3 completion percentage and a 1-4 TD-INT ratio in his last three starts.
Although Pickett is currently projected to go in the 2022 NFL Draft's first round, he's not a consensus top-10 pick. Considering the Panthers opted not to draft Alabama's Mac Jones or Ohio State's Justin Fields this year, they'll get a pass if they slightly reach on Pickett.
Pickett would bring experience, arm strength, and awareness to a struggling Panthers franchise. He'll be 24 for the duration of the entire 2022 season, which could convince other teams, those in the earlier stages of a rebuild, to pursue a younger quarterback in the draft — or an older, experienced quarterback in free agency or via trade.
The Panthers must add a quarterback capable of changing the franchise's long-term future
As of publication, the Panthers hadn't publicly announced if Rhule would return in 2022. It is worth noting George Seifert, who coached the team from 1999-2001, is the only full-time coach in Panthers history who didn't reach a fourth season. However, Jerry Richardson, who founded the team in 1995, presided over those hirings until he sold the team in 2018. David Tepper and general manager Scott Fitterer will decide Rhule's fate.
Whether or not Rhule returns, the Panthers must find an answer to their quarterback solution. Darnold and Newton clearly aren't it, and if the organization wants to see what it has in P.J. Walker, now might be the perfect time for an extended glimpse.
If Pickett isn't an option or the Panthers don't want him, Ole Miss' Matt Corral is a projected top-10 draft pick. Aaron Rodgers and Russell Wilson could also be available via trade — or, in Rodgers' case, free agency depending on how he and the Green Bay Packers proceed.
At this stage, one thing is clear. If the Panthers' constant quarterback issues continue into next season, Rhule might be back on the college sidelines come 2023.
Like Sportscasting on Facebook. Follow us on Twitter @sportscasting19.