Panthers Fans Should Blame Sam Darnold for Hasson Reddick Hitting Free Agency
The Carolina Panthers are fresh off a highly frustrating 2021 NFL season. Despite swinging a big trade for a new starting quarterback, the team arguably regressed this past season compared to where they were in 2020.
Sam Darnold battled through injury and was ineffective when healthy. This led to a good chunk of Carolina's season consisting of P.J. Walker and Cam Newton playing quarterback — an outcome the Panthers obviously weren't expecting heading into the year.
The Panthers are at a crossroads this offseason. They still need a proper franchise quarterback. It's a need that's having a trickle-down effect on the rest of the roster. For example, star pass rusher Hasson Reddick is being allowed to test the open market this spring despite being one of Carolina's better defensive players in 2021 (per The Charlotte Observer). This dilemma can easily be traced back to their foolish Sam Darnold gamble.
Stud pass rusher Hasson Reddick is being allowed to hit free agency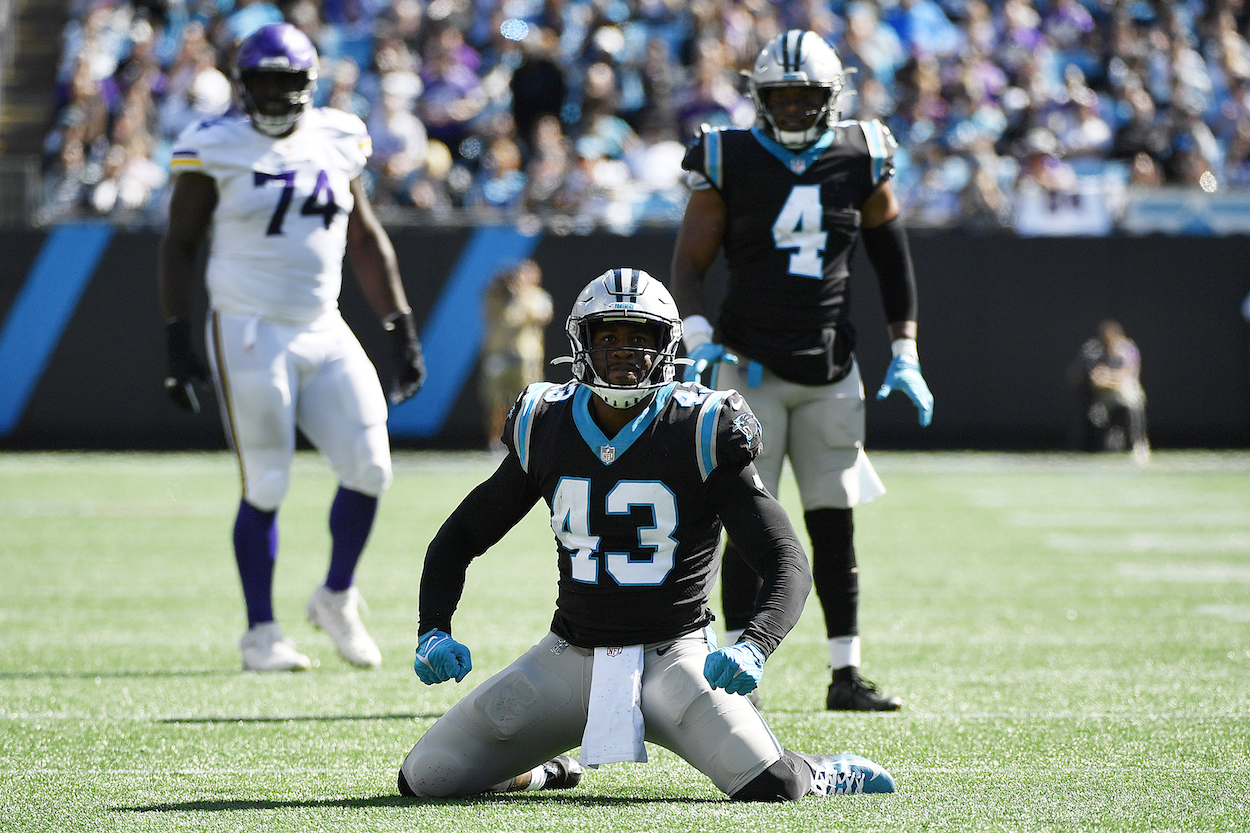 Despite coming off a 12-sack season the year prior with the Arizona Cardinals, Reddick didn't have many suitors during free agency last offseason. This opened the door for the Panthers to swoop in and snag him on a team-friendly one-year deal. Head coach Matt Rhule connected with Reddick due to their shared Temple background.
Reddick turned out to be a dream signing for Carolina. He racked up 11.0 sacks, 18 quarterback hits, 12 tackles for a loss, and two forced fumbles. The Panthers rostered one of the best defensive lines in the NFL with Reddick, Brian Burns, and Derrick Brown leading the charge. No matter how bad the offense was at times, Carolina could always count on their defense to make some plays.
On paper, keeping Burns and Reddick together for the next several years looks like a priority of Carolina's. Instead, the star pass rusher is being allowed to hit the open market. This reality can primarily be attributed to the team's faulty cap space management.
The Panthers owe Sam Darnold a team-high $18.8 million
The Panthers have a respectable amount of available cap space this offseason — $ 23.9 million, to be exact.
However, it's the uncertainty on the offensive side of the ball that's forcing them to let Reddick leave. Carolina needs to make several upgrades across the offensive line, wide receiver room, and quarterback position if it wants to contend in 2022 properly.
At the root of this issue is Darnold. Not only was he underwhelming in his debut season with the Panthers, but his cap space is skyrocketing to a team-high $18.8 million in 2022. The Carolina front office foolishly picked up Darnold's fifth-year option before ever seeing him play a snap in blue and silver.
Now, the Panthers' most expensive player is a guy they're actively looking to replace. That's not a pretty situation to be in. If Darnold and his $18-plus million cap hit weren't on the roster, the Panthers could easily justify bringing Reddick back to keep their D-Line strong.
The Panthers need to make a move at QB
The other thing that needs to be considered when discussing Carolina's offseason plans is that they need to replace Darnold. It could draft a rookie replacement in the first round. Or, it could look to take a big swing on a veteran in free agency or the trade market.
The latter two options would require a significant amount of cap space — just another reason the Panthers cannot justify bringing back one of their best defensive starters.
All stats courtesy of Pro Football Reference.
RELATED: The Eagles Are Switching Things up and Targeting Marquee Free-Agent LB De'Vondre Campbell