The Panthers Need to Aggressively Pursue Eagles QB Gardner Minshew This Offseason to Save Matt Rhule's Failing Scheme
Another week in the NFL has passed — and it was another week that saw Matt Rhule and the Carolina Panthers look like an absolute trainwreck. They lost a crucial game to the Atlanta Falcons, spending most of the afternoon brainlessly switching between Cam Newton and P.J. Walker at quarterback.
The Panthers are only in year two of the Matt Rhule experiment. However, it's becoming increasingly clear that this thing is heading in the wrong direction, and it's heading there fast.
Matt Rhule and the Panthers are heading in the wrong direction
When the Panthers first inked Rhule to a massive seven-year/$60 million contract in 2020, expectations were understandably high amongst Panthers nation. Rhule was an incredibly successful college coach with Temple and Baylor, building both programs from the ground up. The hope was that a similar style of resurgence would occur in Carolina, as they were a team still trying to find their way following a few elite years under Ron Rivera in the mid-2010s.
However, such an outcome has not occurred. Despite a promising 2020 season that saw the Panthers' defense take noticeable strides in the right direction, Rhule has made countless bad decisions since. Specifically, he's proven incapable of making the right decisions on the offensive side of the ball.
First, he traded for Sam Darnold instead of targeting Mac Jones or Justin Fields during the 2021 NFL Draft. Then, he brought back Cam Newton with no real plan for him at quarterback. The Panthers also picked up Darnold's fifth-year option before he even played a snap and are stuck paying him starter money in 2022.
No matter how you slice it, Rhule's handling of the QB position has been a downright disaster. They have no long-term plan for the position, and it's going to be hard to fix it next offseason due to the money owed to Darnold.
The Panthers won't be able to fix the QB position in 2022
While Rhule and the Panthers would presumably like to right their wrongs and draft a promising rookie, they aren't in the position to do so. The 2022 quarterback class is expected to be weak, and the Panthers have multiple holes across the offensive line that need filling.
Plus, considering how much draft capital and cap space they gave up to acquire Darnold, it would be malpractice to bail on him so swiftly. Rhule banged on the table to acquire Darnold over Fields/Jones. He needs to at least see this issue through.
The Panthers were reportedly interested in Houston Texans QB Deshaun Watson. However, that would require even further draft capital and cap space than Darnold did. It's hard to imagine it being a realistic option.
Matt Rhule needs to target Eagles QB Gardner Minshew II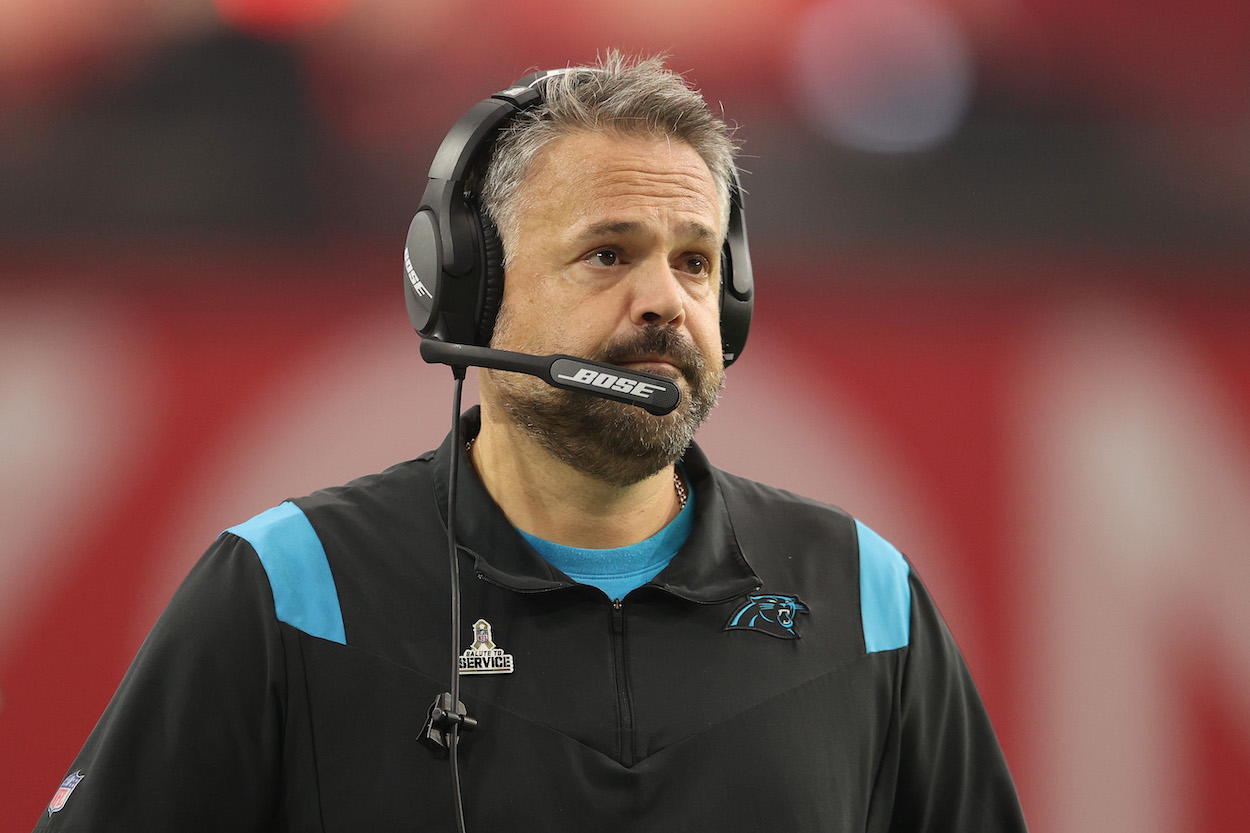 With so much uncertainty at the Panthers' quarterback position, what they really need is someone to slot in as a one-year bridge option. Someone to stabilize the offense for an entire season without costing an arm and a leg to acquire.
This is where Gardner Minshew II enters the conversation.
Both with the Jacksonville Jaguars and the Philadelphia Eagles, Minshew has proven capable of running an offense and winning football games. Considering his measly $965,000 cap hit in 2022, he's the perfect low-cost bridge option for the Panthers to target.
According to NFL.com's Ian Rapoport, the Eagles are also expecting to entertain trade offers for the young backup this upcoming offseason after his promising performance against the New York Jets.
Is Minshew the future of the Panthers' QB position? No, he is not. However, he's a low-risk, high-reward player who can help Carolina and Matt Rhule get back on track in 2022. After that, the Panthers can pivot their attention to a more promising 2023 quarterback draft class.
Like Sportscasting on Facebook. Follow us on Twitter @sportscasting19.