Panthers Trade Rumors: A Blockbuster Move for Deshaun Watson Could Easily Backfire
Now that Deshaun Watson's Grand Jury session is complete, and he won't be facing criminal charges, his trade market is finally heating up. There have been talks of the Houston Texans moving him in the past. However, now it feels like a move is imminent.
Several teams are interested in the three-time Pro Bowler. This list includes the Seattle Seahawks, New Orleans Saints, Cleveland Browns, Philadelphia Eagles, and Carolina Panthers.
Of all the mentioned teams, the Panthers are the ones who seem most interested in landing Watson. They've been gunning for a franchise quarterback for several years, and are seemingly desperate to land someone they can finally label QB1. According to recent reports, Carolina is prepared to offer quite the sizable trade package, as well.
The Panthers are willing to give up a haul for Deshaun Watson
No matter which team lands Watson, the returning trade package will be massive. Even with his off-the-field issues, it's extremely rare for quarterbacks of Watson's caliber to hit the trade block. Considering how valuable the position is, the bidding war for Watson will be extreme.
With that said, it appears the Panthers are willing to go to an extra level to acquire the services of Watson. According to a recent report by The Charlotte Observer's Jonathan M. Alexander, Carolina has talked about trade packages that include several starting-caliber players.
In October, Houston was asking for at least three first-round draft picks and three third-round picks.

The Panthers will likely have to give up at least three first-round picks, another pick and a young player or two in exchange for Watson. Those players likely would include either Jeremy Chinn, Brian Burns and/or Derrick Brown, players still on their rookie deals who are still fairly cheap and with a lot of potential.

Although Christian McCaffrey's name has floated in trade rumors, the Panthers aren't shopping him. By trading him, Carolina would incur some dead cap money.

Jonathan M. Alexander, Charlotte Observer
Jeremy Chinn, Brian Burns, and Derrick Brown are three of the Panthers' best defensive starters. Between them and multiple first-round draft picks, that's an absolute haul to forfeit for Watson.
Why trading for Deshaun Watson could backfire
It's unlikely the Panthers would have to give up all three of Chinn, Burns, and Brown to acquire Watson. However, the overarching point is the same — landing Watson will take a lot of assets.
For most teams, surrendering prime draft capital and young players for a true franchise quarterback is always wise. The Denver Broncos landing Russell Wilson, for example, drastically improved their Super Bowl odds.
However, the Panthers are in a tricky position. They already gave up several valuable draft picks to acquire Sam Darnold last offseason, and have a head coach under contract who's done nothing but underachieve since arriving in the NFL.
Is Watson truly good enough to fix all of the issues in Carolina, knowing they won't be able to make a first-round selection for another two-to-three seasons? It's hard to know.
The Panthers need to be all-in or all-out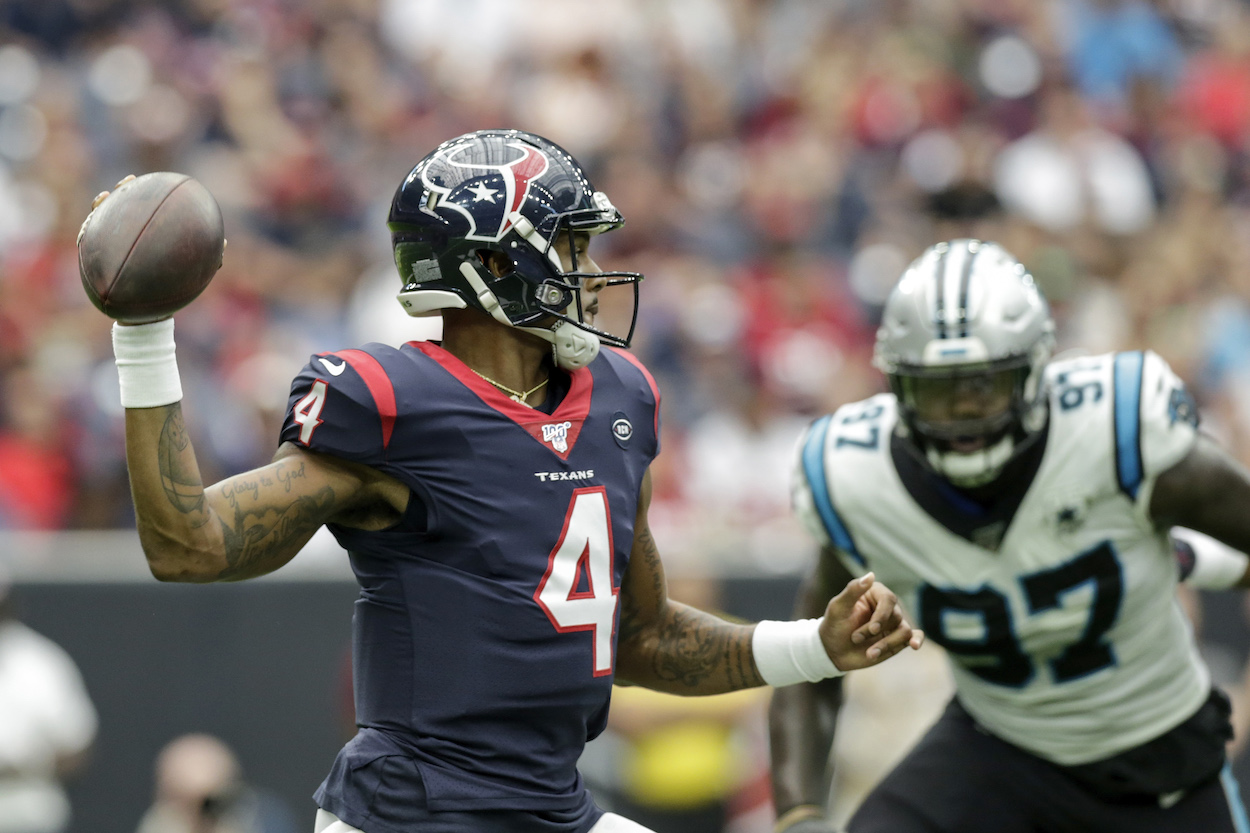 Ultimately speaking, the Panthers are going to do what they want. There's clear pressure coming down from ownership to land a franchise QB, and Watson went to college in South Carolina (Clemson). It's a move that makes sense for both parties.
With that said, if the Panthers can land Watson, forfeiting multiple first-rounders and young players in the process, they need to shift gears into win-now mode quickly. The front office needs to show a willingness to spend in free agency and surround Watson with talent, and ownership can't be afraid of firing HC Matt Rhule if he continues to underperform.
Otherwise, spending all those assets on Watson will only hurt the Panthers' chances of competing in the short and long term.
Like Sportscasting on Facebook. Follow us on Twitter @sportscasting19.
RELATED: Colts Trade Rumors: Gardner Minshew Being Named Is Painfully Embarrassing