Pascal Siakam Beefed With Nick Nurse All Season But Still Wants to Play for the Raptors
Pascal Siakam feuded with head coach Nick Nurse all season and has been the subject of trade rumors in the past month-plus. Still, his allegiance remains with Canada and the Toronto Raptors.
Siakam experienced a pretty linear rise to stardom in his several seasons in the NBA. He was a vital contributor to Toronto's championship-winning team in 2019 and made his first All-Star team just one season later. However, Siakam's struggles in the Orlando "bubble" and a tumultuous relationship with Nurse during the 2020-21 season begged questions about his future with the franchise.
Despite the recent drama, that future appears to be secure.
Pascal Siakam and Nick Nurse got into multiple spats
Pascal Siakam faced discipline from the Raptors on a couple of different occasions this season.
Spicy P was benched for a game against the New York Knicks at the end of December. However, that paled in comparison to the incident that would occur just a few months later.
Siakam and Nurse got into a heated dispute during a game against the Cleveland Cavaliers last month. The Raptors were in the midst of their eighth consecutive loss, and Nurse made the curious decision to bench Siakam for most of the fourth quarter after watching the second unit help Toronto claw back into the game.
Michael Grange of Sportsnet reported Siakam began chewing Nurse out with "words beyond standard cursing." Grange added, "It got personal, lines were crossed and teammates had to intervene…"
Initial reports suggested that Siakam was being fined $50,000, but the Raptors refuted the report. Not much ever came of the situation, though the frustration was clearly boiling over in Toronto.
The Raptors subsequently underwent massive changes this offseason, most notably parting ways with longtime point guard Kyle Lowry in a sign-and-trade agreement with the Miami Heat. However, Siakam and Nurse have reportedly smoothed things over, and it doesn't appear the 27-year-old is going anywhere.
Siakam wants to remain with the Raptors
It would not be a surprise were Siakam to ask for a trade.
As previously mentioned, the Raptors are a franchise in transition. Siakam had his share of disputes with his head coach, and it can't be all that comforting to hear your name uttered in trade rumors constantly. Yet, the Cameroonian wants to stay in Toronto.
Sam Amick of The Athletic reported Siakam is enticed by the idea of playing in Toronto once again after the team spent the 2020-21 season playing home games in Tampa, Florida. He added that while the Raptors front office is listening to offers, president Masai Ujiri is not actively shopping Siakam.
The relationship with Nurse, who was just named head coach of the Canadian men's basketball team, has also improved. Amick reported things have been "smoothed over" on that front and said the two have been in communication during the offseason.
All of this begs the question: do the Raptors regard Siakam as their new franchise player?
Toronto will demand a lot from Spicy P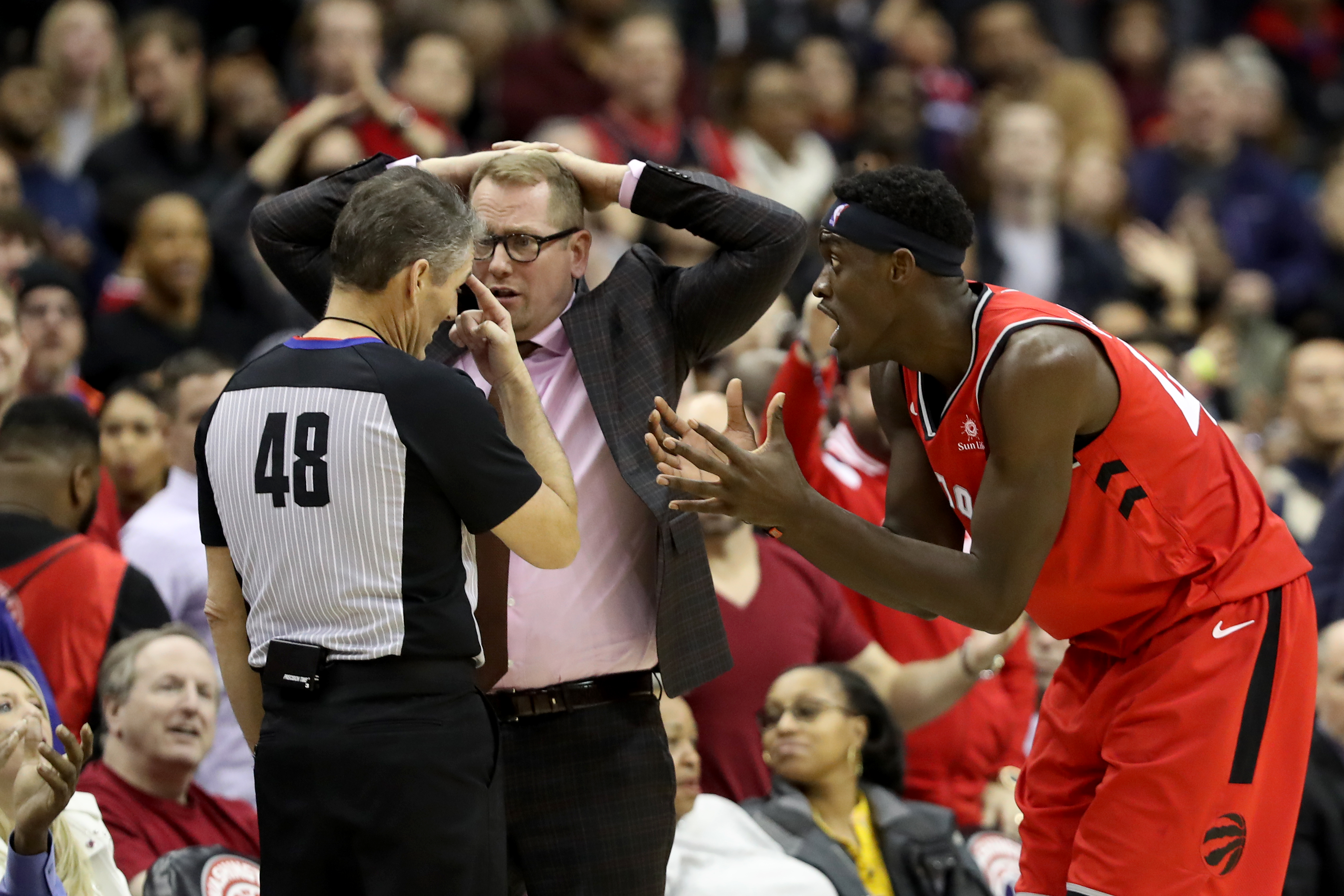 Pascal Siakam's stats last season might come as a surprise to some, especially given all the internal turmoil.
Siakam averaged 21.4 points, 7.2 rebounds, and a career-high 4.5 assists. His 5.4 free-throw attempts per contest were the highest of his career. He was still a quality player.
However, the Raptors didn't give Siakam a $130 million extension merely to be a "quality" player. He got that money because Toronto felt he could be a cornerstone. It's time for him to embrace his status as the face of the franchise, especially with Lowry now in South Beach.
How can Siakam take the next step? He'll have to be more efficient from beyond the arc. He shot below 30% from the three-point line last season. That won't cut it for a guy who struggles to generate offense off the bounce.
It's inherently a plus that Siakam and Nick Nurse have mended fences in the past several months, because the Raptors head coach will assuredly coach his star quite hard this upcoming season.
Stats courtesy of Basketball Reference.