Pascal Siakam Is Ready to Be the Raptors' 'Centerpiece' Now That Kyle Lowry and DeMar DeRozan Are Gone
Of all the players who helped power the Toronto Raptors to the franchise's first NBA championship, the role of Pascal Siakam was by far the most surprising. The power forward/center wanted to be a priest before finding basketball later in life. For his first two years in the NBA, Siakam was in and out of the rotation. Then, he emerged as a star and became a massive contributor to the team.
But past performance creates future expectations. Siakam's stumbles have frustrated himself, the organization, and fans — the latter expressing anger in hateful ways. Still, Siakam remains a Raptor and hopes for a big season to silence his doubters. 
Pascal Siakam earned the contract of an NBA star before he had to be one on the court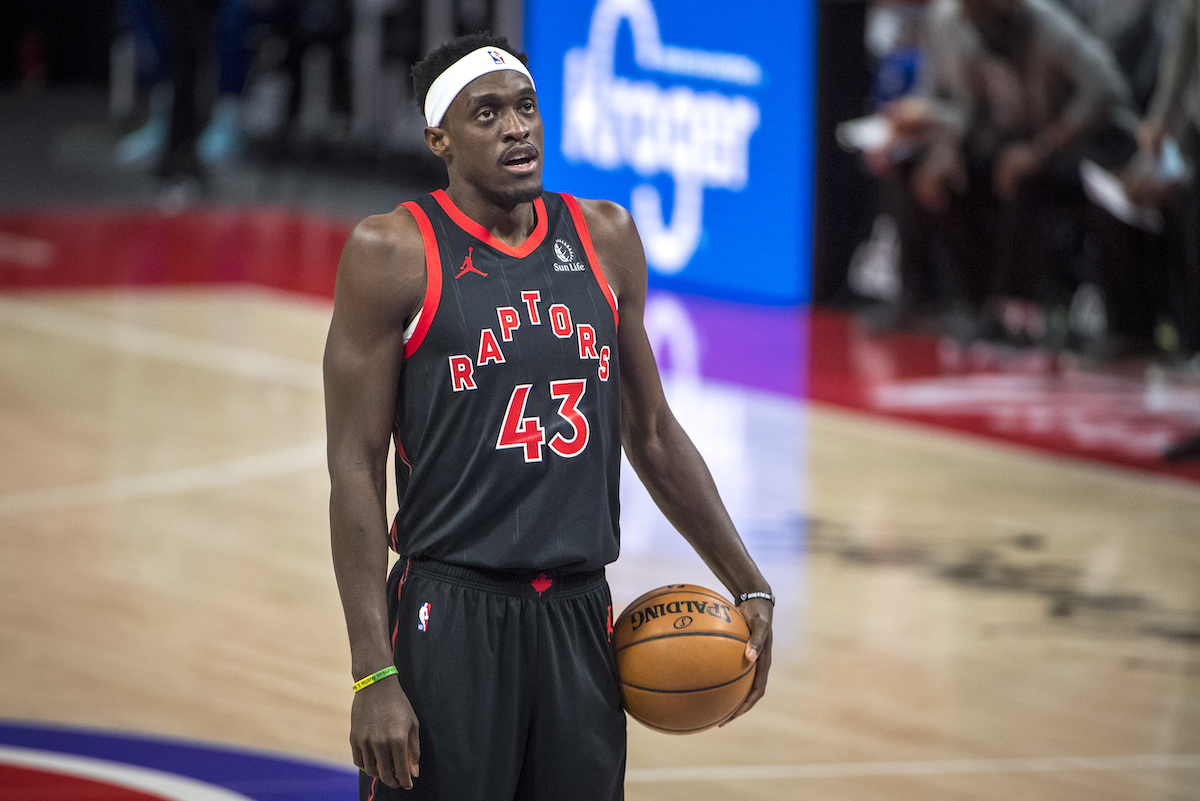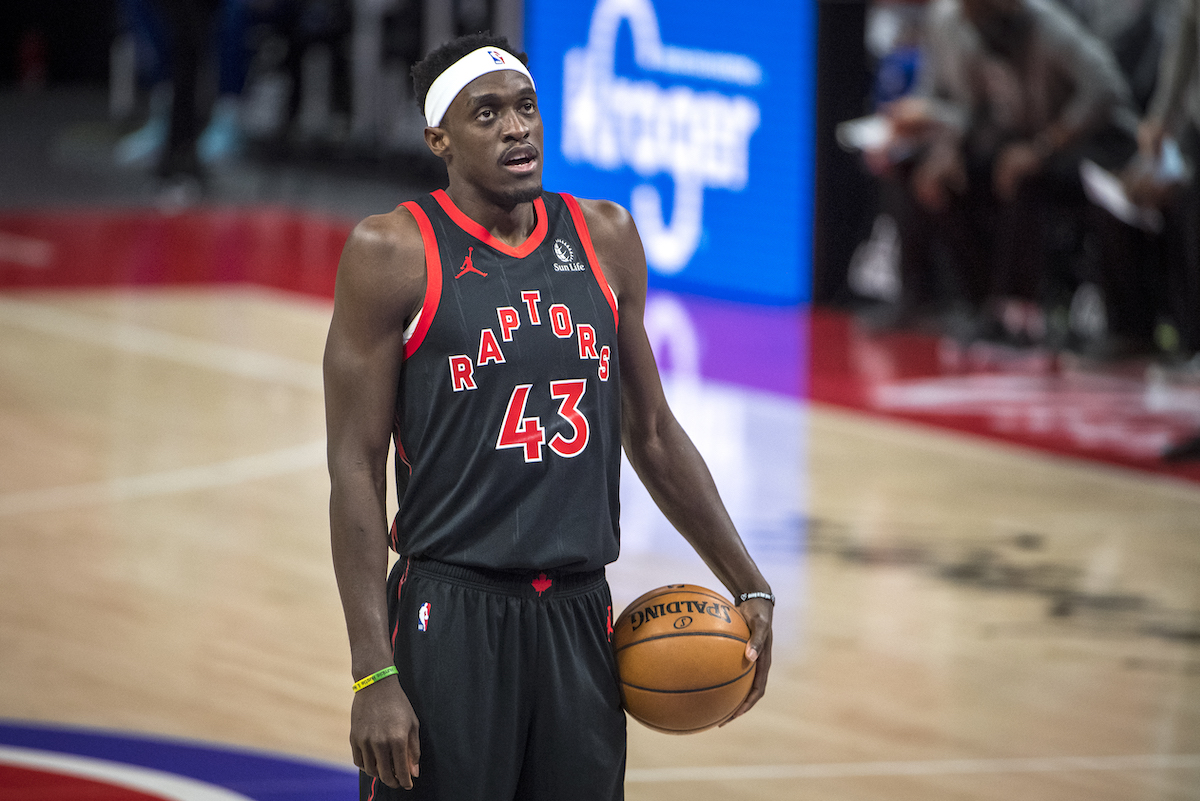 The basketball industry is usually pretty good at predicting future stars. The top picks in the NBA draft tend to be the best players once they hit their peak. That fact makes Siakam's rise all the more remarkable.
Siakam was selected 27th in the 2016 NBA Draft and developed to the point where he became a key player for a title team in the 2018-19 season. He won the Most Improved Player award and signed a four-year, $130 million deal in the following offseason.
Siakam discussed his journey and his future in a recent interview with The New York Times. When he was drafted, the faces of the Raptors franchise were Kyle Lowry and DeMar DeRozan. He often leaned on them for guidance. But now that DeRozan is two teams removed from Toronto and Lowry left for Miami this summer, he's aware of what comes with his newfound stature, as he told the Times:
"When I was a rookie, these were the people that we look up to, right? It was Kyle. It was DeMar [DeRozan]. Kyle was like our big brother. We looked up to him and DeMar. So it was weird, obviously, to see them go. Sometimes, I'll be thinking, 'OK, Kyle is not here anymore, right?' You don't really put it in perspective. Some of the questions obviously about what the team wants to do and things like that, they ask you. And before you felt like all those questions, I didn't really have to answer them, because I felt like Kyle was there and now he's not there."
Siakam signed his first big deal with Lowry still on the team. (His extension didn't kick in until last season.) But knowing that he was about to get paid like a perennial All-Star before the team relied on him as the first option every night was tougher to deal with than you might think.
"For me at that point when I started becoming that person, I just felt like there wasn't that much level of communication, to be honest," explains Siakam. "And that was the only thing really that I felt. It was like, 'We got you the max contract, but are you the guy?' I think that's something that I was struggling with."
Lowry wished Siakam good luck on his way out the door. He told his former teammate that it was his team now. Siakam hopes to live up to that distinction. 
Some Raptors fans took Siakam's downturn as an excuse to spew racist remarks about his family
Siakam started the 2019-20 season terrifically. Kawhi Leonard and Danny Green's departures freed up shots in the Raptors' offense, and Siakam took many of them. He averaged 23 points, seven rebounds, and three assists en route to his first All-Star appearance. 
But the version of Siakam that was a two-way force for the defending champions disappeared once the pandemic began. He shot 40% from the field while averaging 16 points a game in the bubble. As Toronto lost in the second round of the playoffs to the Boston Celtics, Siakam looked completely out of sorts
Inconsistency and problems with his coach Nick Nurse plagued Siakam last season. And the Raptors fell well short of preseason projections by missing the playoffs. To be fair to him, there were some mitigating circumstances. The whole team had to move to Tampa Bay due to coronavirus regulations. Siakam himself contracted the virus, losing 20 pounds as a result. None of that stopped trolls from hurling abuse at the 27-year-old on social media.  
"I'm a really prideful person and I always want to be the best player that I can be, and the bubble wasn't that," he admitted in his interview. "So I get it, I understand it, but also for me what really hurt me is one of those things about my dad or like, 'Oh, your dad wouldn't have been proud of this.'"
Bringing up someone's family is cruel enough in a vacuum. It's even more despicable in Siakam's case; his father died in a car accident in 2014. Passionate fanbases make sports more exciting, but weaponizing personal tragedy because a player isn't making enough shots is unacceptable.
Toronto hopes Siakam can find his best self in a competitive Eastern conference this season
Siakam is currently recovering from surgery on a torn labrum in his shoulder. Once he's ready to play, he'll need to hit the ground running to help the Raptors return to the playoffs and reassert his stardom in the NBA. Siakam's name has appeared in trade rumors all summer. But Toronto was never reported as truly shopping him and no move seemed close to happening.
Lowry's departure gives the Raptors roster a strange look. They have a ton of lanky, athletic wings who can play multiple positions and significant question marks about who will provide the shotmaking ability to give their offense a stabilizing force. The Eastern Conference saw an influx of talent this summer, making the fight for a playoff spot tougher than it has been recently, even with the return of the play-in tournament.
This is a team calling out for a star to lead them. Siakam has shown enough at his best to believe he could be that guy. We'll have to wait and see if he can find his form again.