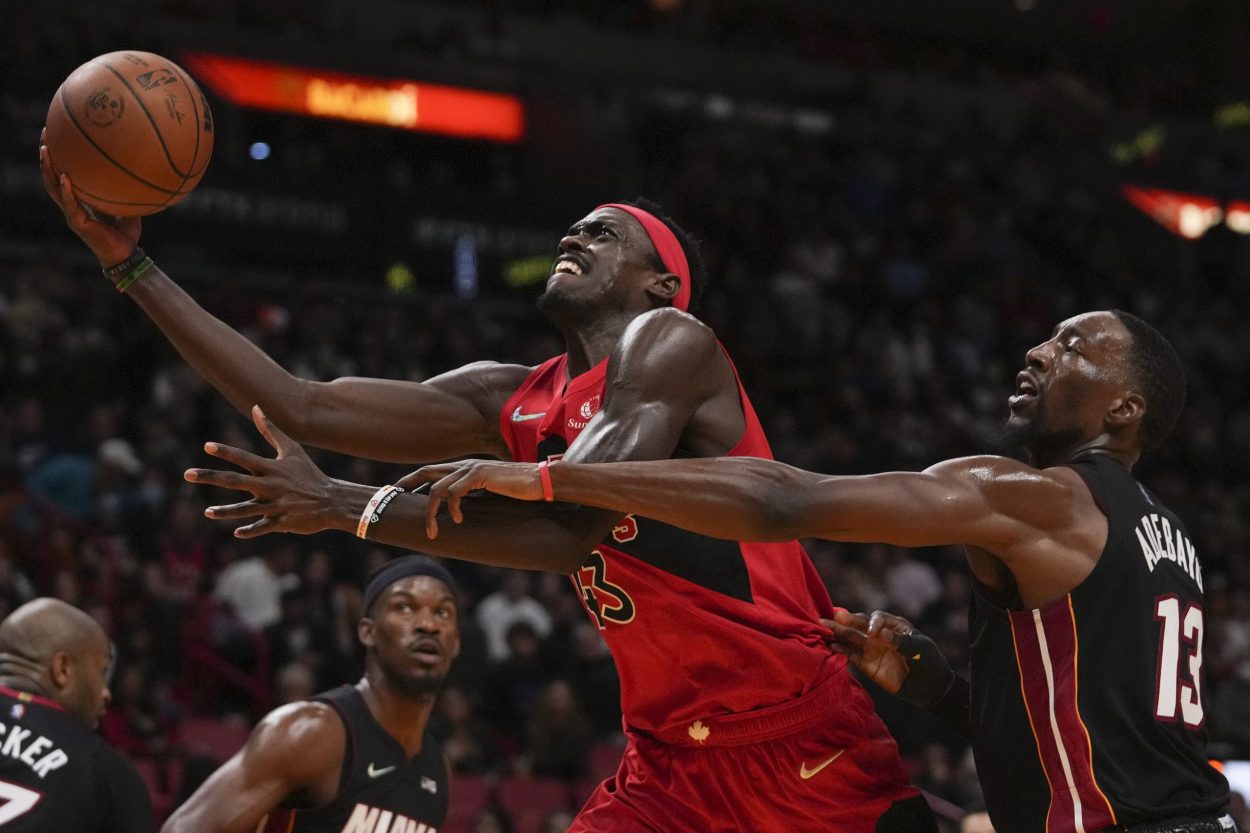 Pascal Siakam Is Reasserting Himself as a Top NBA Star and Demanding All-Star Attention
Fred VanVleet and Scottie Barnes get a lot of love in Toronto, but Raptors forward Pascal Siakam is back to being an elite-level player.
The Toronto Raptors continue to jockey for playoff positioning in the Eastern Conference. They're getting an enormous lift from a revitalized Pascal Siakam, who again looks like one of the best players in the NBA.
About 18 months ago, Siakam followed his first All-Star season by disappearing in the Orlando "bubble." Last season, he and head coach Nick Nurse occasionally had a contentious relationship. It got to the point where Spicy P looked like a potential trade candidate, at least until he squashed rumors of his discontent last summer. However, Siakam is currently riding high, and he's quietly having an All-Star season for an intriguing Raptors team.
Pascal Siakam has dominated as of late
It's been a bit of a slog for the Toronto Raptors in the past few weeks, though that hasn't been the case for Pascal Siakam.
While the Raptors are just 4-6 in their last 10 games, Siakam has dominated. In his previous eight appearances, the 27-year-old averaged 21.8 points on 47.5% shooting in addition to 8.3 rebounds and 7.1 assists. He's excelled on the defensive end, as well, averaging 2.4 steals and close to a full block in that same stretch.
Even when Siakam shoots the ball poorly, he finds a way to make his presence felt. On Saturday, the Raptors forward went just 7-of-18 from the field and had four turnovers during a win over the Miami Heat. But he tallied 13 rebounds and six assists to go along with four steals and four blocks. The latter number underscores the fact that Siakam swatted two straight shots from Jimmy Butler in a remarkable display of verticality and recovery.
Despite his remarkable journey from unheralded prospect to breakout NBA star, Siakam has left both fans and himself wanting more since the inception of his Raptors career. But he's back to playing at an elite level, and basketball fans should acknowledge his All-Star credentials.
In elite company
Pascal Siakam's all-around skill set places him in pretty stellar company.
Siakam is one of just five players to average at least 20 points (21.0), eight rebounds (8.4), and five assists (5.2) on the season. The others? Well, the list includes three former NBA MVPs in Nikola Jokic, Giannis Antetokounmpo, and James Harden, plus a future league MVP in Luka Doncic.
Counting numbers aren't everything. But the reality is that Siakam stuffs the stat sheet efficiently. The advanced numbers also don't always show the intangibles that Spicy P offers the Raptors.
Siakam flies all over the floor defensively. He's crisp on his weak-side rotations, which contributed to the spectacular blocks on Butler during Saturday's action. The Cameroonian also plays the passing lanes and disrupts opposing offenses with his length.
Indeed, Toronto is that much better with Spicy P on the floor. His +8.4 on-off margin ranks second among all Raptors players with at least 300 minutes of action, behind only fellow All-Star candidate Fred VanVleet.
Siakam's strong January surge is a reminder that he ranks among the NBA's elite. He's also showing Toronto why it would probably look foolish to trade him now.
Could the Raptors trade Siakam?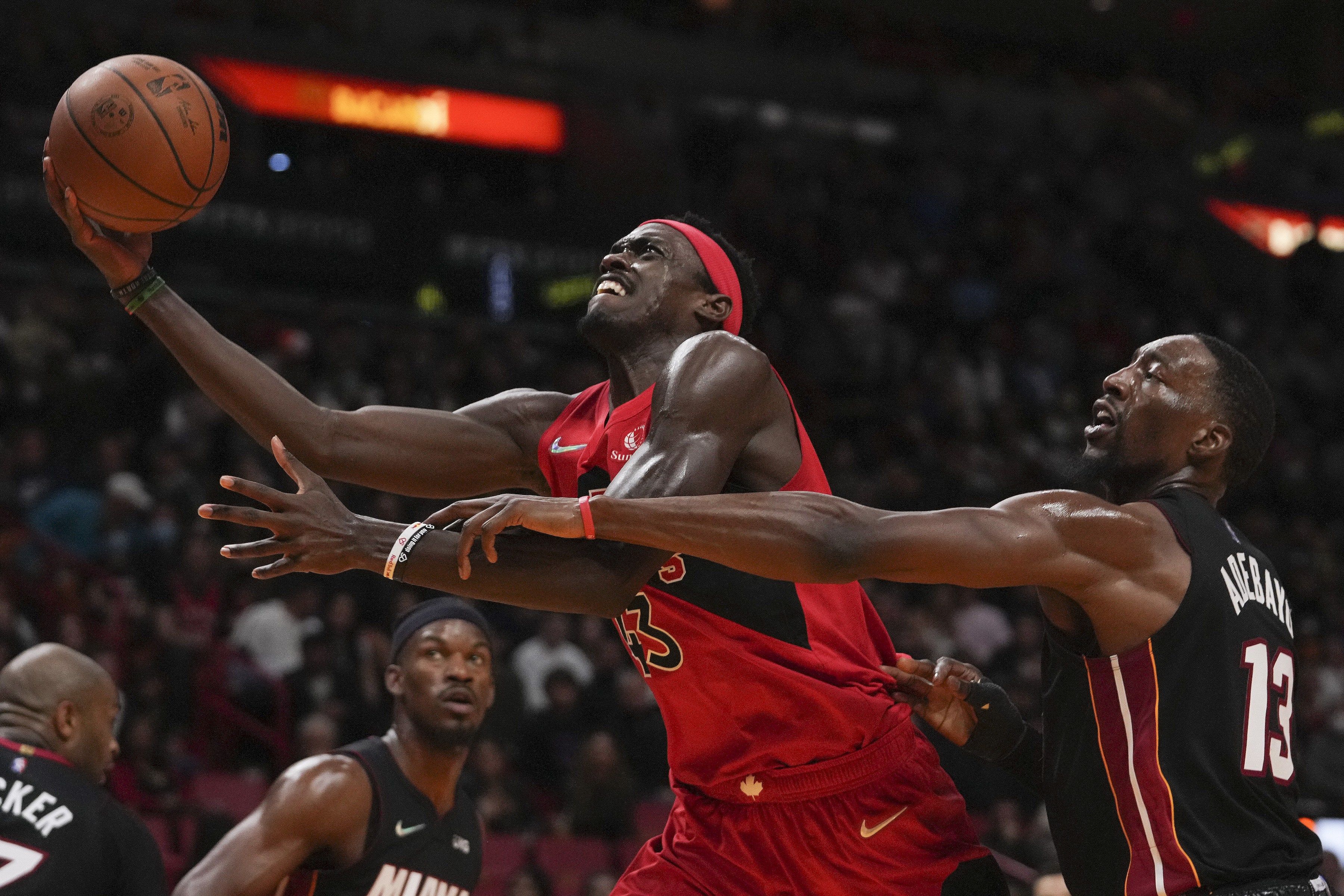 Given that the Raptors have a budding two-way, switchable point forward type in standout rookie Scottie Barnes, might they consider trading Siakam before the Feb. 10 deadline?
On the one hand, Siakam's recent surge only increases his trade value. Numerous contenders could surely use his two-way talents, especially as a guy who can play the 4-spot or pose challenges as a taller and longer small forward.
However, as the on-off splits show, the Raptors rely heavily upon Siakam and VanVleet. Spicy P is a legitimate franchise cornerstone. Given that his contract runs through 2024, it's every bit as likely that Toronto sells around the margins ahead of this year's deadline while trying to make a bigger splash in the offseason.
Regardless of where he's at come Feb. 10, Siakam is making good on his All-NBA talents.
Stats courtesy of Basketball Reference unless otherwise noted.