Pascal Siakam's Contract Incentive That Could Make Him Even Richer
Toronto Raptors' forward Pascal Siakam made his thunderous debut to national acclaim at the perfect time. During last years' finals, the 25-year-old Cameroonian befuddled Golden State Warriors defender Draymond Green with a 32 point outburst few saw coming.
Siakam continued to put up big numbers against a super team throughout the NBA Finals. It was a series where Siakam and fellow sudden standout Fred VanVleet shocked the world. They proved the Raptors were more than their blockbuster signing of Kawhi Leonard.
The front office in Toronto didn't let this performance go unrewarded. He got a significant pay boost for the current season. And for 2020-21, he'll enjoy a huge contract that represents a huge vote of confidence in his future.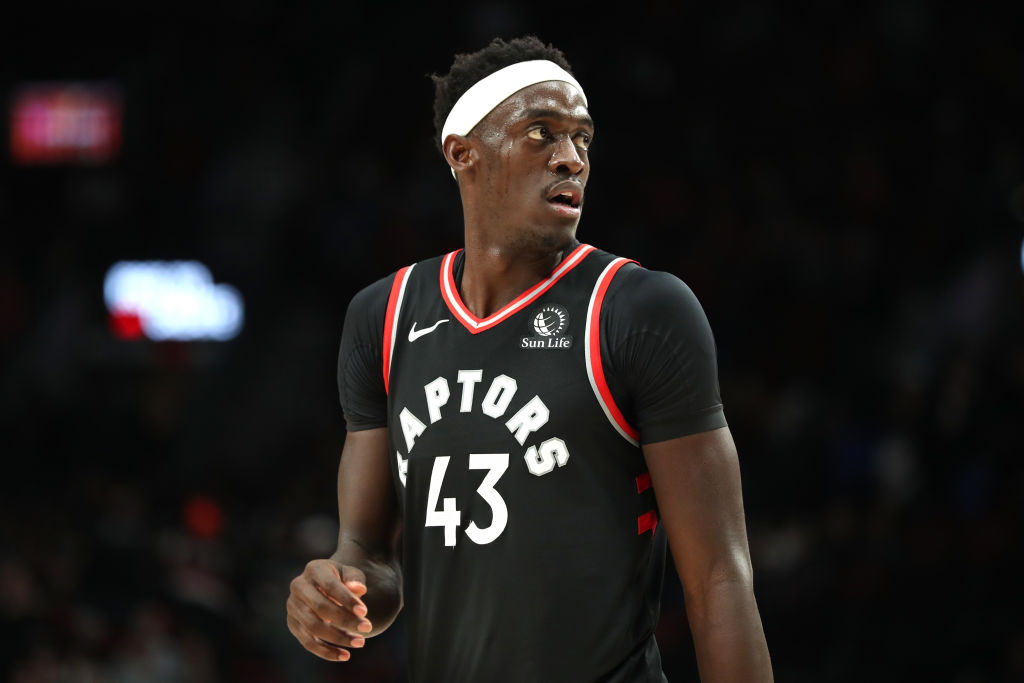 From role player to rising star
Pascal Siakam wasn't always a candidate for a major deal like the one he'll soon enjoy. In fact, Siakam himself didn't have all that much interest in pursuing a career in basketball at all.
He played basketball for fun, while his brothers pursued — and received — scholarships at NCAA Division I schools. His discovery at a basketball camp in his home country was more of a fluke than anything. Scouts and executives who got a look at the teenage Siakam knew he was something special.
He spent two years playing for the Aggies in New Mexico before declaring for the NBA draft. Toronto picked him 27th overall. He was a solid, if not particularly exceptional player at the NBA level, and found himself knocked back to the G League level in 2017. There, he made his worth known, earning a title and recognition as the G-League Finals MVP.
That earned him back his spot on the mainline NBA team. His playing time was, at first, limited to short stints in losing games. Slowly, but surely, Siakam began to get noticed by fans and team officials alike. His defensive instincts and sheer athleticism was readily apparent.
In the NBA Finals, of all places, Siakam sealed his future in the league. He won the Most Improved Player award on the momentum of an incredible run of playoff basketball. Kawhi Leonard needed the role players to step up hard to handle the Warriors. Siakam answered the call, and then some.
Pascal Siakam's big-money contract incentives
Siakam is set to be a cornerstone of his franchise going forward. His four year, $130 million max contract is a major bump from his current rate of $2.8 million. As an aside, his current rate is already a 52% bump over what he made during the season where he won the finals.
That's potentially a bargain for the kind of player smart and athletic enough to make Draymond Green look lost on the floor. So the Raptors added incentives to up the ante and motivate Siakam to improve even more. Here are his new incentives:
If Siakam makes second-team all-NBA, he gets 28% of the team's salary cap
If he makes first team, it's bumped up to 29% of cap
If he wins the MVP award, he gets 30% of cap
That adds up to a whopping $156 million over four years. Siakam's team happily agreed to the offer. Now it's up to him to prove he's worth the extra money.
How Pascal Siakam exceeds expectations so far in 2019
The Toronto Raptors simply couldn't compete with the Los Angeles Clippers to keep Kawhi Leonard on their squad. Siakam needs to come up big this year to prove what the team can do without Leonard. So far, he's up to the task.
The season opener immediately set the tone. In 38 minutes on the floor, Siakam racked up 34 points, 18 rebounds, five assists, and one block. He set career highs in offensive rebounds and free throws knocked down. And crucially, a new personal record for field goals attempted, demonstrating how much more of a presence he'll be going forward.
All eyes were on his reunion with Leonard. The Clippers won the game, but Leonard himself was aggressively shut down. Siakam and the new, developing Toronto Raptors are clearly a viable threat in the league going forward.