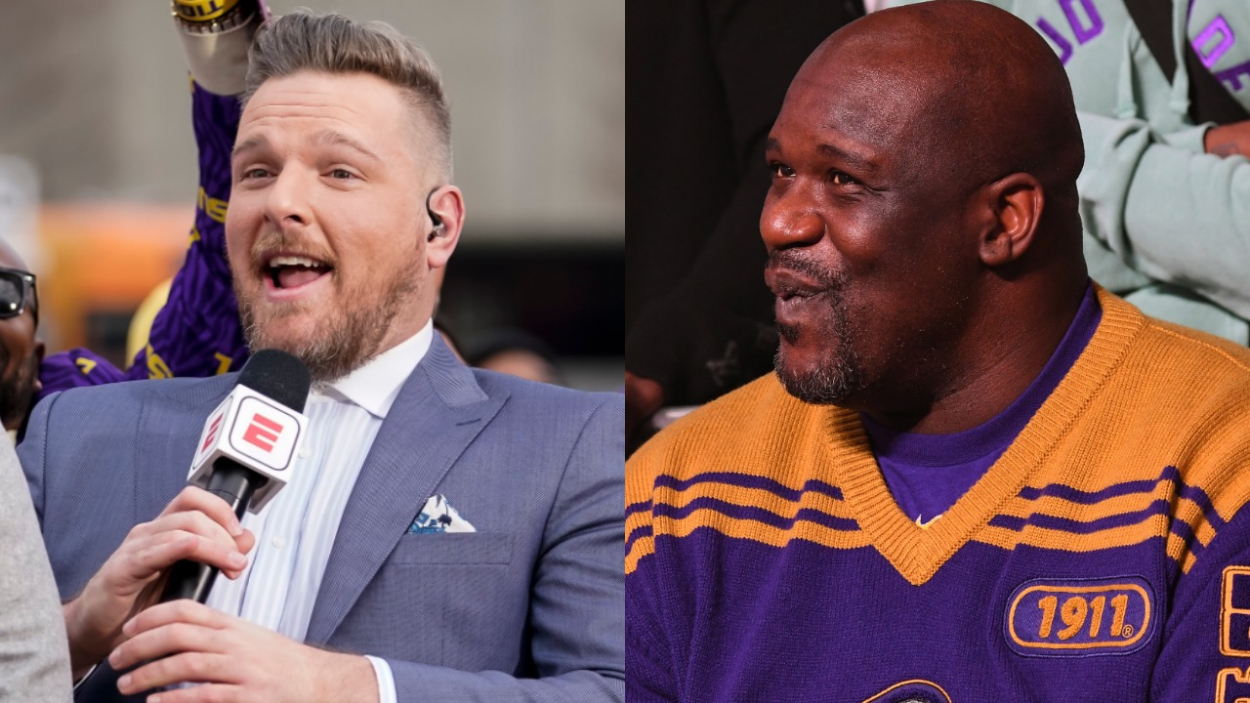 Pat McAfee Just Bravely Put Shaquille O'Neal on Notice, Said His Recent Comments Were 'Just Not True'
Former Indianapolis Colts punter Pat McAfee, who has a successful radio show, has become an entertaining personality in the wrestling world. Now, he has a strong message for basketball legend Shaquille O'Neal, who will soon wrestle in AEW.
Former Indianapolis Colts punter Pat McAfee is never afraid to speak his mind, especially on his show, The Pat McAfee Show. His entertaining personality has not only helped him become one of the most successful personalities in sports media, but he has also become an entertaining personality in the wrestling world. Now, McAfee, who was a celebrity prior to entering the wrestling business, recently called out another celebrity who is re-joining the community. That celebrity is NBA legend, Shaquille O'Neal.
Shaquille O'Neal will compete in All Elite Wrestling
According to NBA.com, Shaquille O'Neal has a tag team match coming up in All Elite Wrestling, and he is talking a big game.
"Oh, I'm winning," O'Neal said, per NBA.com. "Guaranteed."
O'Neal will team up with Jade Cargill, and they will go against Cody Rhodes and Red Velvet.
"I'm the type, I can never back down from a challenge," O'Neal said to the Associated Press, according to NBA.com. "I'm not a professional wrestler, but I've been in a match before. I've got a lot of moves in my arsenal. When you step inside somebody's world, you have to stick to what you're masterful at. I'm not acrobatic. I'm not going to be jumping off the ropes. I'm coming with the power game. When I get hands on him, I'm going to display this power."
O'Neal previously competed at WrestleMania in 2016.
Additionally, while many celebrities/athletes have competed in attraction matches over the years, O'Neal said, "this one will top them all."
In the words of Michael Jordan (kind of), Pat McAfee took that personally.
Pat McAfee has become a star in the wrestling world
Pat McAfee has been very successful in the pro wrestling arena. According to the New York Post, he had a nice debut at NXT TakeOver XXX in August 2020. His Kings of NXT faction was then even in the main event at TakeOver: WarGames, according to Sports Illustrated.
He has ultimately been praised by legends, too.
"Pat has an incredible skill for this," Paul "Triple H" Levesque said, according to Sports Illustrated. "The hardest thing in the world to do when the red light comes on is just be you. When you can just be you, it's real. That's what resonates—believability. When you believe it, that's when they will believe it."
Now, McAfee has a message for the basketball legend that is Shaq.
Pat McAfee has a strong message for Shaquille O'Neal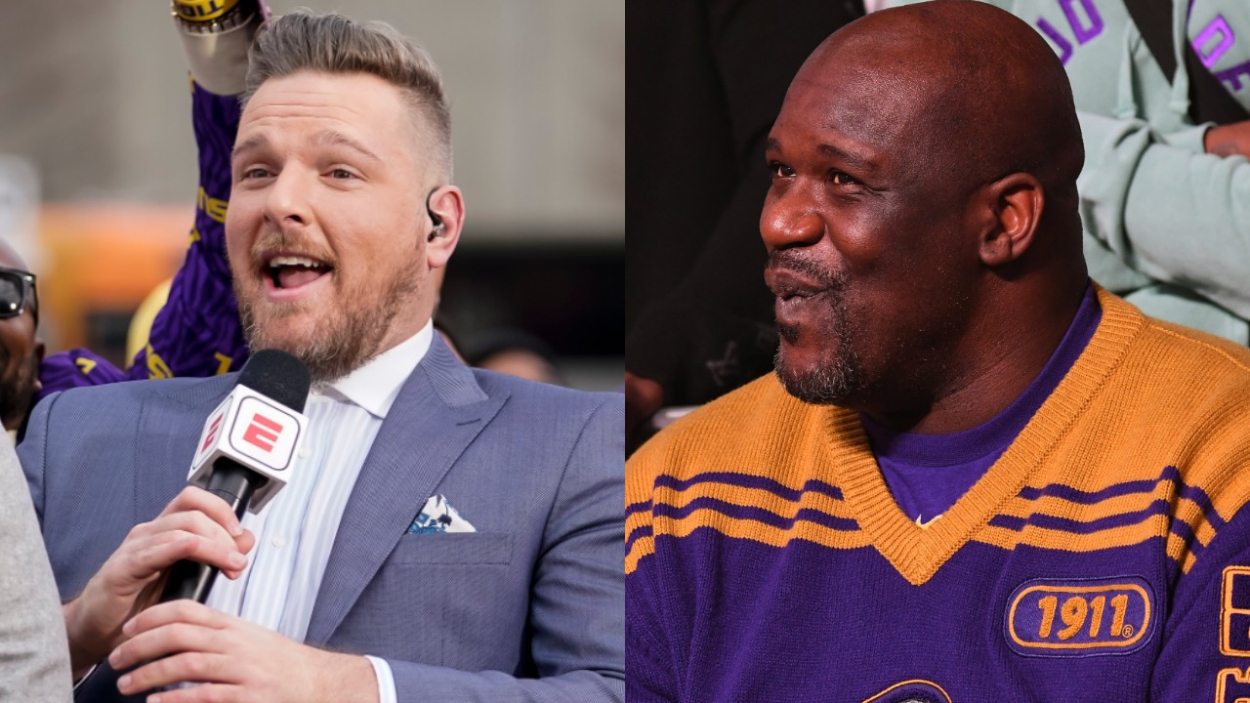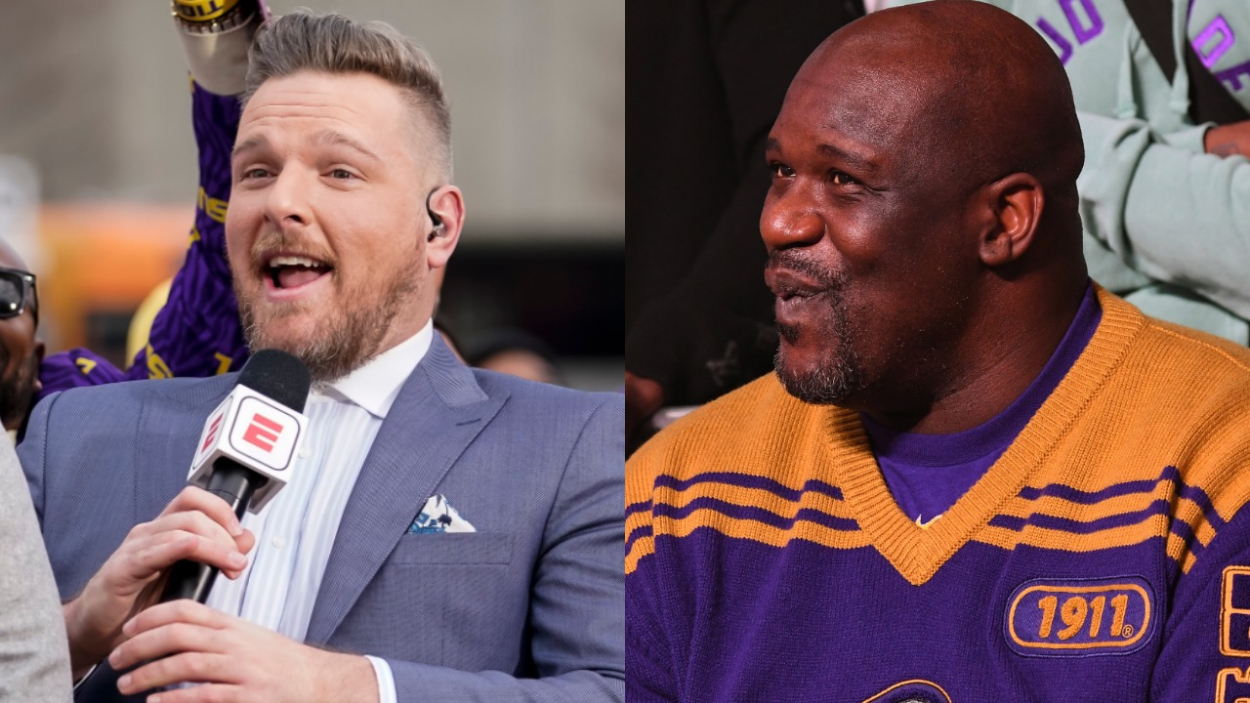 Pat McAfee saw Shaq's comment about his match topping other celeb/athlete matches, and he recently sent a stern message to the basketball star while talking on his show.
"I want [to be] very clear, I am nowhere near the same human when it comes to clout as Shaquille O'Neal," McAfee said on the March 2 episode of The Pat McAfee Show. "I understand that, I would never, ever think that. I'm just telling you what I was labeled as when I went into the wrestling business. Everybody said, 'We hate whenever celebrities come in and take the spaces.' So, I was being viewed as a celebrity wrestler. … This is not me being arrogant; this is just something that has been very much understood — that would be my match is what he is talking about."
He continued: "[Shaq is] in the conversation [as the] greatest athlete the world has ever seen. But in the wrestling ring, Shaq — I have a lot of respect for Shaq; big fan of Shaq; massive fan of Shaq; love Shaq — but when it comes to greatest celebrity match of all-time … If you want to classify me as a wrestler, I'd be cool with that, but that's not what I was classified as. When I got in there, I was bashed because they were calling me a celebrity. If that is what I'm being titled and tabbed, then Shaq is saying his match is going to be better than mine — that's just not true. That's just not how it's going to go, Shaq. I hate to break it to you."
McAfee then said that wrestling is more than just the match but also the storyline leading up to it.
"If you come anywhere f****** close (to my matches) — congrats," McAfee said.
It sounds like Pat McAfee and Shaquille O'Neal need to get in the ring.
We'll see if Shaq, the basketball legend, responds to the former football star, Pat McAfee. Either way, his AEW match will be box office.
Like Sportscasting on Facebook. Follow us on Twitter @sportscasting19.