Pat McAfee Reveals What Colts GM Chris Ballard Texted Him After Indy Brutally Failed To Acquire Matthew Stafford
Pat McAfee and many other Indianapolis Colts fans had hopes of the Colts getting Matthew Stafford after Philip Rivers announced his retirement earlier this offseason. The LA Rams, though, ended up trading for Stafford in a blockbuster deal this past weekend. This then led to McAfee texting Colts general manager Chris Ballard about Indy's QB situation. McAfee has since revealed what Ballard said to him.
Matthew Stafford is going to the LA Rams
RELATED: Tom Brady Nearly Signed With the Patriots' Worst Enemy, but Another Legendary Quarterback Got in His Way
Matthew Stafford has been an excellent quarterback in his career for the Detroit Lions, but he has rarely ever been on a winning team.
Stafford threw for over 4,200 yards and 20 touchdowns or more in each season from 2011 through 2017, including the 2011 season where he threw for 5,038 yards, 41 touchdowns, and 16 interceptions. However, Stafford has only made the playoffs three times since entering the league in 2009, and the Lions lost in the wild-card round each time.
Detroit then missed the playoffs in each of Stafford's final four seasons with the team. They also failed to win more than six games in three consecutive seasons from 2018 through 2020. Stafford still performed at a high level in those seasons, though, as he threw for 4,084 yards, 26 touchdowns, and 10 interceptions in 2020.
However, Stafford's desire to win — especially after going 74-90-1 throughout his career so far — led to him and the Lions parting ways. Detroit ended up sending him to the LA Rams for a 2021 third-round pick, two first-round picks, and quarterback Jared Goff, according to CBS Sports.
The Indianapolis Colts need a quarterback
RELATED: Aaron Rodgers Already Has an Indianapolis Colts Legend Trying to Recruit Him to Indy
With Philip Rivers retiring earlier this offseason, the Indianapolis Colts are searching for their next QB. They need one that can help them win now, too, as they are built to contend for Super Bowls.
The Colts went 11-5 with Rivers in 2020 and made the playoffs. They are led by a great young running back in Jonathan Taylor, too, who ran for 1,169 yards in 2020. They also have a great offensive line, and an elite defense that ranked in the top 10 in points in 2020.
Indianapolis was certainly interested in Stafford, according to USA Today's Colts Wire. What they offered the Lions, though, is unclear. Peter King of ProFootballTalk reported that once the "price got past the Colts' first-round pick (21st pick overall) in 2021, that was going to be tough for GM Chris Ballard, who'd already lost the youth and cost-control of a first-round rookie last year when the team traded for DeForest Buckner."
However, Albert Breer of Sports Illustrated reported that the Colts never actually offered their 2021 first-round pick.
So, the Colts definitely wanted Stafford, but the Lions' price tag was way too high, especially for a QB who only has two years left on his contract, per Spotrac. This means that Indy's 2021 QB situation is still unclear.
Pat McAfee revealed what Chris Ballard said after he and the Colts missed out on Stafford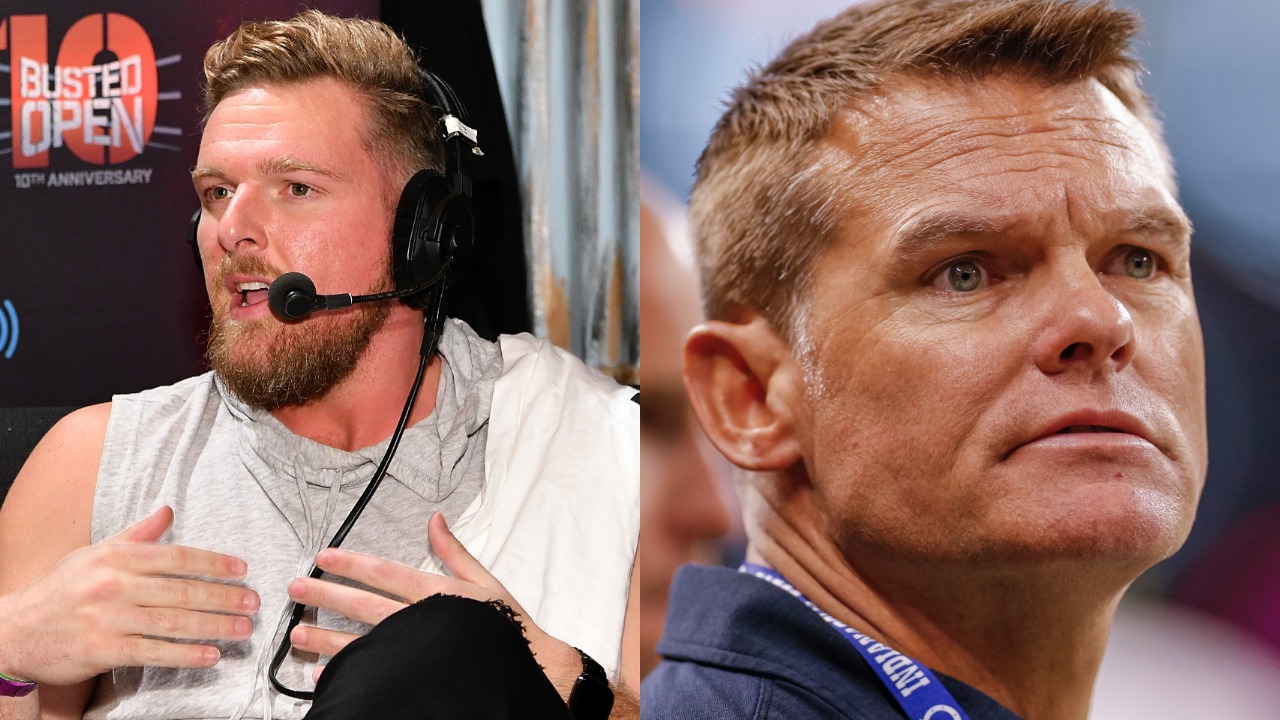 RELATED: Matthew Stafford Once Almost Had a Near-Death Experience Involving a Collapsed Bridge While on His Way To Lions Practice
The Colts failed to get Stafford. So, what does the team's general manager, Chris Ballard, have to say about that?
"He said 'We were very competitive,' his exact words, 'We were very competitive with Stafford, and then the Rams threw a bomb. Good for them,' he said basically, 'We couldn't do that,'" Pat McAfee, the former Colts punter, said of his text exchange with Ballard on the Feb. 1 episode of The Pat McAfee Show. "Then he asked if I could throw."
Well, can McAfee play QB for the Colts?
"I am ready," McAfee said after imitating the sounds of a QB. "The thing about me is, since I retired early, in the position I played, I've got a lot of hits left. My hit card on my body — ready to go. The brain — even though it can be a little bit cloudy sometimes because of things I decide to bring in there — I feel like I can still [do it]. I did virtual reality football the other day … maybe I do train a little bit."
In all seriousness, though, McAfee is not going to play quarterback, but the Colts do desperately need to figure out who is for the 2021 season at least.
"We need a f****** quarterback; Stafford's gone. There's no way Chris Ballard was going to give up four picks, it seems like, to do that. Congrats to the Rams," McAfee said.
The Colts have proven that they will try to address their QB situation this offseason. They will only acquire that next QB at the right price, though. Time will ultimately tell in regards to who will follow in the footsteps of Peyton Manning, Andrew Luck, and Philip Rivers in Indy.
Stats courtesy of Pro Football Reference