Pat McAfee Made a Promise About His Broadcasting Future That Is Sure To Leave ESPN Viewers Disappointed
An extremely vocal group of ESPN viewers have spent recent years demanding to see more of Pat McAfee.
McAfee, the former Colts punter who is now a social media superstar, is no longer at ESPN. That hasn't stopped NFL fans from continuously requesting the network give McAfee a platform, most notably on Monday Night Football.
Well, McAfee has a message about his broadcasting future, and it's not one that those loyal fans will want to hear.
Pat McAfee appears done with sideline reporting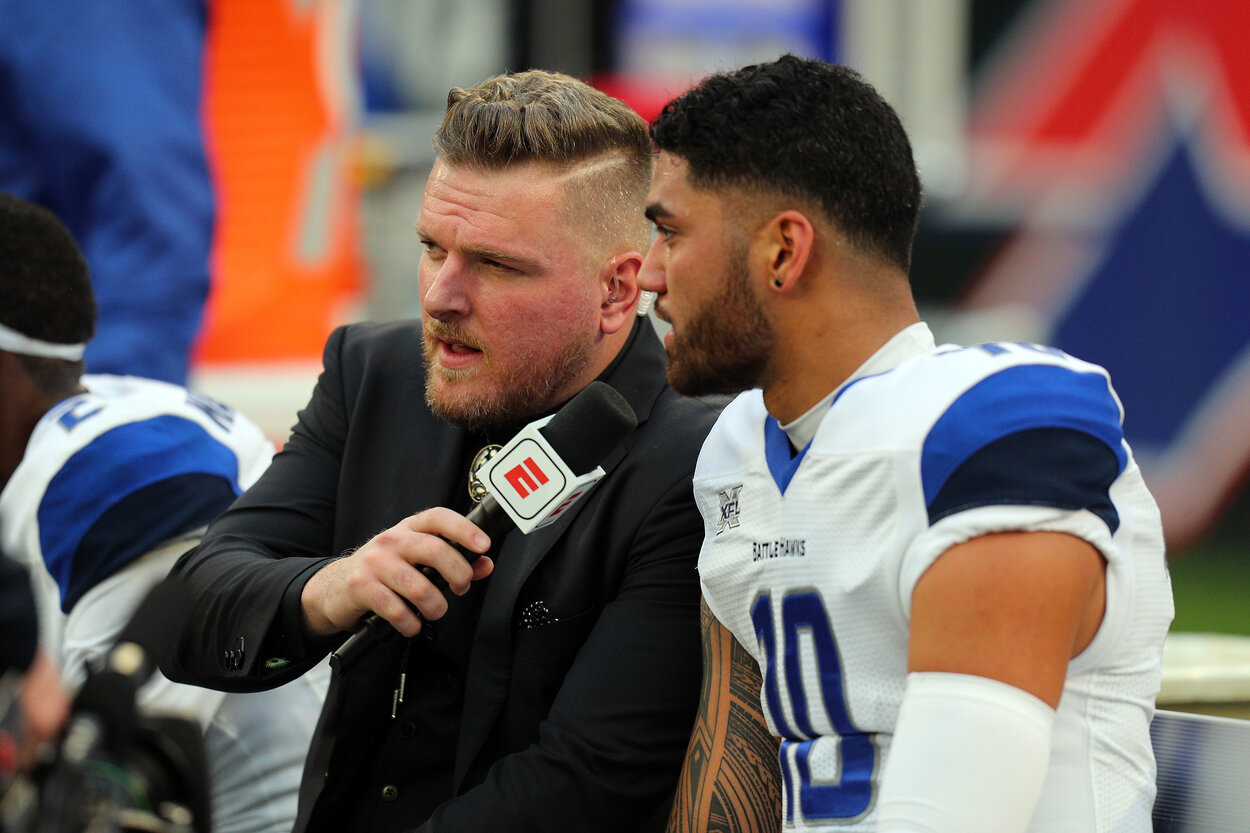 For a recent time, it looked like Pat McAfee had an extremely bright future at ESPN.
In addition to appearing on the occasional College Gameday broadcast, McAfee did analyst work during college games. During the 2019 college bowl season and the XFL's brief season in early 2020, McAfee served as a sideline reporter.
That time is over, however, and we don't just mean his time at ESPN. During a recent episode of The Pat McAfee Show, the former standout punter acknowledged that sideline reporting was "not for him."
"People go to school for a long time to be good sideline reporters," McAfee said. "There's certain information; there has to be timing; you have to remember certain things. I'm like, this ain't my f—— thing."
McAfee walked listeners through the process of being a sideline reporter and why he didn't believe he had a future in that role.
"Like, this is what you have to do. You have to ask for permission to speak, so we'll send it to the truck, and the truck will send it there. They'll give you a yes; then you can talk or whatever. I'm like, okay, that's not gonna work. That's just not how it's going. They're like, well, that's how this whole thing goes."

Pat McAfee.
McAfee did not call any games for ESPN during the 2020 college football season. 
McAfee's on-air commentary and work received rave reviews
As McAfee outlined, the sideline reporter's biggest role is feeding information to the play-by-play voice and color commentator, but they need to request permission first.
McAfee found other ways to have fun on the sidelines, especially during the XFL season last year. ESPN found ways to work McAfee into the broadcast, and social media loved what it saw from the charismatic announcer.
McAfee earned Dallas Cowboys legend Troy Aikman's full attention when the two did a sideline interview during an XFL game. The two were so focused on their discussion that a receiver nearly ran into Aikman.
"Pat McAfee is 100% the reason this game is so entertaining," Cassidy Wood, a reporter for WOWK-TV in Huntington, West Virginia, tweeted that day.
ESPN viewers will be disappointed by Pat McAfee's decision
If Pat McAfee is finished as a sideline reporter, that could spell bad news for a possible return to ESPN.
ESPN appears committed to its current Monday Night Football team, and they've already passed over McAfee several times. But with MNF returning to ABC in the coming years, there is always a chance that the network could rebuild its announcing team and bring in more high-profile voices.
Although McAfee would be such a figure, he would have made more sense as a sideline reporter. Lisa Salters, who remains well-respected, turned 55 this year and is already entering her 10th season on the sidelines. 
If McAfee doesn't intend to work on the sidelines again, Maria Taylor now makes sense as Salters' eventual replacement. Football fans hoping to see McAfee on an NFL broadcast should hope that Amazon Prime can snag him for the Thursday Night Football package.
Like Sportscasting on Facebook. Follow us on Twitter @sportscasting19.