Pat McAfee's Worst Nightmare Could Be Coming True
While Pat McAfee and Indianapolis Colts fans wait for the Colts to find their next quarterback, McAfee has made one thing very clear: he does not want Carson Wentz in Indy.
It appears that Wentz and the Philadelphia Eagles could be headed to a divorce, and while Wentz would like to have a new team, McAfee hopes that new team isn't his former squad. However, according to a recent report, McAfee's worst nightmare could indeed be coming true.
Carson Wentz reportedly wants to leave the Philadelphia Eagles
RELATED: Deshaun Watson May Have a Familiar Rival Trying to Acquire Him
The Philadelphia Eagles have invested a lot into Carson Wentz. He was the No. 2 overall pick in the 2016 NFL draft, and they later signed him to a four-year, $128 million extension in 2019 that has him with the franchise through 2024, according to NFL.com.
For a while, it seemed as if he was worth it. In his second season in 2017, Wents threw for 3,296 yards, 33 touchdowns, and only seven interceptions in 13 games that year. However, he ultimately got hurt, and the Eagles then won the Super Bowl with Nick Foles at QB.
Wentz was then decent in 2018 and 2019. He threw for 27 touchdowns and only seven interceptions during that 2019 season. However, he was absolutely horrible in 2020, as he recorded 2,620 passing yards, 16 touchdowns, and a league-leading 15 interceptions in 12 starts. This led to the Eagles benching him for rookie quarterback Jalen Hurts.
The Eagles then parted ways with head coach Doug Pederson this offseason and replaced him with Nick Sirianni. For the past three seasons, Sirianni was the offensive coordinator for the Indianapolis Colts with head coach Frank Reich. During Wentz's best season in 2017, Reich was the Eagles' offensive coordinator. So, many people believed that hiring Sirianni was a way to get Wentz's play back at the level it was in 2017.
However, ESPN's Adam Schefter reported on Wednesday that Wentz still wants to leave the Eagles, according to ESPN. So, a trade for Wentz this offseason could still be possible.
Pat McAfee hates the idea of Carson Wentz going to the Colts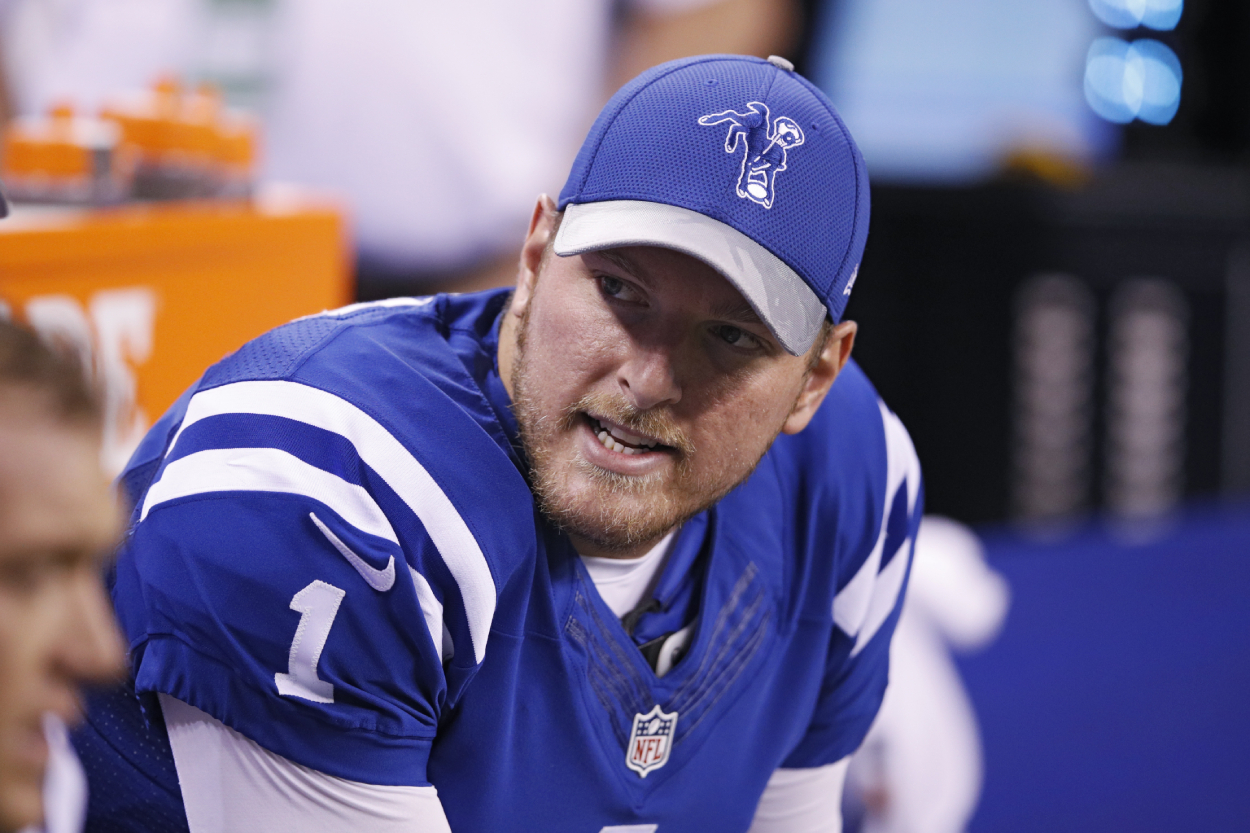 RELATED: Pat McAfee Reveals What Colts GM Chris Ballard Texted Him After Indy Brutally Failed To Acquire Matthew Stafford
Pat McAfee is no longer the Colts' punter, but he still makes his opinion about the team known, as he still keeps in contact with the franchise. He has also made it clear many times that he doesn't want the Colts to trade for Wentz, including when he said this in December.
"I'm not having it, don't do it. People are doing it on the internet; we don't need it," McAfee said on the Dec. 11 episode of The Pat McAfee Show, per a December 2020 Sportscasting article. "Nah, nah, nah, we don't need Carson Wentz out here, OK? No, no. … We don't need to be the team that just coddles you and puts you back together. We got a team over here. OK?"
McAfee continued: "We don't need to be bringing somebody in here that's very, very pricey, even though we do have cap space, and being like, 'Yeah, listen, we'll bring you back to life, and then we'll play you.' We don't need that. So, why is everybody putting Carson Wentz on the Colts? Because Frank Reich? I get it, Frank Reich and he had a lot of success together. Guess who also had great success with Frank Reich? Nick f******* Foles. Should Nick Foles be coming here, too? Should Nick Foles be coming here as well? Let's go ahead and relax for a goddamn second before we put Carson Wentz in the goddamn horseshoe."
Pat McAfee's worst nightmare could come true
RELATED: Justin Fields Could Shockingly Go To a Super Bowl Contender Thanks To a Potential Blockbuster Draft Night Deal
In light of the recent reports that Wentz still wants out of Philly, Ian Rapoport and Mike Garafolo both reported this on NFL.com on Feb. 4.
"As for teams interested in Wentz, the Colts are always linked to him because of their need at QB and because of coach Frank Reich," they wrote. "They will call on all the available passers this offseason."
Additionally, Garafolo said this on Friday while appearing on 94WIP, according to Radio.com: "I do know that the Eagles have had conversations with the Indianapolis Colts already. Here is the thing about the Colts, and this is why they were never strongly in the running for Matthew Stafford — these guys are really good at what they do draft-wise. They believe in themselves. So every pick that they deal away they think to themselves 'I just dumped away a good player.'"
So, no, this does not mean that Wentz will definitely go to the Colts, but Indy does appear to be interested. You can't totally blame them, either. Wentz had a great year with Reich in 2017, and the Colts have a much better team than the Eagles do. Indy has a great running back, a great offensive line, and some decent weapons offensively, as well as one of the league's best defenses.
This could all mean that Pat McAfee's worst nightmare could be coming true.
Stats courtesy of Pro Football Reference