Pat Riley Dropping $274 Million to Put the Miami Heat in the Hands of Kyle Lowry and Jimmy Butler
Pat Riley has assembled three NBA champions while running the basketball side of the Miami Heat. But his reported gamble to get the Heat back into title contention in 2021–22 is audacious even for Riley. The plan is to pair aging Jimmy Butler with seriously aging Kyle Lowry for three years. There are reasons to believe it can work. But time is not on Miami's side.
Butler, acquired from the Philadelphia 76ers in a complex four-team sign-and-trade deal in 2019, is looking for a long-term commitment from Riley. Reports say Lowry has agreed to a three-year contract to leave the Toronto Raptors via a sign-and-trade.
Experience is a critical element of winning in the NBA. But is Riley tap-dancing across the line between experience and just old?
A Jimmy Butler max extension is in the works
According to Brian Windhorst of ESPN, the Heat are nearing an agreement with Jimmy Butler on a max extension that would keep him in South Beach through the 2026–27 season. Butler is extension-eligible on Aug. 6.
A max extension for Butler calls for an additional four years, and $184 million added to what remains of the four-year, $140.7 million contract he signed in 2019. As part of an extension, Butler would exercise his $37.7 million option for 2022–23. The extension kicks in the following season.
Butler had a big playoff run in the 2020 bubble, averaging 22.2 points, 6.5 rebounds, 6.0 assists, and 2.0 steals in the postseason. He led Miami to the NBA Finals.
The 2020–21 season was a challenge for Butler, however. He missed 10 games in health and safety protocols and missed time with multiple ankle sprains, a couple of different illnesses, inflammation in his knee, and a sore back. Butler was named to the All-NBA Third Team but was an All-Star snub for the second time in three years.
And while the Milwaukee Bucks were pummeling the Heat in the first round, Butler was awful. He averaged just 14.5 points per game, almost eight fewer than his regular-season mark, and shot a horrific 29.7% in the four-game sweep.
An extension would run through Butler's age-37 season, so it's a risky maneuver for Riley.
Kyle Lowry is a significant risk given his age and injury history
Meanwhile, the reported deal with Kyle Lowry brings him to the Miami Heat for three years at $90 million, per Tim Bontemps of ESPN. The sign-and-trade part of the deal will cost Miami veteran point guard Goran Dragić and promising young big man Precious Achiuwa, according to Adrian Wojnarowski of ESPN.
Lowry's scoring dropped last season, but it came with a slight reduction in playing time as well. He missed 26 games and averaged 17.2 points, 7.3 assists, and 5.4 rebounds in 34.8 minutes per game. Lowry also had his best shooting season since 2016–17, hitting 43.6% overall, 39.6% from deep, and a career-high 87.5% from the free-throw stripe.
A three-year deal runs through Lowry's age-37 season. And he hasn't exactly been Mr. Durable recently. In addition to missing 26 games last season, he missed 14 and 17 the previous two seasons. But Lowry brings championship credibility to the Heat with his 2019 ring with Toronto. And despite being undersized, he rebounds well for a guard.
Lowry is also adept at getting turnovers the hard way; his 20 charges taken were fourth in the NBA last season. He led the NBA in 2019-20, taking 34 charges.
A big move behind Jimmy Butler and Kyle Lowry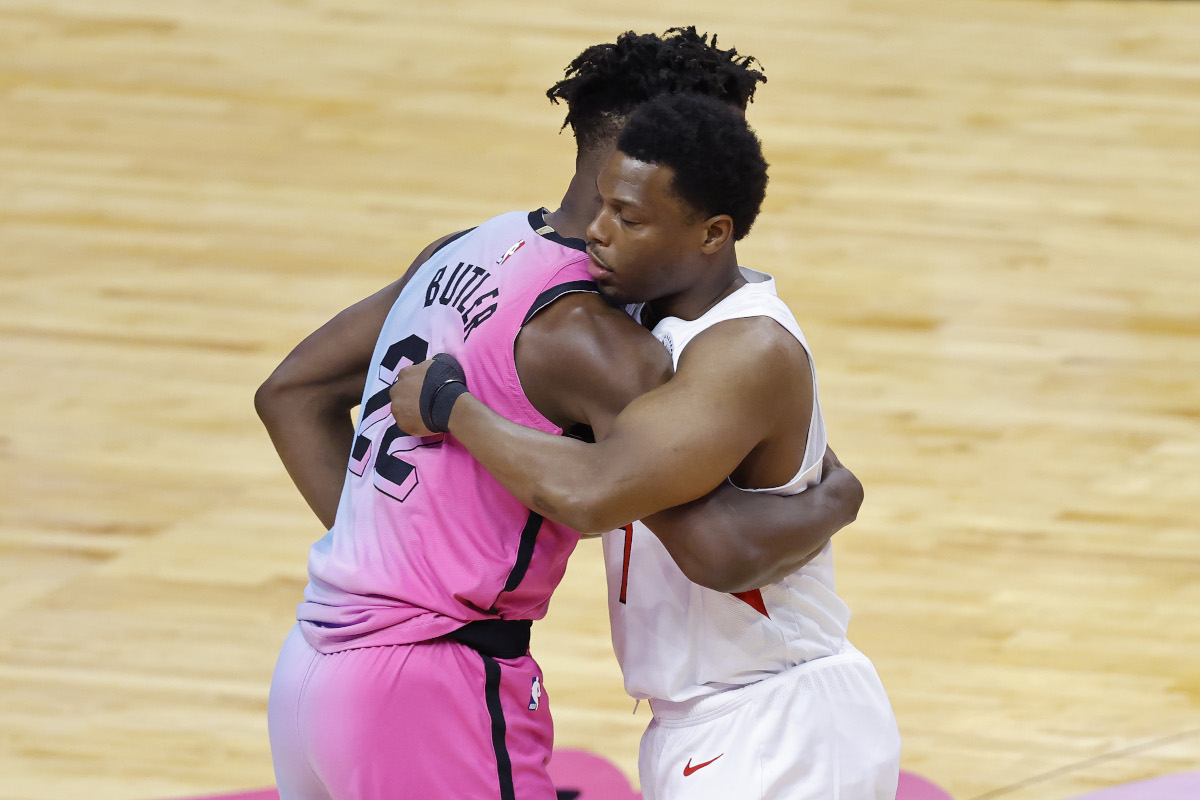 Besides landing Kyle Lowry and satisfying Jimmy Butler, the Miami Heat retained one of their top shooters. Duncan Robinson signed the biggest deal in history for an undrafted player, a five-year, $90 million windfall.
But shooters get paid in the NBA. Robinson has that down pat. His 40.8% deep shooting last season in 8.5 attempts per game declined from 2019–20. In his second season, he burst onto the scene, canning 44.6% on 8.3 3-point attempts per game.
Last season, he became the fastest player in NBA history to make 500 3-pointers in his career, reaching the plateau in just his 152nd game. That broke Luka Dončić's old mark by 35 games.
Losing Achiuwa could sting. He played back-of-the-rotation minutes last season, getting 5.0 points and 3.4 boards in 12.1 minutes per game. His offensive game is strictly around the rim at this point, and he's a poor foul shooter. Achiuwa's block of Kevin Durant in Nigeria's exhibition upset of Team USA in July turned some heads, though.
Kyle Lowry and Jimmy Butler are close friends. That's nice and all, but the NBA isn't a social club. Pat Riley is spending a lot of money on a pair of players who have less career in front of them than they do in the rearview mirror.
Statistics courtesy of Basketball Reference and NBA.com/stats.
RELATED: Jimmy Butler and a Former Miami Teammate Got 'Heated' During Practice, and Spewed 'Borderline Uncomfortable' Trash Talk